Welcome along to another week, I hope you all had a fabulous weekend? I have THE most gorgeous wedding for you today and it comes all the way from the beautiful Greek  Island of Santorini. Having been to a wedding in Santorini a couple of years ago I can say first hand what a stunning island this and how perfect it is for any wedding. The location is amazing, the views breathtaking and it's full of romance! This wedding is no exception captured perfectly by Daniel & Danica Trimboli from Trim Photography it really is the perfect way to start the week!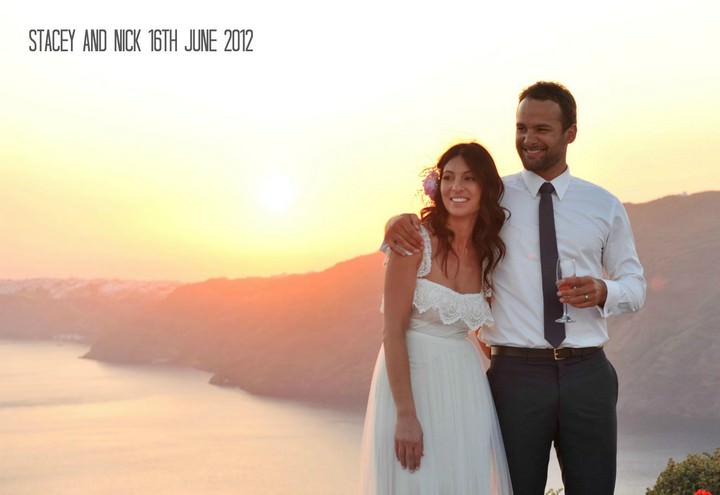 The stunning couple Stacey and Nick are based in Australia. and were married in Imerovigli, Santorini  on 16th June 2012 in. The ceremony took place at Anastasi Church, Imerovigli and the reception was held at Imerovigli Palace. I have to say they both look Amazing! what a totally gorgeous couple, and what a perfect backdrop for them!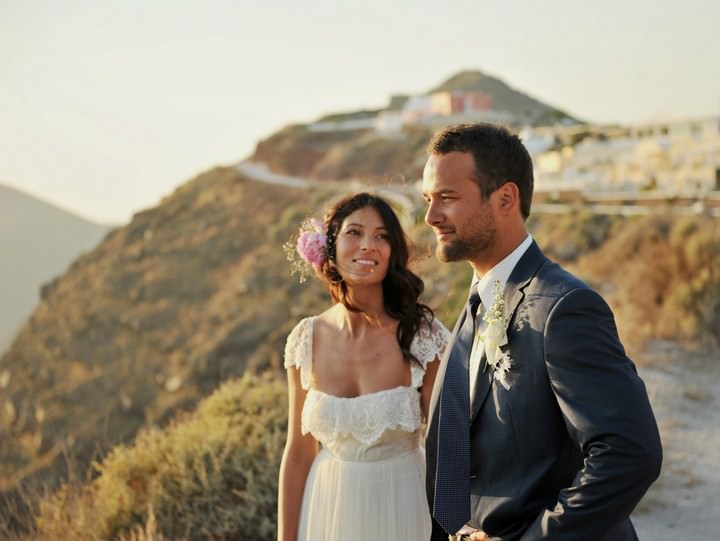 How they met
We met in September 2005 at a pub in Adelaide
The proposal
The night before I was refusing to go fishing, but Nick was adamant he needed his 'fishing fix' after failing miserably a couple of weeks before at Venus Bay. After convincing me, by making me feel guilty that is, that I complain we don't spend Saturday's together, I reluctantly agreed the next morning. After a long drive to Sorrento, we arrived at the pier, Nick was quick to get his line in the water and was soon pre-occupied whilst I shivered in the wind. After an hour of fishing Nick pulled me close and thanked me for coming down and told me it wasn't so bad after all, and that he was excited that he would have a fishing partner when he was old before pulling out a diamond and asking me to marry him. I didn't believe him at first and there was an awkward moment where we both didn't know what would happen next. I finally said yes and we both breathed a sigh of relief, all that was left to do next was to pack up the rods, ring the parents and head to a nice restaurant for a beautiful lunch by the open fire organised by Nick.
Why did you choose Santorini
When I went to Santorini with my friends in 2006 I thought to myself that I would have my wedding there, but deep down never thought it would happen. On the day we got engaged, one of the first questions Nick asked was, 'so should we get married in the Greek Islands or Bali?'. Without hesitation I said the Greek Islands, especially as my family is Greek. After that, the next couple of months we looked into several different islands. We assumed we would have had a small wedding, as most people wouldst travel to Greece, however, we were overwhelmed with the amazing response to how many people were coming (over 100) that we decided to go with Santorini. Santorini isn't just picturesque, but it also offered more venues, churches, accommodation and activities for us and our guests. Before Santorini though, we did decide on Paros, but we're glad we didn't have it there in the end. Santorini was magical!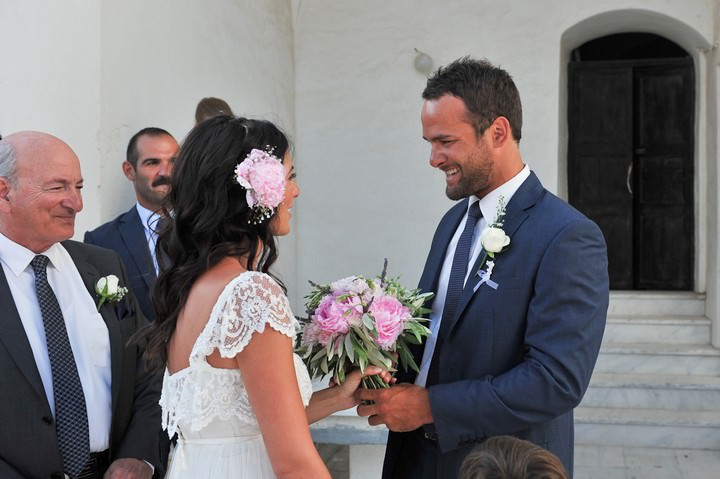 Dress
Anaessia based in GPO, Melbourne, The only accessories I wore were earrings which were made to match my ring (made by Jasmine Fraser) and a flower in my hair. Long story about the shoes. I Bought 3 pairs Mimco, Alannah Hill, Tony Bianco, then ended up borrowing a pair on the big day from my friend.
Decoration
Our décor was simple, as it was set outside around a pool overlooking the caldera and blessed with a magical sunset. Table settings were simple, white with flowers and candles. Plus we hung pink and ivory paper flower pom poms above the dance floor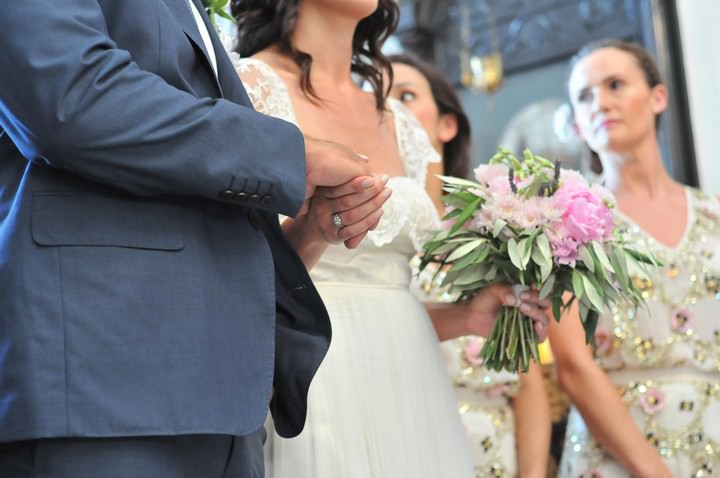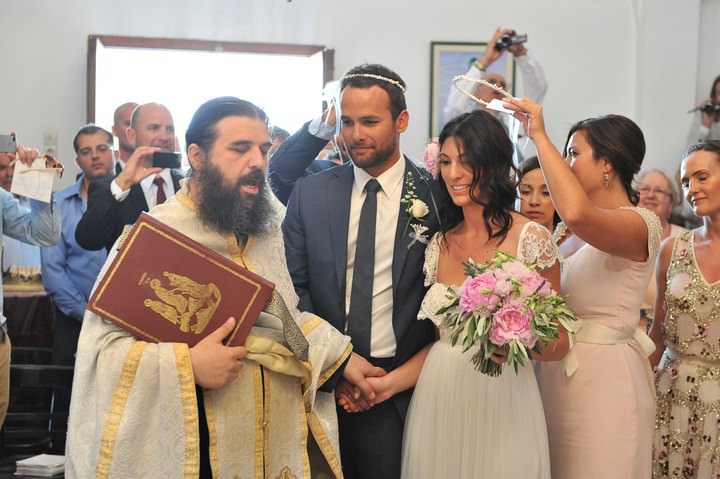 Flowers
From the moment I contacted Fabio Zardi Floral Design  their communication was excellent and very professional. As we traveled for the wedding, I didn't actually get to see a mock up arrangement until the day before the wedding, and it was beautiful. I was smiling from ear to ear. ll pieces they arranged were perfect. They made table arrangements, pinnable flowers for family, wrist corsages, flowers for the hair, flower wreath for the flower girl, my bouquet, candles for the tables and flowers for the cake.
Food
A Greek banquet and or wedding cake was from Zotos Bakery, the oldest bakery on the island
Entertainment
Live Greek 2 person band, then our hand picked music played via our laptop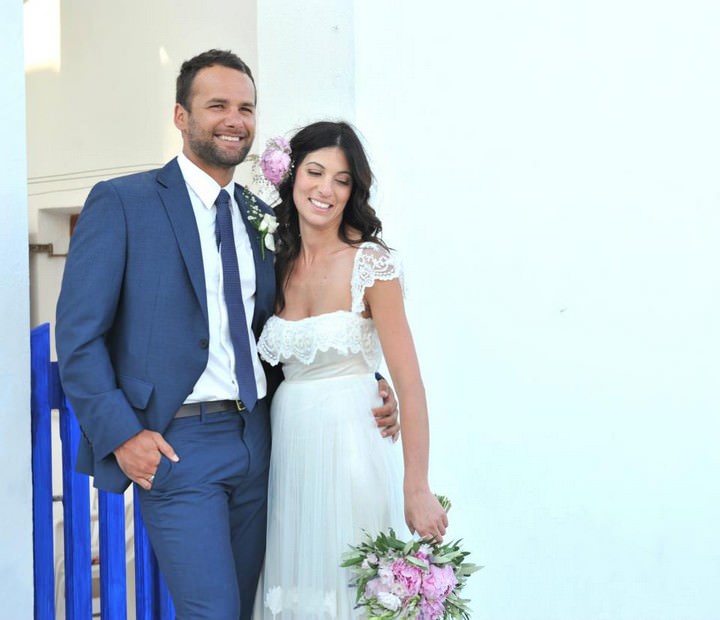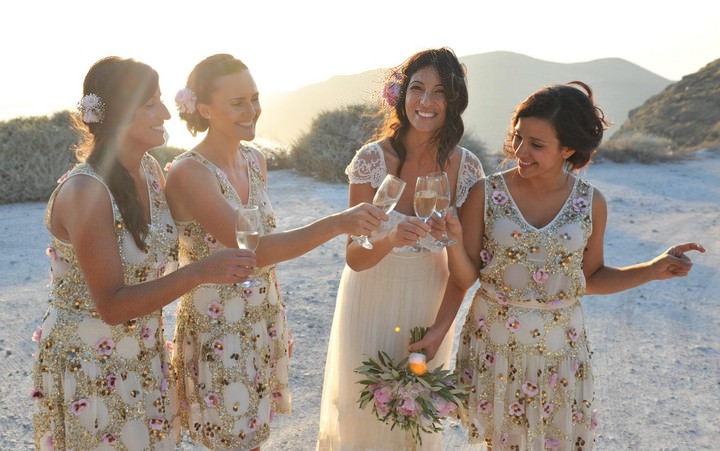 Special Moments
We arranged a sunset cruise 2 days before the wedding for all guests. This was an amazing experience to share with all, very relaxing and a nice way for family and friends to get to know each other.
Special moment on the wedding day was when I walked out of the villa to see all guests (over 100 people) waiting for me to walk me to the church where I met Nick on the steps of the church. Was beautiful and very emotional
Advice
Organising a destination wedding is challenging, but definitely worth it. Tips for arranging a wedding in the Greek Islands are:
Avoid getting married in the peak tourist season. We got married just at the beginning and it was perfect.
If having a small wedding (under 50) no need to book a venue far in advance.
Buy wedding lingerie/underwear and shoes after first/second wedding dress fitting not before.
Read forums/blogs for ideas and advice.
Be patient with suppliers etc as there is a big difference in our cultures.
Select/taste your own wine and champagne.
Live traditional musicians add a lot of atmosphere.
Arrange activities for you and your guests leading up to the big day to get to know each other and share the experience.
Get guests to stay in the same venues or close by.
Allow enough time for makeup and hair before leaving for the ceremony.
Relax and enjoy the day and soak up every minute as it fly's by.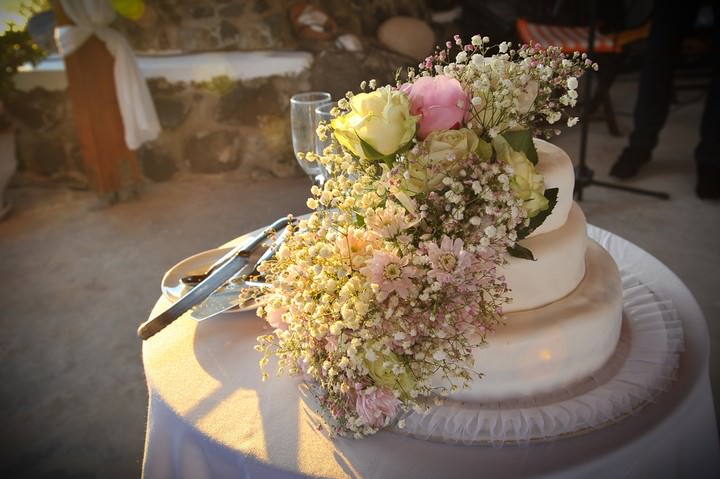 Supplier Shout Outs
For more information on Trim Photography go to:  
www.trimphotography.net 
[email protected]
FACEBOOK