Today we welcome Carys back to the Blog to tell us how her Greek wedding plans are going. last time Carys was telling us all about her venue hunt and today it's the turn of the dress hunt.
For some people choosing the dress can be the most amazing experience ever, for others it can turn into the most stressful! It has been really interesting reading Carys take on the whole experience and I'm sure there will be many of you out there who can empathize with her.
I'll pass the Blog over to Carys……………..
So after the whirlwind of excitement with setting a date and booking our beautiful Greek island wedding it was time to turn to, what I have to admit, has been the most stressful element of wedding planning so far and one which I had been dreading… finding the dress.
When it comes to clothes I am an Internet shopper. I have never really enjoyed the experience of trying clothes on in a shop and having to nervously peek out of the changing room to see what Aaron thinks whilst sensing the look of horror from the shop assistant at my outfit choice! I've always preferred ordering something online and trying it on in the safety of my bedroom with nobody but myself to offer an opinion. Not quite so easy when it comes to buying a wedding dress as I found! To add to that, like most of us, I have bits of my body that I irrationally dislike. In my case it is my upper arms. Now whilst I usually get away with hiding them under a smart blazer or a cosy cardigan, it's rather more difficult to hide them in a wedding dress…especially when you are choosing a dress for a wedding in a hot climate!
I'd never ever thought about wedding dresses before. I hadn't considered what type of dress I would look nice in or would enjoy wearing, although I have always known deep down what I did not like…meringues! So when it sunk in that I was going to be a bride, and that I actually needed to get a wedding dress, I started to think practically (as well as panic) about what type of dress I could wear.
The first thing I needed to consider was location. I wanted my dress to be light and floaty to withstand being packed away for a plane journey and to be suitable for a (hopefully) sunny Greek day. I really wanted a dress that I could be relaxed in, one which would allow me to scoff all the different beautiful Greek platters we will be having at our reception, as well as allow me to dance around on the beach until dawn. Also really important for me to consider was my dress in relation to my soon to be husband's style. Unlike me, Aaron adores clothes shopping. He is a very stylish guy who loves clothes and experimenting with different looks. For our big day, there will be one essential item of styling for him and that is his beloved Ray Bans! Aaron is going for a very relaxed, informal and retro look as a groom. Think less suits with cravats and more braces with rolled up sleeves. So it was really important for me to consider my dress in relation to his style; I didn't exactly want to walk towards him with everyone thinking, 'oooh she's a bit overdressed!'
In total I visited 4 wedding shops before I found my dress. My first wedding dress shop experience was quite by accident. My Mum and I were in Cardiff when we walked past a wedding dress shop that my Mum suggested we have a quick look in. Next thing I knew I was being offered a cancellation appointment there and then to try on some dresses. The shop had so many different dresses I felt quite overwhelmed and in all honesty, really rather sick, although I think that had something to do with the communal style changing rooms and the realisation that I was wearing grey knickers and a black bra! After searching up and down the aisles of dresses I found only four that I could imagine wearing. All of them were very light chiffon, simple, and lacking a train. The forth and last dress I tried was the one which we both loved the most – a very Grecian Pronovias dress with floaty sleeves. Upper arms hidden, perfect! The assistant was really helpful and suggested that as it was the first time I'd tried on dresses, she felt that I should go to a few more shops just to try on a wider range so that I could be sure of what I wanted. This proved to be a really useful tip.
Following this I arranged an appointment at a highly recommended bridal shop. For this appointment I again took my Mum. My best friend since the moment I stepped foot into this world, I know that I can always rely on her for an honest opinion. When my Mum and I first entered the shop we looked around desperately for ethereal Grecian gowns, but we were swimming under layers of lace, sparkly bits and shiny satin. When the assistant asked me what I was looking for and I explained that it needed to be light and practical for our location, she immediately stopped me and said that thinking practically was not the way to think when picking a wedding dress. Five dresses in and covered head to toe in lace and with trains that would make Kate Middleton jealous, I think she could see that I wasn't convinced. My Mum's face was a picture bless her, with each unveiling worse than the previous! The assistant was really lovely and enthusiastic but in the end, seeing that we weren't convinced, she started to offer me bridesmaid dresses to try on as they were the most minimal dresses in the shop. Driving home afterwards I started to come out in a rash and that night I woke up in a cold sweat having dreamt that I'd been trying to walk up the steep hill to our Greek chapel but the train of my lace dress kept dragging me towards the sea. Help!!! But, looking at the positives, it did definitely help to reassure me that 'traditional' gowns didn't suit me and it gave me a better understanding of my body shape and style. For example, I'd thought that being curvy perhaps a fishtail style gown would look beautiful but it just made every lump and bump look ten times lumpier and bumpier!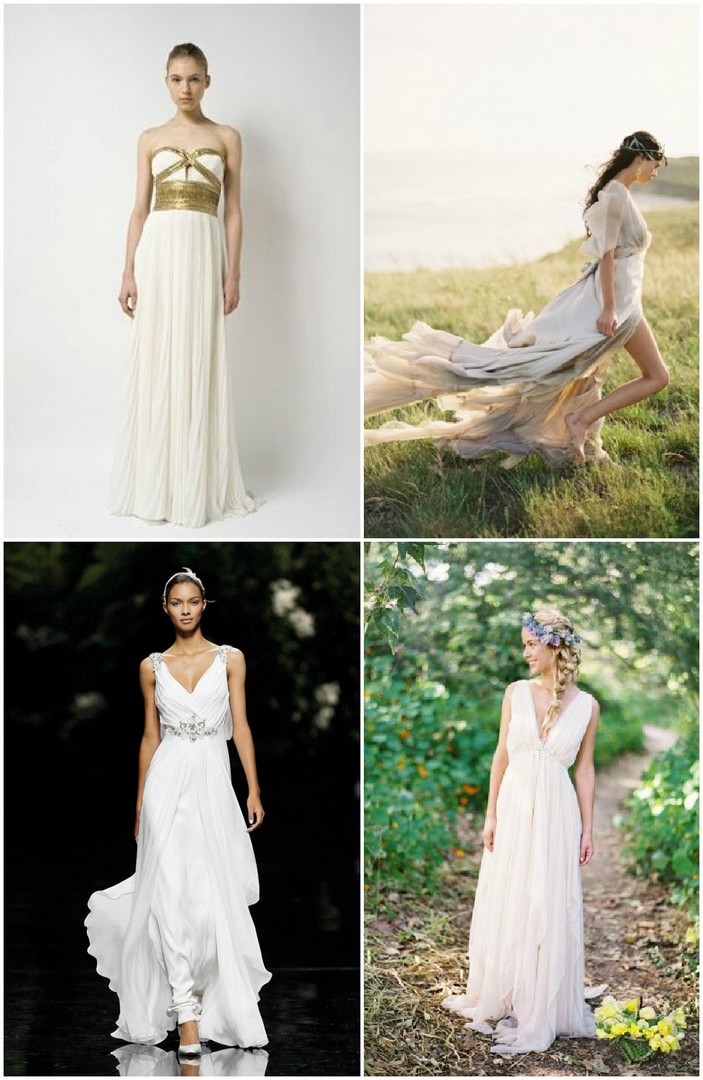 Understanding more of what I was after, my next stop was a beautiful local shop with designer gowns. I knew many of them would be over my budget but I also knew that here I would find some vintage, delicate dresses. Although stunning, sadly for me the dresses were mostly in a size 8, so it was hard to imagine how I would look when I could just see lots of flesh spilling out of them. Many of them were actually £1,000-£2,000 pounds over budget, but in fact trying them on helped me to realise that I didn't actually feel anymore special in them than the much lower priced dresses I had tried on in the first shop.
So over the next few weeks my Mum and I went back to the drawing board with all the lessons we had learnt. My Mum located a shop that stocked a range of gowns by a particular designer that I really loved, including the dress that had stolen my heart in the first shop. It turned out to be the very same shop that I had got my bridesmaid dress from when I was six years old and had felt like a little princess. The minute we got to the shop we were spoilt for choice. Lowri, our assistant, was like a breath of fresh air; she offered advice and support without influencing our opinions. There were around eight gowns that I loved the look of (yes, eight!) including the Famosa dress and a new dress they had received that very day which was on the mannequin when we entered the shop. My Mum adored it and requested that I try it on. Turns out Mothers really do know best – it was THE dress.
I'm not going to ruin the surprise but needless to say it fulfils my desire for the Grecian look and so much more. I felt beautiful like Aphrodite herself, and most importantly I felt relaxed. I could move, I could breathe, I could dance. Yes my upper arms are out for all to see, but do you know what, I didn't even notice them when I stepped into that dress! I truly cannot wait to put the dress on again and see my handsome groom's face on our special day as I walk towards him up that hill to our beautiful little chapel. To celebrate that day my Mum and I spent a gorgeous sunny afternoon in beautiful Mumbles eating fish and chips by the seaside (wedding dress diet can start tomorrow), safe in the knowledge that I would never again need to endure another rash in my hunt for the perfect dress!
Love Carys
xx
Photo credits
mens: left, middle, right
Womens Board 1: top left,  top right,  bottom left,  bottom right
Womens Board 2: top left,  top right, bottom left,  bottom right
Due to an email issue if you have emailed me between the 2nd & 9th of December, please resend it.
X