Today's weddings sees us in Berkshire for a relaxed BBQ and beer wedding. The couple didn't want anything to formal for their big day, so they created a wonderfully relaxed, chilled out day, that was more like  a garden party than a wedding. Throw in a Rustic Barn, Vegan BBQ as well as a full scale meat feast, lots of beer, personalised converse, a VW beetle and a VW Camper van and this wedding is complete! Thanks to Emma from Emma Lucy Photography who is based in Brighton for the photos.
'A laidback, home-made day. BBQ and beer in the garden on a grand scale.'
The lovely couple are Helen and Steve who were married on 21st July at St James Church, Ruscombe. The Reception at Monk's Barn Hurley Berkshire. 'We chose the venue as it was a Gorgeous church and a lovely vicar. The reception venue was chosen as we wanted a back garden reception but didn't have a back garden big enough! We has around a 100 guests and it took just over a year to plan'
How they met
We met in a youth hostel in Vancouver. Steve was on the last day of his trip and I had another month planned down the west coast of the States. We went out for dinner and Steve went back to the UK the next day. I carried on my trip and we emailed every day until I came home. Then moved in together a month later.
The proposal
We were on holiday in Istanbul and went for a walk one evening. We stopped in a garden between the Blue Mosque and Hagia Sophia and Steve knelt down to take a photo of me. When I went over to look at it he had the ring in his hand.
Why did you choose your photographer?
Steve saw a link to Emma Lucy Photography on a friend's Facebook page and we knew instantly she was the one. Her photographs are the exact look we wanted – casual, friendly and fun. And she really did capture the day exactly how we wanted to remember it.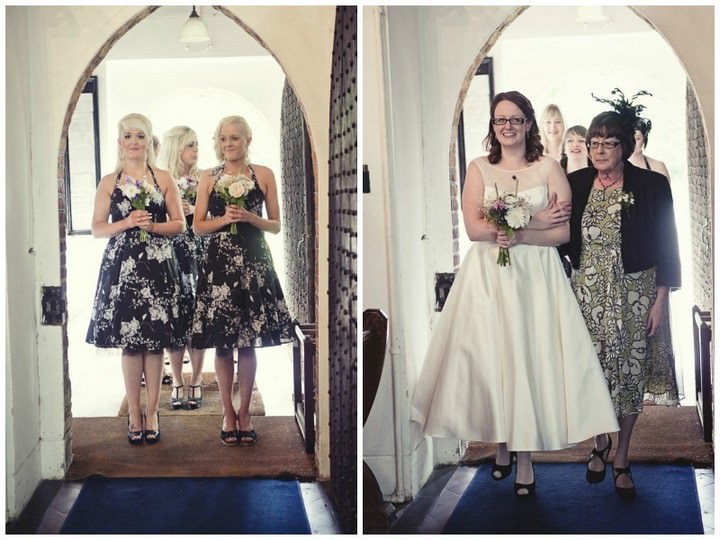 The dress
Dress was Loulou Bride bought at Ozone Bridal in Brighton. The sample I tried on was a hot pink prom dress but luckily they did it in ivory as well! The shoes for the ceremony were black, from New Look but I changed at the reception into my custom bowling shoe coloured Converse trainers with Mrs P embroidered up the back! My favourite piece of jewellery on the day was the locket Steve bought me with a picture of my dad inside, which passed away ten years ago, so he could walk me down the aisle.
The suit and bridesmaids
Steve's suit was an ultra black Kenneth Cole with a Paul Smith shirt and socks. And the bridesmaid's dresses were from eBay!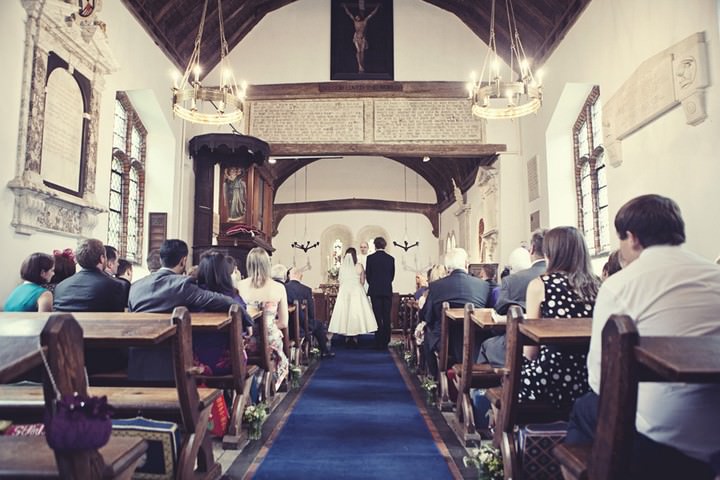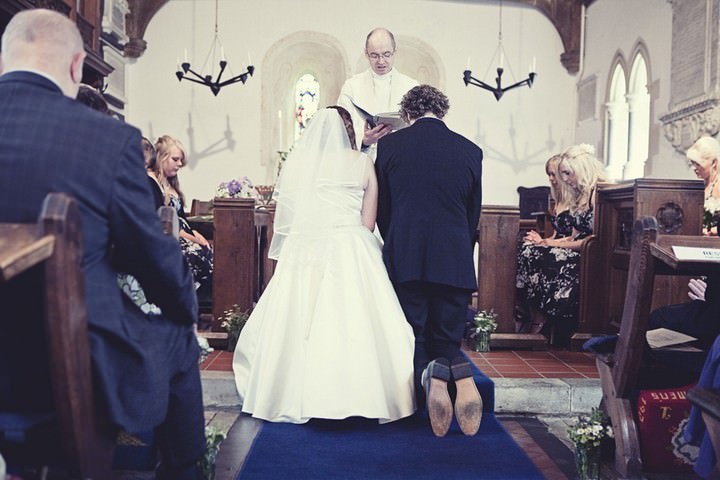 Theme or colour
Not really. We had black and white elements but we also like the natural colourings.
Food
We hired our favourite BBQ restaurant Bodeans to come and cater. They provide nachos for nibbles. Then a 24hr smoked full hog roast, burnt ends and baby back ribs, with coleslaw, cornbread and salad followed by keylime pie. All cooked and served on site out of their gazebo on the lawn. Steve's best man also did an amazing veggie BBQ for the non-meat eaters (and the meat eaters once they saw it). We also had about 150 Krispy Kreme doughnuts if anybody got peckish later. My boss made the wedding cake, which was four tiers – chocolate and Guinness, fruit, carrot and then sponge on top. With lego surfer versions of us as the topper.
Entertainment
We aren't keen on wedding discos so we just hired a PA system and had an iPod full of our favourite songs.
Flowers
I wanted really unstructured meadow flowers so we found an organic nursery called Green and Gorgeous in a nearby village and they picked us a selection of flowers, grasses and herbs the week before the wedding. Then Steve's sisters tied all the bouquets and made the table centres.
Decoration
I sewed yards and yards of bunting that Steve and his best man strung all over the barn along with fairy lights. The table centres were circles of Astroturf topped with candle bags, a postcard of our favourite (and appropriate) Dr Seuss quote on a miniature easel and small glass bowls filled with m&ms for colour. Steve also got some very realistic cherry blossom from a work contact so we liberally scattered that around.
Personal / DIY touches
• Steve works in the film industry so we made plain popcorn instead of confetti which the bridesmaids handed out usherette style.
• The bouquets were tied by Steve's sisters
• One of the bridesmaids made underskirts for the bridesmaids dressing
• I sewed 40 metres of bunting to decorate the barn
• We made the table centres and the families helped us to decorate the barn
• Steve's best man catered a veggie BBQ on the day
• My boss made our wedding cake which was topped with little lego surfers
• I arrived at the church in my brother in laws vintage VW Beetle and we drove off in Steve's VW Camper complete with surfboards on top.
• Our favours were Turkish delight as Steve proposed in Istanbul.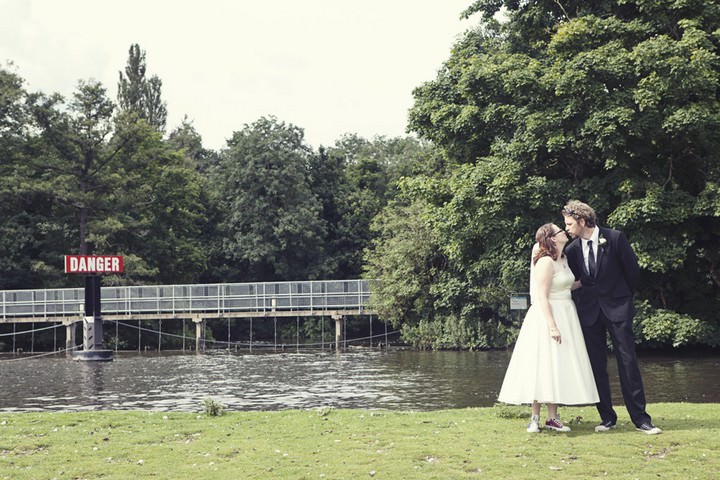 Special moments
The fact that everyone got on board with the relaxed vibe. The chairs got dragged outside on the lawn, people loved the BBQ food and didn't care that there wasn't much structure. One person commented that it was such a nice day as it didn't really feel like a wedding. Which was the best feedback we could have asked for.
Advice
Let people help when they ask to. And it is your day, so do what you want. We didn't have a formal sit down dinner, or tables plans, or lots of speeches because it wasn't right for us.
Biggest surprise
The fact that we had two days of sunshine, during the wettest summer on record! After about six weeks of almost constant rain everybody ended up sat on the lawn in the sun, eating BBQ and having a lovely time.
Supplier Shout Outs
We were so lucky with all of our suppliers as we received excellent service all round. But especially the girls at Ozone Bridal for being so patient and kind while I was choosing my dress, to Bodeans for replicating our favourite restaurant at our reception and to Emma Lucy Photography for capturing our day so perfectly and for being someone we really wanted at our wedding. Special mention to to Krispy Kreme in High Wycombe who let me in before opening on the morning of our wedding to pick up 150 donuts!
Fore more information on Emma's work go to
www.emmalucyphotography.com
www.emmalucyphotography.com/blog
FACEBOOK
@emmalucyphoto