With the new bread of DIY bride, comes new ways to decorate your venue for less and less. The recession may have hit the wedding world and brides hard, but with this has come a new wave of ideas to save money.
One of these ways and one I love is the paper pom poms, so simple to create but they look SO effective and oh so cute and pretty. They can be used inside to add colour to a dull space, they can be used to fill a high ceiling. The can be hung outside for both ceremonies and reception, as well as being used to create smaller decoration items like favours and napkin holders.
The choice is endless and all you need is a little bit of time and not that much cash to create a stunning effect.
Martha Stewart is the queen of all things crafty and DIY when it comes to weddings, she has even produced a step by step guide on how to make your own paper pom poms. CLICK HERE
Martha tells us:
How to Make the Pom-Poms
You'll need tissue paper and 24-gauge white cloth-covered floral wire.
Hanging Pom-Poms

1. Stack 8 20×30-inch sheets of tissue. Make 1 1/2-inch wide accordion folds, creasing with each fold.
2. Fold  18-inch piece of wire in half, and slip over center of folded tissue; twist. With scissors, trim ends of tissue into round-ends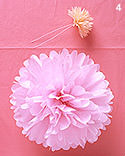 3. Separate layers, pulling away from center one at a time.
4. Tie a length of monofilament to floral wire for hanging.
Napkin Rings
With just a few changes, these follow the same steps as the hanging pom-poms.
1. Stack four sheets of tissue. Cut a 10-by-5-inch rectangle, going through all layers. Make 3/8-inch-wide accordion folds.
2. Fold an 18-inch piece of floral wire in half, slip over center of tissue, and twist to secure. Trim ends of tissue.
3. Separate layers, pulling away from center one at a time.
4. Bend wire into a loop to fit around napkin, and twist end around loop to secure.
There are so many ways you can use these cheep and cheerful paper pom poms and incorporate them into your wedding day, party or any sort of celebration. I have put a collection of these ideas together for you: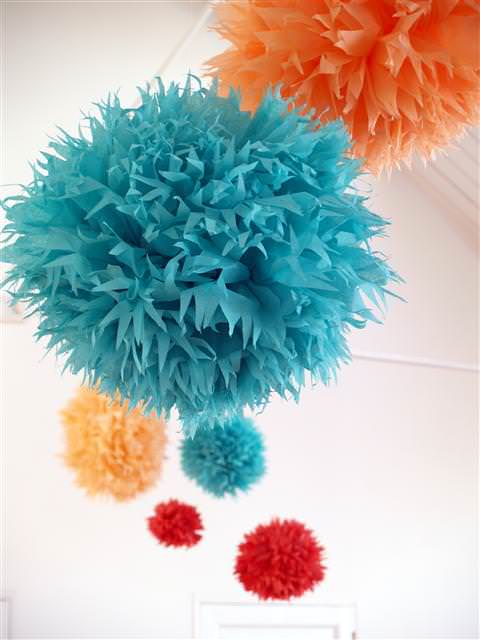 I hope you like this selection of paper pom poms, why not try them for your self, or if you don't think you're quite creative enough then contact me and ask about the Boho Design and styling service