I am sooooooooooooo excited about todays post!! Thanks so much to Kat at Rock 'n Roll Bride for letting me share these photos with you!
Kat to me is the queen of wedding blogging, she brings a fresh and new approach to the wedding industry, sharing with us fabulous Rock and Roll inspired weddings, for those of us looking for something a step away from the norm!
For those of you that follow Kat's Blog regularly you will know that she loves her Vintage shoots and her special Boudoir shoots. On 6th January she was the envy of us all, as she got to have her picture taken in a special Vintage Boudoir shoot by the hugely talented Julia Boggio.
Julia has a unique style to her photography, it's fun, fresh, and has a certain cinematic quality to it, not surprising as her family history is that of photographers and artists, even her Husband is a filmmaker!
Julia creates works of art in her wedding photography, but different to anything I have seen in any other, an amazing talent!
Kat has been generous enough to let me share this shoot with you, and I am more than happy to spread the Love for Both Miss Rock 'n Roll Bride and Julia Boggio
Julia is friends with Kat and asked her personally to do the modeling for her new Vintage Boudoir series as you can imagine Kat was more than happy to help out, who wouldn't? Kat got a full 1940's makeover for each shot and all the clothes were supplied. The make up and hair was different for each shot which was made possible by Sev Hubert the hairdresser and Kaz Fernando the makeup artist
Julia explains. "We design each look in our style book and then source the props and outfits needed to create the image. Our seamstress hand makes the majority of our costumes. The rest are either sourced from shops or they are genuine vintage pieces. If the client would like to do a look that we don't have the props or outfits for, she is more than welcome to bring her own things. We can even direct her to places she can look for props."
The pin-up look is so much more erotic than a lot of modern boudoir, which often shows too much. Pin up is all about tantalising the viewer with what's being covered up, but saying 'I'm cheeky and sexy' in the expression.." Julia says "My team of hair and make-up professionals create the classic pin-up look with every client. After they've been given their makeover, including sweeping false eyelashes, they go into wardrobe, where they get into their hold ups and choose a costume, We have loads of costumes and props to suit different body shapes and sizes. The great thing about this style is that everyone can look sexy, whether you're a size 4 or 24."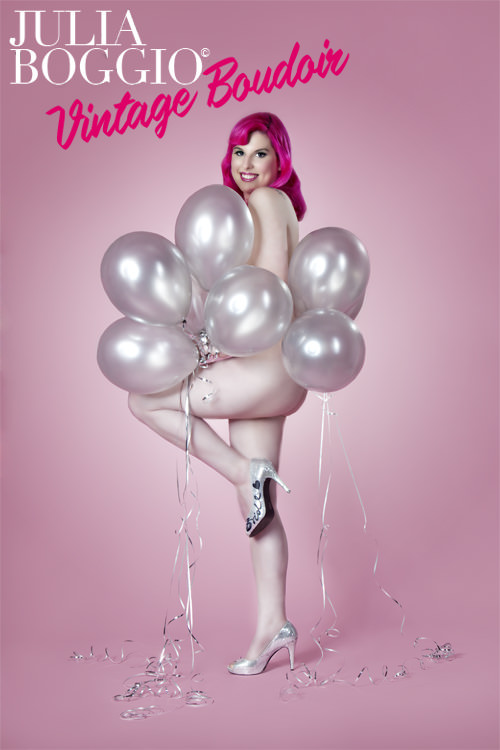 After your shoot there are various ways you can display your images, Julia says "Clients have a range of ways that they can display their images, from small desk frames to large-format acrylics. When we were creating a product range to go with Vintage Boudoir, we decided that this isn't the kind of gift you give to hide away in your husband's drawer. This is tasteful, colourful, fun and sexy. It should be a part of your interior design."
Anyone can have their own Vintage Boudoir shoot by Julia, can you imagine anything more fantastic for a wedding or valentines present?? The shoot costs £455 and includes hair and make-up, as well as at least two different costume changes, false eyelashes and a pair of vintage stockings. A fantastic idea and your husband/finance gets too enjoy the end result as well!!
I personally think the whole idea is fabulous, I have already told my husband that I want to do one, and if I drop enough hints you never know what I may get for my birthday in March!!!
If you want to see more photos from this shot then go to Kat's Blog
For more information about the vintage Boudoir service or Modern Boudoir then contact Julia Boggio at www.juliaboggiostudios.com or for more information about the Wedding photography service go to www.juliaboggiophotography.com or email [email protected]
Thanks once again to kat from Rock 'n Roll Bride your a star!!