There is a long list of things I love about today's wedding which has been sent into me by Anthony Ball . First of all there is the farm location and festival feel to the whole day, (you know how much I love a good farm wedding) there is the outdoor ceremony, the hay bales, (again, got to love a hay bale!) the flowers. Most of all though I love just how chilled out and relaxed the day is. It really goes to show that weddings don't have to be full of tradition if you don't want them to be!
'Relaxed festival feel. Best day ever.'
Katie and Jonny who were married on 1st Sept 2012. 'Our aim from the very beginning was to have a very relaxed festival vibe, so we went to Bristol registry office at 9.30 in the morning for a small civil ceremony with parents and siblings only. We then had a blessing service and the reception at Plusterwine Farm, in Aylburton. We had 160 guests and it took 7 months to plan.'
How did they met
We met on a night out in Bristol in a bar called Mr Wolfs, (we are not advocating drunken nights out, but it worked for us!). We have been together for 4 years.
The proposal
We were on holiday in Thailand for 2 weeks over the new year, and Jonny popped the question while drinking a beer watching the sunset over a beautiful beach. However the best bit about this story is that this is not how he had planned it……..he took the ring when we went on a snorkelling trip and had planned to knock coral together so fish would surround the rocks and the ring, and once the fish then swam away the ring would appear before my eyes………he did not realise that wearing a snorkel mask and having a beard do not go well together……..his mask filled up with sea water straight away so he was unable to snorkel or propose underwater!
The venue
We chose Plusterwine Farm as it had a suitable field that was big enough for a large marquee and outdoor blessing space, the views were beautiful over the River Severn and Cotswolds to the other side and the farm had a campsite so all our friends who travelled long distances had somewhere nearby to stay. The fact that my family come from a farming background and we are both from rural areas made this location and the farm in particular a perfect choice for us.
How did you choose your photographer?
My mum had seen an advert in the local pub! We then looked at the website and met Tony and he was great.
The dress 
Dress: Ivory, empress line floaty dress, with cross strap with flowers. From "Just for you Bridal" in Bristol
Shoes: flat sandals from local shop
Accessories: pearl drop earrings from Inca in Bristol, bracelet that my granddad had given to my Gran when they got engaged. Fresh flowers in hair.
The suit and bridesmaids
Groom's suit: Dark grey trousers and waistcoat from Next, light blue shirt from M&S
Bridesmaid: Royal blue knee length chiffon dress from ebay!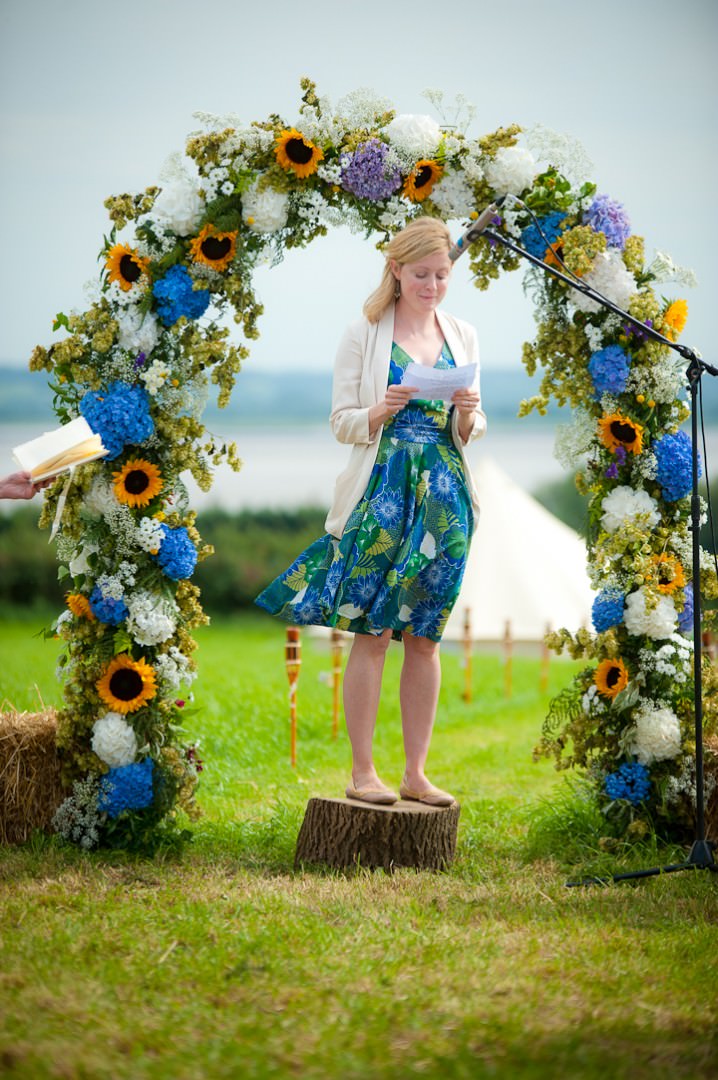 Theme/Colour scheme
We were aiming for natural more than anything but with hints of blue, white, yellow and greens.
Flowers
We used a friends mum who is an ex-florist for help and advice. We bought the flowers from Bristol Flower market. We chose yellow, white, blue and green flowers. Crysanthemums, hydrangeas, sunflowers, stocks, gypsophilia, craspedia, lots of natural greenery was picked from hedgerows
Decoration
The majority was homemade: bunting, hessian tables cloths, tin can vases with twine tied round. Other things included: hop bines around the marquee poles, the flowers were a huge part of the decoration and we had milk churns filled with them.
Food
Pimms and canapés for after the reception. BBQ style buffet made up of local sausages, marinated chicken strips, salmon fillets and veg kebabs, lots of yummy salads and the best cheesecakes and gateaux's ever
Entertainment
We provided a bouncy castle and space hoppers as a bit of a laugh. Music came from a friend who dj'd for us before and after the band played. The band were 'Baila la cumbia' and were a Cuban funk band. They definitely got everyone dancing!
Personal touches/DIY Details
• We erected the haybale aisle ourselves with the help of the farmer and his tractor, flower arch at the end of aisle was made by all our helpers.
• Homemade bunting, tin can vases inside the marquee
• The favours were chilli sauce and bath bombs- both home made.
• Table names and pictures were places that meant something to us both i.e. places we have lived or been on holiday.
• We created quizzes for each tables to allow people to get to know each other better.
• Jonnys Mum had made two of our 3 wedding cakes (fruit and coffee), and she had a 3-tiered chocolate cake made for us as well.
• We had 2 friends who played an acoustic funky version of 'here comes the bride' as we walked down the aisle as we couldn't think of a good enough tune!
• Another friend had written us an acoustic song and so played that too.
• Our guest booked was bits of papers with our guests pictures on that they wrote message on- these are now in a scrap book.
• A family friend conducted the blessing service for us so this was all very personal,
We wrote our own promises to each other
• Our wedding night was spent in a bell tent provided by 'faraway hideaway' based in Hereford who decked it out with bunting, candles, rugs, pillows, chocolates, champagne.
Special moments
I have so many a few highlights were- our promises to each other which we had written, and I had trouble saying them as I was holding back my tears! Our friends did 2 readings in the blessing service, one about winnie the pooh and one about dinosaurs- they both captured the relaxed and informal atmosphere of the day. The best mans speech was one of the best any one had ever heard (and seen- with cartoon props!)
Advice
Relax, don't stress and enjoy it. Also gather as many friends as possible to do jobs, allocate tasks to and help out- pre and during. Our family and friends were amazing and I doubt it would have been as good without them.
Biggest surprise
The weather! It was sunny and warm on the Saturday even though the week had been rainy and grey.
How amazing the location looked going from an empty field into a wedding venue!
Supplier shout Outs
For more information on Anthony's work go to:
www.anthonyballphotography.co.uk
www.anthonyballphotography.co.uk/blog
FACEBOOK