Today I kick of the first of my regular Friday 'Diary of a Boho Bride' features. Last year I featured a Diary entry here and there from each of the lovely Boho Brides but today sees the feature go weekly! You can keep up to date with each bride by clicking on the 'Bride's Diary' button above in the wooden navigation bar.
Today is the turn of Jo and Nick. Jo and Nick are a little different as they write as a couple, which I think is totally refreshing. They are both taking an equal share of the wedding planning, so will bringing two sets of opinions in each of their diary entries.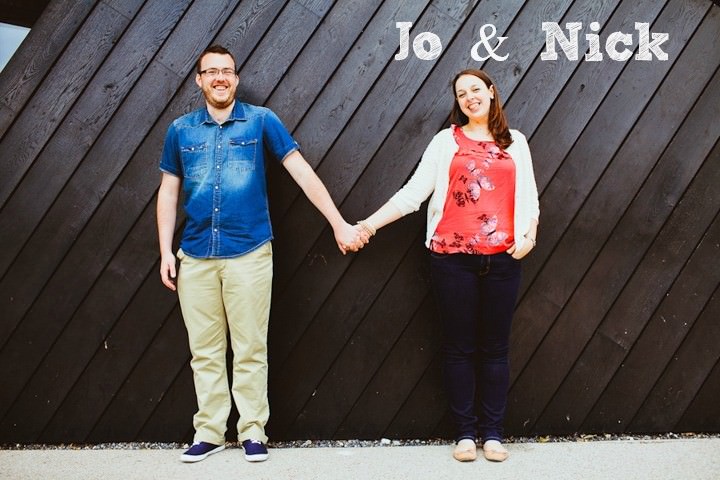 I'll pass the Blog over to Jo and Nick…………
JO & NICK First of all Happy New Year! 2013 feels to have been a long time coming as we got engaged on New Year's Eve 2011 and had the church and reception venue booked by the second week in January!  So we have already been wedding planning for 12 months and have 7 months to go before our big day on July 27th. Everyone tells us it will fly by and we are sure they will be right.
JO: I had always been quite open with Nick that I wanted to be able to set a date for the wedding very soon after getting engaged and luckily he agreed (or at least he said he did!). We had talked together a lot about weddings, even before getting engaged, and both had lots of ideas about how we would like things to be. Secretly though, I guess I always thought when it came to it for real my ideas would win and I would be in charge of the majority of things, I am the bride after all (can you tell I'm a bit of a control freak?!). But…..I happy to say that boy have I been proved wrong! We began planning together straight away and have each had our own little jobs and research to do; the church is our local village one, Nick found the reception venue, I found the photographers, Nick found the videographers etc etc. We have both enjoyed the research and the time we have spent finding things ourselves. We have both been to every appointment regarding all the different things we have planned and whilst Nick may not be able to answer my questions on which shade of green should the hydrangeas be, and should the bridesmaid dresses be halter-neck or one-shoulder, he will tell me what information we need on the invitations and calms my nerves when I get panicky about just how will all the cars, make-up, clothes needed for the day after get themselves to the reception venue!
NICK: I must admit I too am surprised at how much I have been involved with the planning.  I expected to be involved and to have things to organise by myself but more
as a token gesture. You just expect that it is the bride who organises everything as that is what happens in the movies. I know Jo will have been dreaming of her wedding day when she was a young girl whereas I was fantasizing about scoring for Liverpool in the cup final. I love the fact we are organising the wedding together though, it just makes sense. We have done everything together and made all the decisions that affect our lives together so why should this be any different.  It has also taught me so much, I might not be making the decisions on the flowers and bridesmaid dresses but at least I do now know what hydrangeas are and what a halter-neck is.
The wedding planning world is a fascinating place full of great ideas, every kind of wedding dress imaginable, amazing wedding cakes, really cool suppliers (and some dodgy ones too). Everyone you meet is full of enthusiasm and excitement. Along with the delight of all our friends and family, it's hard to not to find yourself jumping in head first. Jo obviously knew what she was doing and started booking up her friends for lunch dates to talk dresses and colour schemes. I couldn't get anywhere near the laptop as Jo was busy on Google finding out where all the local bridal shops where. I found myself being shown all sorts of wedding type photos on Pintrest and the TV has not been off the wedding channel for at least 8 months. I found I was forming opinions on all sorts of things I never thought I would, how the centrepieces should look, what would make a great wedding favour, what style I wanted for the wedding photographs and the video. We headed to our first wedding fair with Jo's parents, the aim being to find inspiration and to hopefully find suppliers for the big day.
JO: And this is when we rapidly learnt we HATE wedding fairs! Lots of suppliers vying for your attention (and money!), hosting staff who look at you awkwardly when you tell them you're not having your wedding at their venue, and writing your email address down 20 times in order to "win" a 10% discount! But what stuck out most was how much these fairs are focused on the bride; it is the bride who signs in, the bride who gets the goody bag, and the bride who is asked all the questions. Nothing unifying about that. I've even read about wedding fairs that have a "man crèche" where brides can leave their grooms to watch the sport and have a beer! Am I really that lucky to have one of the few men that actually want to have an active part in planning their wedding? And the thing is, I don't actually think that grooms like Nick are such a rare breed. As more and more couples and both families are contributing towards the cost of their own wedding it seems right that it should be something that both partners have an equal say in. Unfortunately, some of those in the wedding industry don't seem to have realised this yet.
NICK: Even some of the stuff that focuses entirely on the groom has had all the fun sucked out of them. Hearing about all the fun Jo had with her bridesmaids finding the perfect dresses and walking up and down catwalks in bridal shops, champagne in hand feeling like a princess, I couldn't wait to go and find a suit for me and the lads. In my head I pictured us all looking dapper, the song from Reservoir Dogs playing, being offered a beer instead of champagne…. I couldn't have got it more wrong! You walk into a shop that has aspirations of being on Savile Row, it is as formal as you can imagine. We went into several shops in our local area (including nationwide chains) and not one of them had a full suit for me to try on, and in many cases I only had the choice of one suit to pick because I want to wear grey and not have tails. Not the most unusual of outfits you would have thought but apparently so. I get that if you wear a suit for work then you may want top hat and tails on your big day, however from all the blogs/magazines/wedding photos I have seen this doesn't seem to be the trend anymore.
In my opinion the role of the groom is changing.  We no longer just show up to deal with the payment. We are having more say in the wedding day and have more ideas on what we want. So far a lot of the wedding industry is struggling with this change. They are out there though. The stag do companies have got it sussed. Check out any of their websites and the choices are overwhelming, they feel modern and look cool. We have been told of suit suppliers that are more in touch with grooms today, and I'm sure they are out there but they certainly not as accessible to all in terms of location and budget. They are a rare breed but if they build it we will come.
JO & NICK: So, hopefully that has given you an insight into us and what makes us tick. The start of 2013 means the wedding planning will now really go into overdrive and, whilst so far it's gone pretty straightforward (touch wood), we have the feeling there may be some hurdles on the way once we start thrashing out the nitty gritty details!
Happy New Year
Love from
Jo and Nick
xxx