Today I am delighted to be featuring the one of my favourite suppliers in my Q&A feature; the very talented Lucy Ledger I'm also doubly chuffed as Lucy has aloud me to showcase 3 of her new designs, which I'm mega excited about!
Lucy is an illustrator who specialises in designing vintage scrapbook inspired stationery. Lucy's work has been featured on several high profile Blogs and lots of wedding magazines even though she has only been in business for less than a year. She has an individual style that is unique and totally her own. And what's more she is an all round lovely person! (and gorgeous!)
So I set Lucy some questions to find out a it more about the Lovely lady and her design work.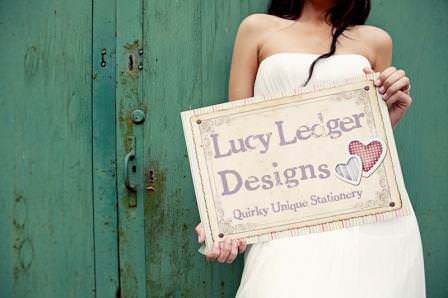 Name and company name:
Lucy Ledger of Lucy Ledger Designs.
Intro/Bio:
I design fun, quirky vintage inspired stationery for brides and grooms that want something a little different
When did you set up your company?
In March 2010
What made you get into it?
I have been a professional illustrator for ten years now was originally planning to set up a greeting card company. Like a lot of people however, I got into wedding stationery designing when I couldn't find the right stationery for my wedding last year.
What were you doing before?
I was and I still do graphic/web design.
How would you describe your style?
Quirky, unusual and endearingly scruffy!
Where are you based?
I'm based in Sheffield
What sort of geographical area do you cover?
Anywhere in the world! None of my couples are local at the moment but I find email consultations work really well.
What sort of Couple do you think you attract?
I attract couples who see the important role that stationery plays in a wedding. All of my couples want their personalities to be reflected in their big day from the moment they send out the invitation. A lot of my couples also want the stationery to reflect a relaxed happy vibe and help create an atmosphere of warmth on their wedding day.
What is the best bit about your job?
I love working on new designs and coming up with new ideas and directions. I also love working with brides and grooms – I get as excited as they do!! It's just so lovely when they tell you you have created their perfect stationery too.
What is your biggest achievement so far?
I feel that my biggest achievement has been the speed at which the business has grown over the first six months. It has really taken me by surprise but I'm so happy it's doing well.
What are your plans for the next 2 years?
I want to expand the business by extending the wedding range with new ideas such as ready made stationery for budget brides and scrapbook wedding album design. I also want to expand the greeting card side of the business by attending trade shows etc. My ultimate plan would be to open a boutique/studio – that would be fantastic!!
What advice would you give couples when choosing their wedding stationery?
If possible leave some budget for stationery – it really makes a wonderful impression. I think picking your wedding stationery is probably one of the most important and exciting parts of planning a wedding as it sets the tone and atmosphere for the big day. Also, stay true to your personalities and don't settle for 'ordinary' if it's just not you! Finally be aware that you CAN have your perfect stationery and it's not as costly as you may think.
What is your favorite design out of your collection?
I always love the collection I am currently working on!! My favourite at the moment is the new 'Vintage tea party' collection, it was inspired by the romantic novels of Jane Austen with a hint of the Mad Hatters tea party thrown in for good measure!! The result is a nice little afternoon tea collection that is ever so shabby but very sweet!
If you were going to design stationery for anyone famous who would it be?
I would have LOVED to have done Russell Brand and Katy Perry's wedding invites!
Tell us something about yourself that we may not know, non work related
I play league Ice Hockey for The Sheffield Shadows.
What do you really love?
I love designers and artists that have their own unique style and brand. It something I have really strived for.
And what do you really hate?
Squishy foam satin hearts on wedding invitations!!
What is your ideal way to spend a day off?
A trip to Barmouth on the Welsh coast with my husband, stopping off to see my family in Liverpool on the way home! Living in Sheffield is great but I miss my family a lot.
What can you never leave the house without?
My iPhone!! I love it because it makes my business mobile! …and if it wasn't so heavy I'd carry my 17" Macbook Pro everywhere so I could design on the go too!
Who would be your 5 dream dinner guests dead or alive?
Lauren Bacall, James Stewart, Tim Burton, Peter Blake and Dave Matthews.
If you weren't running the design business, what would you be doing?
oooh I'd love to buy this beautiful little harbour cafe in Barmouth called Davey Jones Locker and run it with David!! In reality I would be designing but just not for myself!!
For more information about Lucy's work go to:
www.lucyledger.com
www.facebook.com/lucyledgerdesigns
www.twitter.com/lucyleddesigns.com
[email protected]