Today's wedding is full of summer sun (yes we did have some) and it comes courtesy of the fabulous Craig and Kate . It's a wonderfully relaxed day with the most gorgeous bride, she really does look stunning! Craig and Kate have done a beautiful job capturing the day and the chilled out feeling of this farm wedding really comes through in the photos.
'Relaxed, fun and family orientated.'
The lovely couple are Pia and Dave who were married on 18th August 2012. 'The Ceremony was held at Holy Cross Church, it's the Church I was baptised in and had my first holy communion. It was where my older sister got married 5 years before, and I have been attending with my family forever. It wasn't a traditionally pretty church but it had lots of meaning to me and we both felt super comfortable. The Reception was at South Farm, a beautiful farm house with barns and stunning gardens. We wanted a relaxed, cosy and pretty place which was under an hour's drive from the church. You get to have South Farm to yourself for the day and for me it was as close a feeling to having a party at home as I could get without it actually being at home. We had 100 adult guests and 10 small people!
We got engaged 18 months before… did very little to start with, picked my dress November '11 and then properly started the planning.'
How they met
At work! It was friendship at first sight….. 3 years of being great friends, eventually Dave plucked up the courage to ask me on a proper date and we've now been together nearly 5 years.
The proposal
We had booked the holiday of a lifetime…. 4 weeks travelling around New Zealand. We had been in NZ only a couple of days when he popped the question in the Bay of Islands. We were sneaky and didn't tell any friends and family until we got home, I wanted to see their reactions first hand!!
Why did you choose your photographer?
Because they are GREAT! We had booked appointments with 3 photographers. Our first was with Craig and Kate, and well their photos are just incredible. Plus they're an awesome couple and totally made us laugh and feel relaxed (and recommended lunch at the most dinky pub)… we just knew they would capture our day perfectly. And how right we were.
The dress
My mum was super generous and bought me my dress…. We found it on the first shopping trip! It was a Sassi Holford design called Ingrid.
My veil belonged to my sister and my best friends practically forced me into buying some Jimmy Choos for the big day (ok maybe force is a little exaggeration!).
The suit and bridesmaids
Dave treated himself to a tailor-made Reiss suit and Thomas Pink tailor-made shirt. He's got wide shoulders so always struggles with jackets. He likes to feel comfortable (and you'll see with his sleeves rolled up in the photos!!) Have to say he looked HOT.
Bridesmaids had ted baker dresses. They looked fab.
Theme
Coral, peaches and cream ended up being the colour scheme…. More by luck than skill!
Decoration
Not too much, South Farm is really pretty so we kind of just left it to itself.
Food
Best bit! Loads of canapés and prosecco….. we then tucked into a gruyere and chard tart, followed by a choice of duck confit or roast lamb for main (homemade ravioli for vegetarians), and zingy lemon posset for pud.
Entertainment
We had "Tailormade duo and band"…. The lovely Carly and Matt played and sung acoustic-style during the drinks, and then rocked it out with their band in the evening. It was superb, I was surprised by how full the dance floor stayed all night bearing in mind it was 30 degrees!!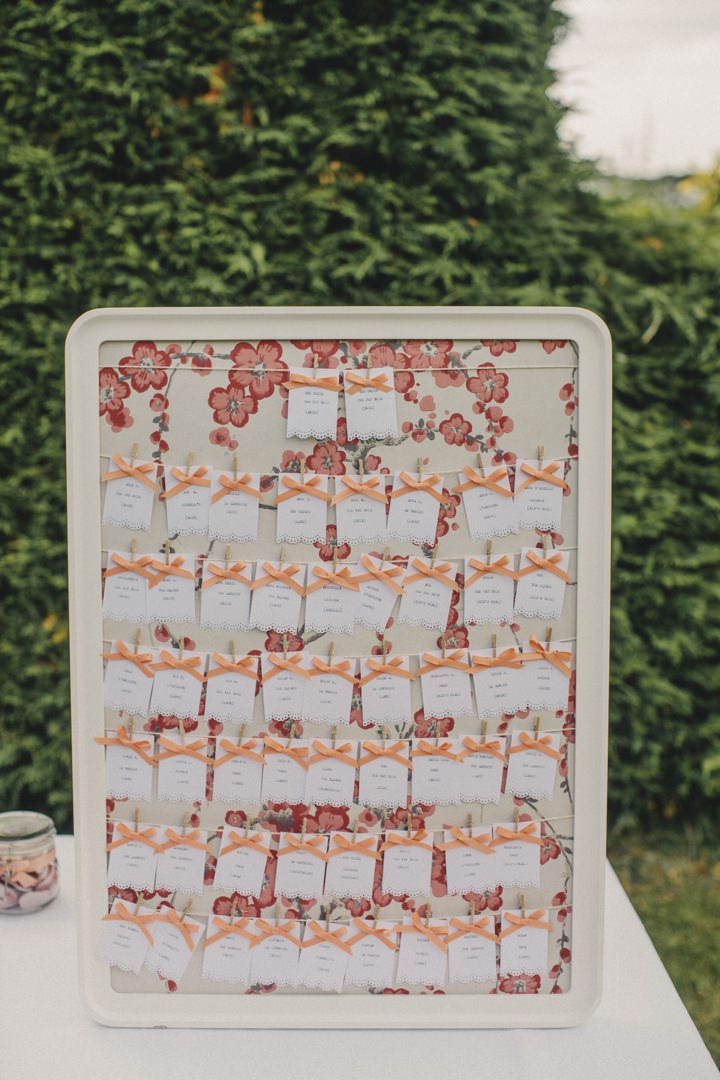 Personal touches
We made our table plan… little escort cards
And some cute straws… a few wicker hearts dotted around.
We made all the stationary for the day (menus, table names, place cards)
Special moments
My favourite bit was the church… I absolutely loved the moment Dave and I exchanged our vows. I will forever treasure that memory.
I also LOVED having our speeches outside…. It was such a hot day that we headed outside and everyone sat on the grass to listen to Dad, Dave and Andy (best man and dave's brother). It felt like a mini festival.
Advice
Try on your knickers! I bought a new pair of blue ones for the day (my something blue!) but never tried them on until the day and then realised I had bought the wrong size. My wonderful bridesmaid quickly stitched a blue heart into a white pair I had and I was good to go.
Biggest surprise
The weather!!! I was sure it was going to be raining all day… instead we managed to pick the hottest day of the year!
Supplier Shout Outs:
Photography – http://craigandkate.com
Car Hire – www.sandkcars.com
Florist – www.tiliaweddingflowers.co.uk
Videographer – www.shutterboxfilms.co.uk
Music –  [email protected]
Photo Booth – www.camperbooth.co.uk
Make up – D&D Makeup
Cake – made by Sister
For more information on Craig and Kate go to:
www.craigandkate.com
www.craigandkate.com/blog/
[email protected]
FACEBOOK
TWITTER 
Studio: 01206 520396
 ♥  You can see more Real Weddings featured on the Blog HERE  ♥