It's been a long time coming but at last I can share with you my Trash the Dress Shoot!
I have been lucky enough to have the shoot featured in Wedding ideas Magazine, as well as the amazing Love my Dress Blog, and London Bride's Blog
Because of this I had to wait until it had been published to share with you all.
I have to say I absolutely LOVED doing this, anyone who knows me will knows I love having my picture taken (I'm not quite as keen on the results though) and I advice anyone who is married to get their frock out and get some fab photos……………..why only wear your wedding dress once??? I really want to do another one, but not sure I can face the months of dieting to get myself back into the dress again.
I'd like to say a massive thank you to Jon at S6 Photography for taking the photos….he was an absolute star! Having worked with him in the past at weddings and now in front of the camera, I can't recommend him enough I couldn't have wished for anyone better!
I got married in Ibiza on 16th June 2009 and the shoot took place on 5th July 2010 on a dry and warm summers evening (yes we did have at least one this year) and my aim was to get as mucky as possible. Unfortunately mother nature had other ideas!
It had been sunny for a few weeks before the date of the shoot and then that day the weather turned, so was a bit gray and overcast, we did manage to get a few sun shots for the second half of the shoot though and I love the low evening lighting that Jon managed to incorporate into the photos.
Because it has been so dry for weeks it didn't turn out to be as much of Trash the dress as I first thought, I had images of me wading around in mud, and getting really dirty……but there just wasn't any!! So the soot turned into more of a Rock the Dress instead……………next time, I'm trashing it!!!
I'm a huge animal lover, so I wanted to incorporate animals into the shoot somehow, I also wanted to make it as far away from the Ibiza wedding as possible, so decided that outside in the English country side would be best. I live near quite a few farms so decided that this would be the ideal spot. I went with my favourite Our Cow Molly Farm which is 3 miles up the road from my house. It's a dairy farm and makes the most AMAZING ice cream……they have loads of cows and there are always some baby ones that I thought would be supper cute! On the day the baby calves really didn't want to be photographed (they do say never work with animals and children and I can see why!) But there was a very funny goat who certainly wasn't camera shy!……..the cows were out as well, but again not as friendly as I hoped!!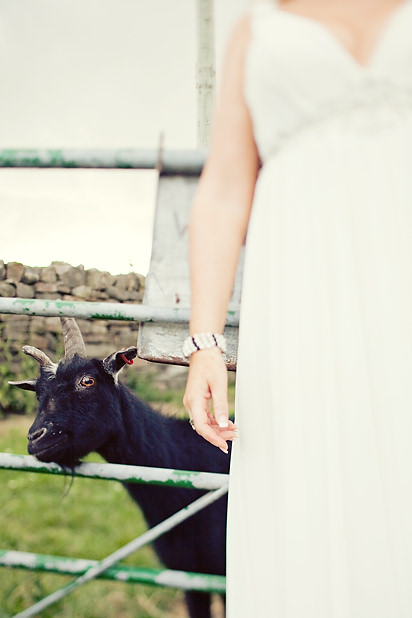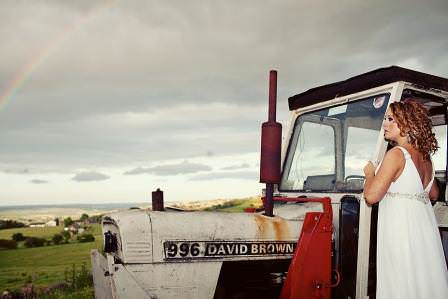 My dress is from Alfred Sung, for my wedding day I went for quite a Grecian look, which went well with the Ibiza backdrop, but I decided to focus more on beading details of the dress this time, and borrowed some gorgeous pieces, The beautiful headpiece and bouquet were from DC Bouquets – the cuff was specially made for me by Lobster Love and the huge earrings were lent to me by Queens and Bowl
I was lucky enough to have Catherine Elizabeth do my makeup and hair. I had worn it up at the wedding so wanted to wear it down for this shoot. Catherine curled ever piece and left it to drop throughout the shoot, so by the end it was quite shaggy and loose.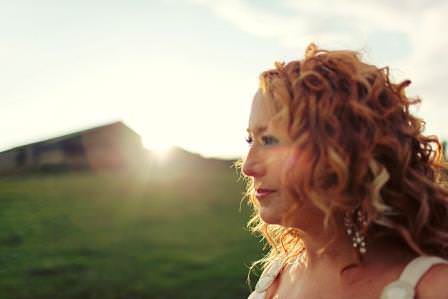 After a while we moved into a nearby field as the sun started to go down, and I played around with some balloons and cup cakes (well I had to get food some in there somehow) These are my favourite shots and I'm still deciding which one to get put onto a canvas.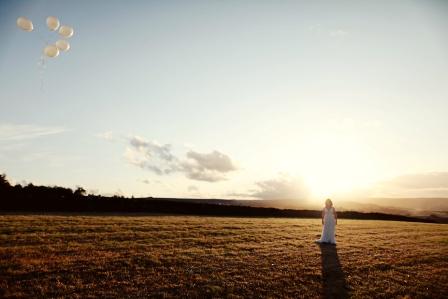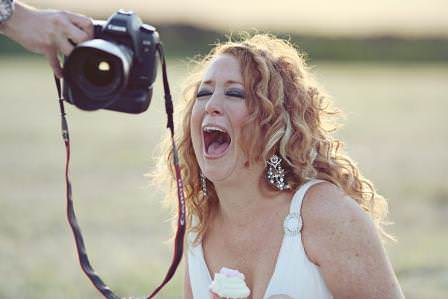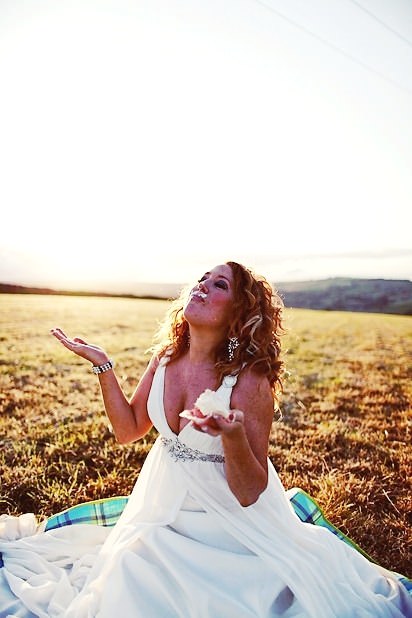 I'd like to say a huge thank you to everyone involved, you are all fabulous! I really do love these pictures I will treasure them forever.
Now I just need to think of ways to really Trash the dress next time.
Full credits:
Photography S6 Photography
Venue Our Cow Molly Farm
Wedding dress (my own) Alfred Sung
Hair and Make-upCatherine Elizabeth
Vintage Bouquets and head band (donated) DC Bouquets
Handmade bracelet (donated) Lobster Love
Earrings (donated) Queens and Bowl
Wellies (my own) Easy Wellies
If you want your won trash the dress experience then go to www.bohoweddingsandevents.com/trash for more information.