It's Friday and yet again I sit here asking myself how it got here so fast, it will 2013 before we know it! To finish of the working week I have a lovely London Wedding brought to you courtesy of Philippa James.
'We took the plunge in a very traditional love-filled day in a spectacular London City setting. With a splash of something different!. '
The lovely couple are Annalise and Guy who were married on 15th September. The Ceremony was held at St Bartholomew the Great, West Smithfield, with the reception at West Smithfield Garden, City of London and the Wedding meal and evening at Le Café du Marché, Charterhouse Street.
'We had about 90 to the ceremony and reception and then only 58 (60 including us) to the meal. Then we had an additional 60 evening guests. It took just under nine months to plan I have to admit at this point that Guy did about 85% of the planning and arranging – he loved planning and was so good at it. He does something similar for a job so he's very good at organising.'
How they met
We had been together almost five years to the day when we got married. We both were working in TV at the time when we met – both Assistant Directors (Guy was my boss) working on a comedy.
The proposal
I work around the corner from St Bartholomew the Great. Every year the firm holds a carol service at St Bartholomew the Great, which I arrange. Last year, on the morning following the carol service, I received a call from the church telling me that some flowers had been delivered to the church. I walked around to the church to collect them and was greeted by the verger at the entrance. He greeted me and told me the flowers were at the back in the kitchen, so I followed him to the back of the church and he asked me to wait there while he nipped off the collect the flowers from the kitchen.
At this point, Guy appeared from behind a pillar, walked (floated in my head!) towards me, and said 'I'm afraid there aren't any flowers'. He opened the huge iron gates to the Lady Chapel which was behind me, led me up the aisle to the alter, got down on one knee and asked me to marry him. Once I had replied yes, he asked me if I would marry him, in that church on the 15 September 2012 … he had already booked it! He proposed with a ring which my Grandfather had given my Grandma for their sapphire wedding anniversary and she had given to me.
We then headed off to Hatton Garden to try on engagement rings (he had booked an appointment!) passed about eight tourists who had been ushered into the entrance of the church during the proposal. They all had tears in their eyes – as did the verger!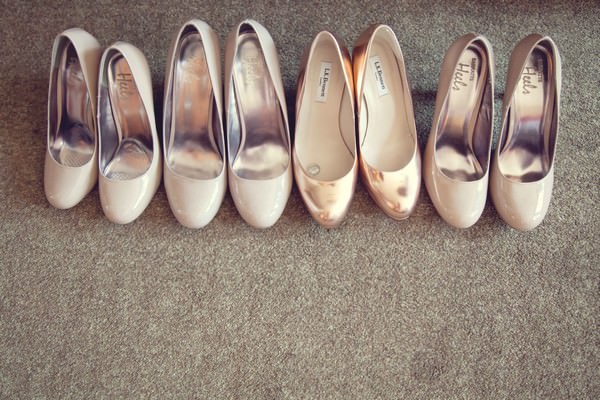 The Venue
I was born in St Bartholomew's hospital and my father trained and worked in the hospital there. Since moving to London it had always been my dream to get married in St Bartholomew the Great. I was featured in the East London Advertiser in 1982 standing by the little fountain in the grounds under the title 'Contemplating the dip?', so we used the picture on the front of our wedding invite and then on the back made a newspaper with all the details titled 'Taking the plunge!' Also – for another reason, see the proposal story!
How did you choose your photographer?
We had researched and met several photographers and just not been inspired. I used to work with Philippa so we were friends on Facebook and one evening I saw one of her blogs in my newsfeed. Guy and I were both immediately sold! Not only were her photos absolutely stunning but they just brought a huge smile to my face. As I had also worked with Philippa, I knew that she was the perfect person to share our day with us. So professional, so much fun, so discrete and knows how to get things done!
The Dress
I wore Lyn Ashworth's Jacqueline wedding dress and my hair piece was designed and made by the very talented Victoria Mann Millinery. My gorgeous shoes, chosen by my Mum, were LK Bennett.
And the suit and bridesmaids
Guy's suit was from Buckleighs of Chelsea and the bridesmaids dresses were Linea.
Food
For the reception we had the most delicious olives (I'm sorry, I have to mention them because they were out of this world!), champagne and smoked almonds for the reception and then for the meal salmon and mackerel pate for starter, fillet steak with frites or dauphinoise potatoes, green beans and salad for mains and a pear tarte for pudding. It was sensational. The chefs cooked all the steaks in front of us and every single one was perfect. Cafe du Marche is a remarkable restaurant. For the evening guests we served croquet monsieur and frites. They were absolutely delicious.
Entertainment
Guy's oldest friend, Leander Morales, played a couple of songs – including a wonderful rendition of Bugsy Malone's 'We could have been Anything', a nod to a play he and Guy were in. He had the whole party singing with him by the end of his set.
Theme
We didn't have a colour theme – our motto was "as long as it looks lovely and feels comfortable". Guy asked his groomsmen to wear different colours and he was the only one in a double breasted jacked.
Flowers
The bridesmaids and I had tied roses from Chez Michelle in Borough Market, the button holes were white roses and thistles and the tables were dressed with a mix of roses and lilies that had been sent to me by a very special friend combined with a bunch that had been given to me by my work.
Decoration
Ha ha, not much. The park didn't allow us to tie or attach anything to anything so our beautiful guests and the monument were decor enough.
Having a wedding in a French restaurant doesn't really require much either, the light and original decor were so stunning, adding would have taken away. It was rustic and very authentic.
Personal touches
Our confetti was made up of rose petals we had collected from roses that we had received or bought during our engagement. I loved that touch. I also loved that the flowers on the tables were made up of two bunches of lilies and roses that were given to me on my last day of work. One bunch sent from a very very special friend and the other from my gorgeous work colleagues.
Special moments
Guy had a delicious groom's lunch in Fox and Anchor which he still can't stop talking about. The ceremony was amazing and walking to the church with my Dad, wow. The choir, the church, the readings. It was incredible. Signing the register while the choir sang Mozart – Angus Dei – was absolutely indescribable. We could hear it through the door. The park worked really well, the olives (highlight) were delicious and champagne flowed. At the restaurant, the food was impeccable and speeches were so funny and at the same time full of kind and genuine words, love filled. The atmosphere was perfect. In the evening Leander's rendition of Bugsy Malone was brilliant – huge smiles across the room. At the end of the night, one of our guests jumped on 'the old Joanna' and played 'Let it Be' and 'Easy like a Sunday Morning' which was very cool, we all stood round and raucously sang. At midnight, we hit the cocktail bar next door, with the DJ in tow, and danced till the early hours with passion fruit tartinies! It was so much fun.
The 15 mins we spent with Philippa between the reception and meal was also so gorgeous. Just wondering around the streets, chatting and visiting little spots that we had been before. It was so relaxed and easy.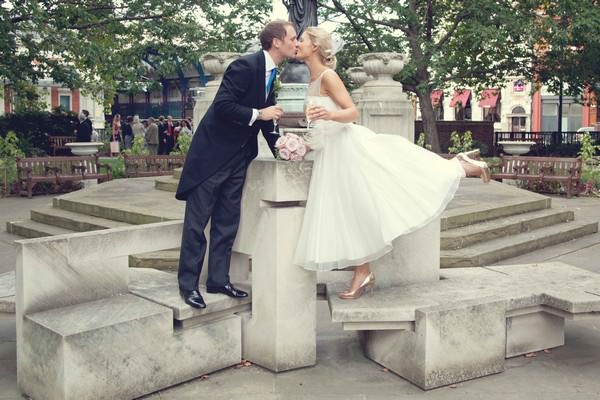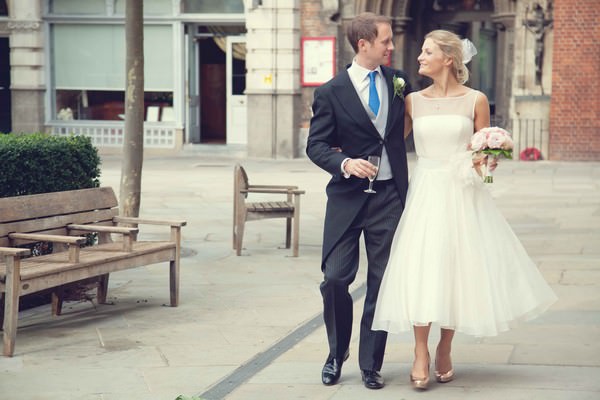 Advice
Keep your engagement short. My tip would be to not wear a watch on the day, delegate all you can and ensure you have a little bottle of water somewhere for a little sip before you walk down the aisle!
Biggest Surprise
Guy surprised me with a pair of diamond earrings which he had had made by our ring designer, Brett Afshar at Hearts of London. That was a tear jerker! My Mum had also, somehow, printed off a photo of us during the confetti throwing, framed it, and left it in our hotel room which was so fab. Also, when we woke up, Philippa had posted a teaser photo on Facebook which brought a tear to my eye – it was stunning, and just made it all real.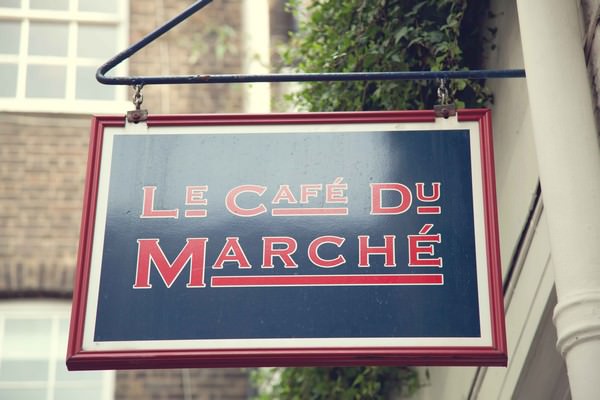 Supplier Shout Outs

Philippa James Photography 
www.philippajamesphotography.com
[email protected]
FACEBOOK
TWITTER
07968 501 851
"I'm a junk shop junkie, a sucker for afternoon tea and cake, and I'm an obsessive list maker. I get over excited when an idea comes to life, I get mistaken for being a guest at weddings, and I have to pinch myself every time I'm behind the lens because to photograph someones love story just totally rocks."
  ♥  You can see more Real Weddings featured on the Blog HERE  ♥