This afternoon I am bringing you some fabulous wedding inspiration courtesy of Sara from Burnetts's Boards. Sara is a fabulous wedding blogger based in Hawaii (you can see her last 2 posts HERE and HERE)
Today Sara is bring us something a bit different from her last two posts, as she gives us some ideas and inspiration for a modern glam wedding  I said to Sara I fancied some sparkles this time round and I am just loving her combination of pretty pastels with some glitter and glam!…….what do you think?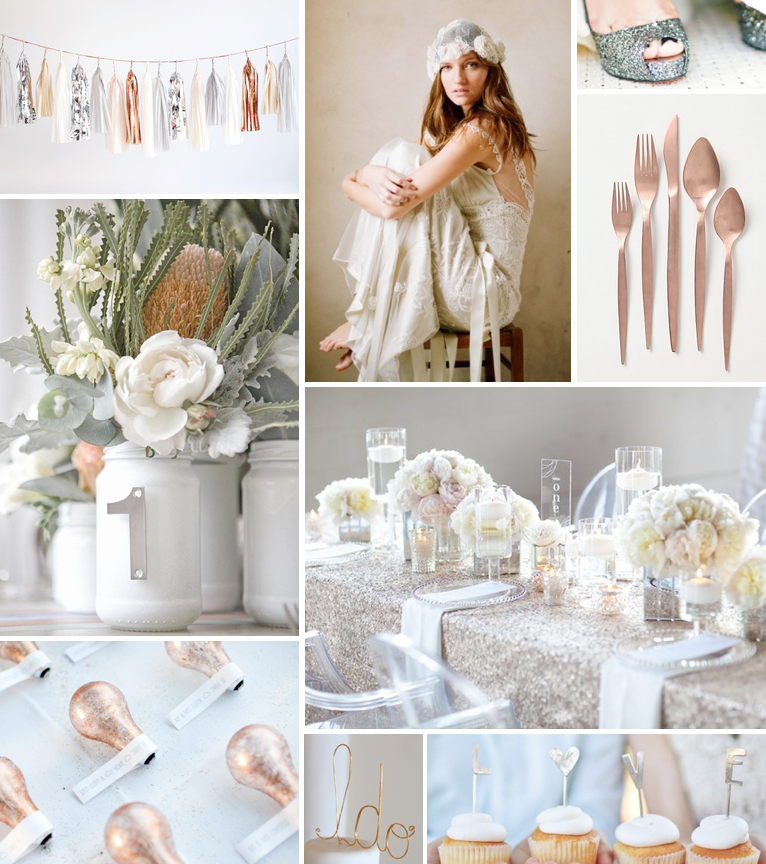 Inspiration board photo credits: tinsel garland,  bride, bronze flatware, centerpieces, glitter table cloth, lightbulb escort cards, wire cake topper, silver shoes,  cupcake toppers

If you're looking to have a sparkling and glamorous wedding without going too girly and glittery, add modern touches to step it up to a more sophisticated level. Incorporate offbeat metallics colors like bronze and use a lot of clean whites on your cake and reception table centerpieces. Choose modern cake and cupcake toppers with a touch of whimsy:
Modern flowers are all about structure. Succulents and proteas are great choices – plus they are really popular right now! If you're looking for something a little more off-beat check out cactuses, birds of paradise, and air plants.
Add a little sparkle with a structural rhinestone headband.
For decor combine use a sequin table cloth for an unexpected and sparkling touch, ghost chairs, and other clear elements to modernize your look.
Look for unexpected metallics like a bronze and unique and modern things, like these light bulbs, to incorporate into your wedding day decor.
And for a final touch of sparkle, don't forget to get a glitter filled picture from your photographer!
A BIG Thank you to Sara for these gorgeous ideas, you can follow Sara and her boards here:
♥  inspiration for bright minded-brides  ♥
www.BurnettsBoards.com
Twitter 
Facebook
Due to an email issue if you have emailed me between the 2nd & 9th of December, please resend it.
X