Morning everyone and welcome to another week! I am currently recovering from a fantastic weekend at the Designer Vintage Bridal Show. I had a fabulous time and it was great to meet so many of my lovely readers. If you came along and said hi then thank you so much and I hope you enjoyed your day! This week is all about putting the final plans to my last wedding of the year which takes place on Saturday. I can't believe it's the end of wedding season for me already, it really has whizzed by! The next few weeks are going to seem very quiet in comparison!
But on to today's gorgeous vintage wedding! It has been submitted to me by Joel Skingle who I haven't featured before on the blog, but I have to say I am a big fan of his work! The portrait shots in particular are very special, I was really spoiled for choice. So I do hope to be able to feature his work again.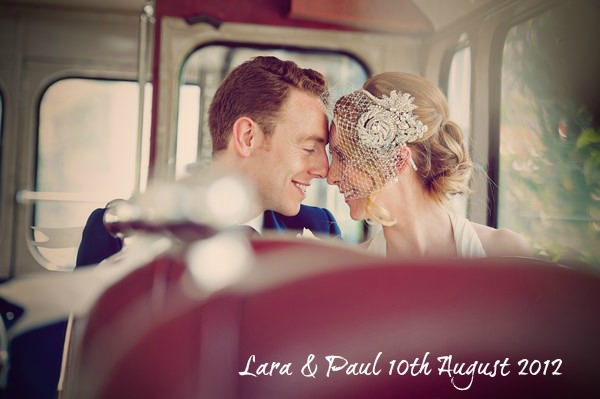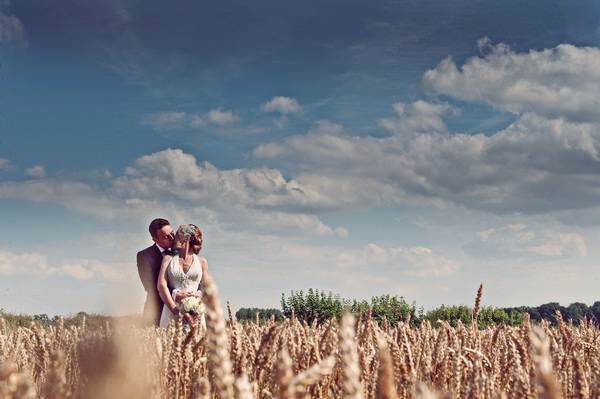 The lovely couple are Lara and Paul and were married on 10th August at St Thomas of Canterbury Church in Doncaster with 57 guests. The reception at The Hostel, Hooton Pagnell with 75 guest for the evening reception. 'We wanted a small, relaxed and intimate ceremony in a lovely small church. The Hostel was chosen due its village hall feel with high ceilings, large windows, beams and open fire. It took 12 months to plan'.
'Our day was wonderfully informal and relaxed. It captured our personalities and style and was filled with elements of our favourite bygone eras.'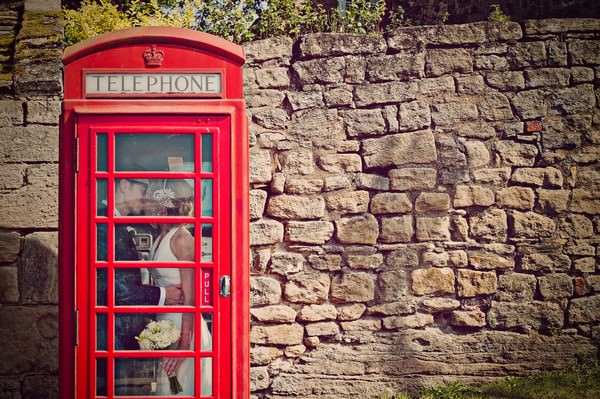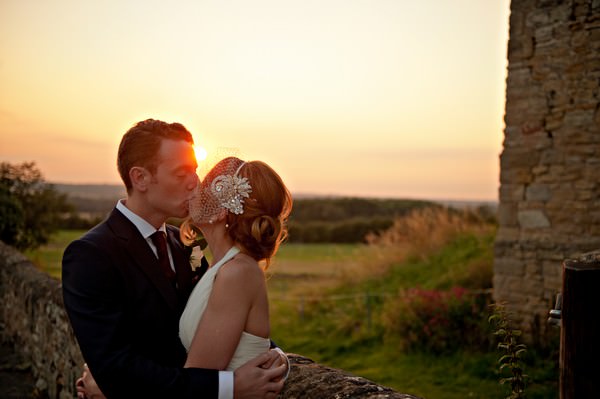 How they met
We met at school, aged 11, and we were in the same class. After Paul caught my eye at 11, I finally 'bagged' him at 16 – we have been together 14 years.
The proposal
After buying our first house in December 2010 we decided to move in in January 2011 and so left the house empty. On 27th December 2010 Paul and I were to exchange Christmas gifts. After a wild goose chase trying to track Paul down I eventually found him in, what I thought, was our empty house. Paul showed me into the lounge, which he had decorated with a Christmas tree, presents, and hundreds of tea lights. He had cooked me a meal and then gave me a card which contained my first clue to a treasure hunt (which is a family tradition). My final clue was under the Christmas tree and led me to Paul and a diamond ring.
Why did you choose your photographer?
Joel Skingle has photographed 3 of our friends' weddings so we were aware of his excellent work, original ideas and professionalism. When meeting Joel, he understood the theme of our wedding and seemed excited to be part of our day. His laid back and friendly attitude also played a massive part in our decision.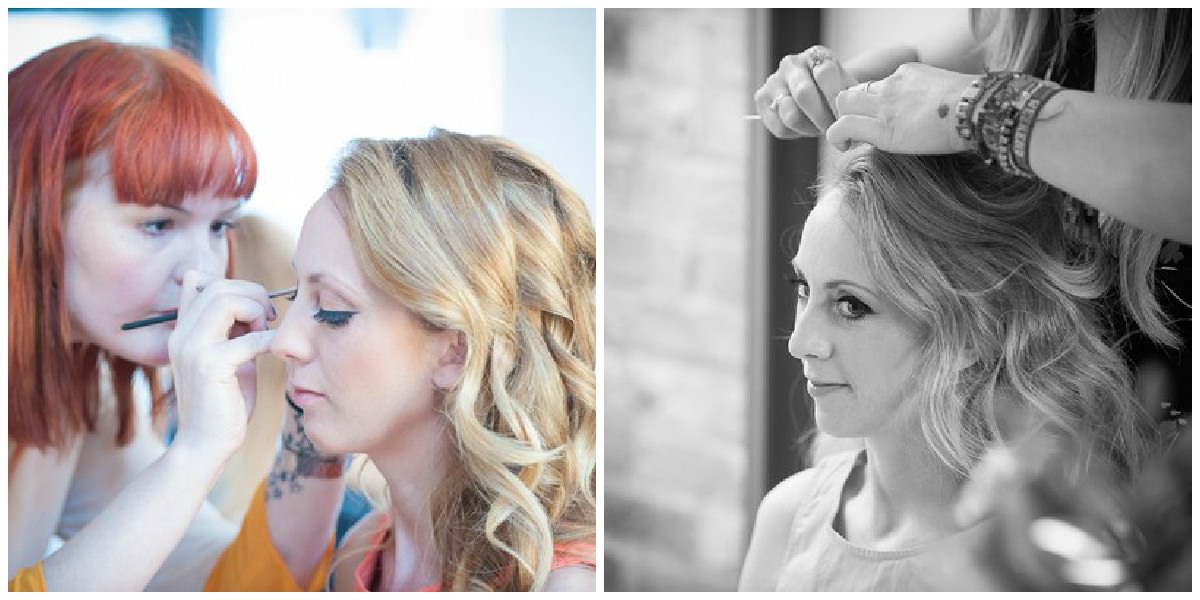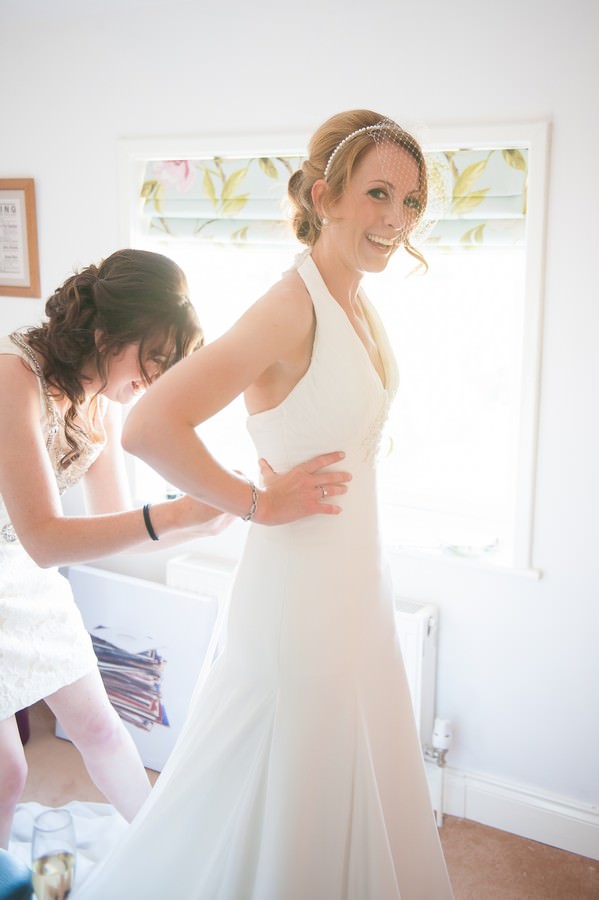 The dress
Dress – when dress shopping I had in mind that I wanted a 1930's style. I chose a halter neck evening gown by Romantica which I teamed with:-
Shoes – Benjamin Adams; Headpiece and birdcage veil – euphoriaboutique.com; Earrings – Swarovski and Bracelet – vintageheadresses.com
The suit and bridesmaids
Tailor made suit – Reiss Tailors; Pocket square – Reiss Tailors; Tie – Paul Smith; Shoes – Office.
Bridesmaid dresses – Monsoon; Bridesmaid Shoes – Moda and Pelle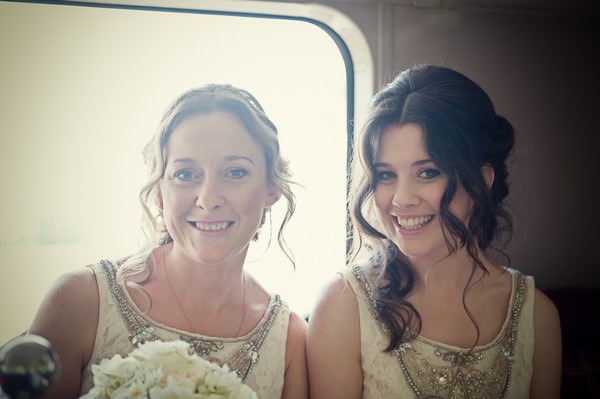 Theme
We wanted a vintage theme. Our outfits were inspired by our favourite eras and the wedding reception as vintage tea party. We hired a vintage Leyland bus to transport our guests from the church to the Hostel. As our guests arrived at the front garden of the Hostel to be served with Pink Lemonade (alcoholic and non alcoholic) and Pale Ale in personalised bottles, a Barbershop Quartet entertained.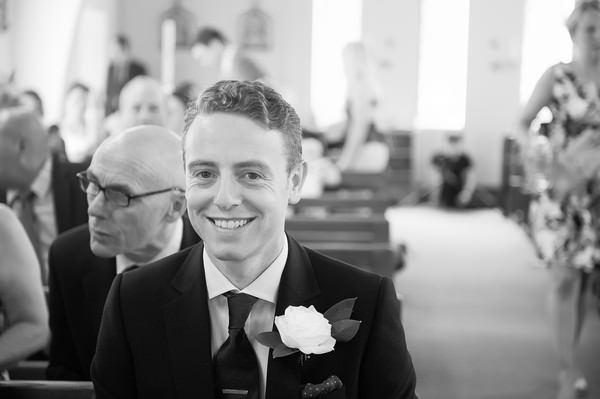 Food
Our guests had a choice of 3 starters, 3 main course and 3 desserts followed by cupcake and tea or coffee.
Starters – Homemade tomato and basil soup/chicken parfait with red onion marmalade and toasted ciabatta/crab and prawn fishcake with a citrus mayonnaise.
Main – Seabass with fondant potatoes and fine beans/Lamb Shank with roasted root and mashed potatoes/Chicken Supreme in a wild mushroom and sherry cream served with fondant potatoes and fine beans.
Dessert – Eaton Mess/Lemon Cheesecake with a lime syrup/Triple chocolate brownie with a white chocolate sauce and icecream.
Entertainment
A barbershop quartet throughout the welcoming drinks. The sounds of Billie Holiday and Fred Astaire played during the meal. A DJ for the evening reception played a playlist compiled by Paul and I.
Flowers
Avalanche, Pink Roses, Pink and White Spray Roses and Gypsophyllia.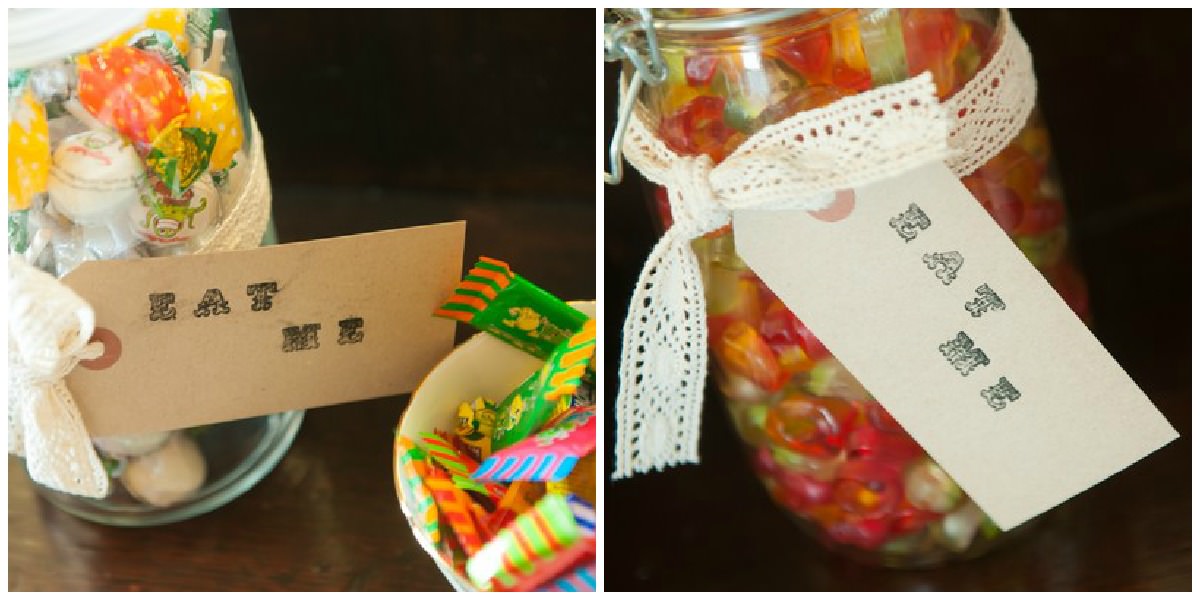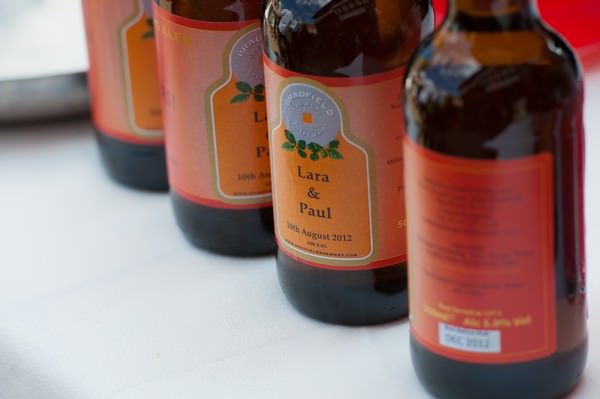 Personal touches
• Vintage double decker bus was hired to take the bride, bridesmaids and the brides' family to the church. It was available for everyone from the church to the reception – very 'We're all going on a Summer Holiday".
• Over a 12 month period I collected (from charity shops/car boot sales etc) china teapots (for flowers); tea cups/saucers/side plates. China plates of different sizes (see below).
• Paul drilled holes in the china plates, added connectors to made cake stands.
• My sister made 130m of bunting which was draped in windows and around the marquee – to go with the vintage tea party theme. She also made stuffed hearts (some hand embroidered) which were hung around the marquee.
• My Mum and sister made and decorated 150 cupcakes in 5 different flavours.
• Flowers were arranged in teapots by Paul's Mum, Sister and my Sister.
• Seating plans were homemade. I used luggage labels threaded with either ribbon or lace, used 'original names' printed with a print stamp, and tied to the handle of a tea cup as place cards.
• Old photographs (of people we wished could have joined us) were framed and put on an old fireplace.
• Lots of old style filled sweet jars with sweet bags placed on a window sill for people to help themselves.
• Barber-shop quartet sang in the garden during drinks and canapés and for a short while in the dining room.
• Each person chose their meal before the day and were given a personalised menu with 'Eat, Drink and Be Married' on the front.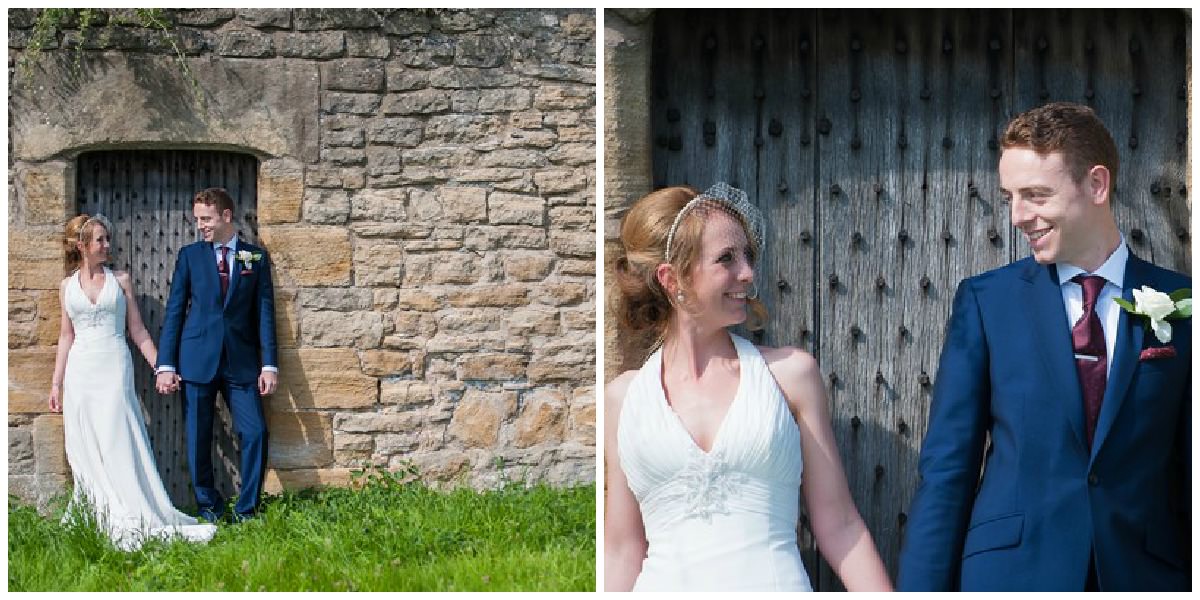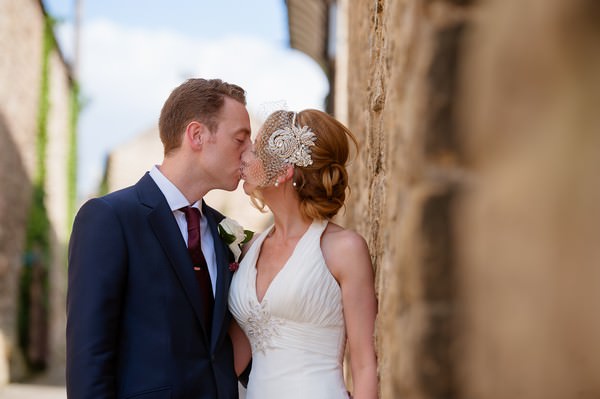 Special moments
♥ Unexpectedly the Barber Shop Quartet sang the Irish Blessing when everyone was seated, which was particularly relevant because of my Irish roots.
♥ The wedding guests sang 'All you need is Love' A Capella – brilliant.
♥ The speeches.
♥  The cheers and whoops seemed to go on forever when Paul and I were introduced into the Wedding Breakfast.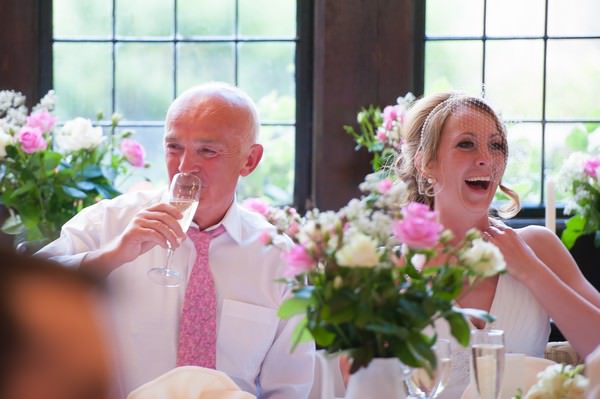 Advice
Don't conform to the norm. Use your personal style to mould your perfect day. The day goes by so quickly it is almost like a dream – and the most wonderful dream. Don't worry – just enjoy yourself. Don't stress about meeting and greeting guests. It's your day so if you want to spend all night on the dance floor then do so. Try to chill and relax.
Biggest surprise
The weather was perfect. Everything was so relaxed – just as we wanted it to be. Everything and everyone was amazing.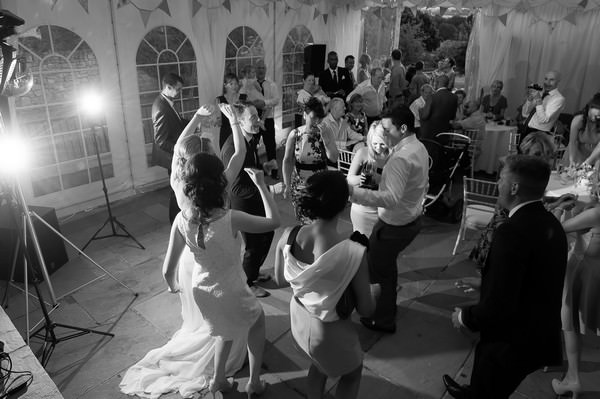 Supplier Shout Outs
Allison and Andy Hodgkiss – The Hostel, Hooten Pagnell Doncaster – a superb venue in an idyllic village,  serving brilliant food.
Joel Skingle Photography – www.joelskinglephotography.co.uk
The Bandwagon Barbershop Quartet – www.hallmarkofharmony.com
Tickled Pink Bridal Boutique – www.tickledpinkbridal.co.uk
Kath Clarke for Bridal and Bridesmaid Bouquets – http://kathclarke.co.uk/bridal-florist
Sian Cunnane – vintage bunting, embroidered stuffed hearts and cupcake maker
Louise Booth – Hair Artist
Laura Gingell – makeup artist
Anthony Rennoldson – chauffeur
The biggest shout out goes to – Sian Cunnane, Elaine Cunnane, Leah Cunnane, Ann Reay, Marie Reay, Richard Sharp – for help to decorate  and making the venue just as I had planned.
For more information on Joels' work go to
www.joelskinglephotography.co.uk
www.joelskinglephotography.co.uk/blog
[email protected]
FACEBOOK
TWITTER
Phone: 07711249944
'My style is a blend of natural journalistic and hi end fashion style giving the couple a great mix of memorable natural moment and stunning advertising standard wall art images. I was a graphic designer for 10 years before a wedding photographer which is where I think this comes from.'
♥  You can see more Real Weddings featured on the Blog HERE  ♥