This afternoon I'd like to introduce to you Paper Delights, a lovely stationery company who have caught my eye. The lady behind the brand is Catherine Gorman who has recently been incredibly generous and donated a prize for the Boho Readers Survey. So if you like what you see make sure you enter the survey as you may be able to win a prize from her.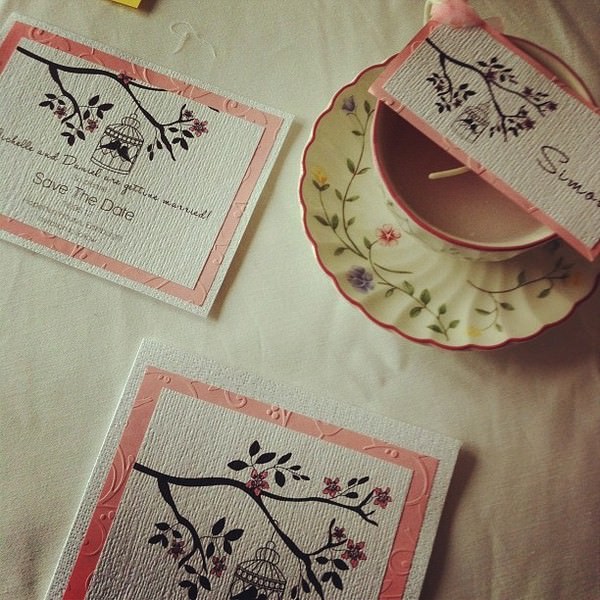 In true Show and Tell fashion I have asked Catherine a few questions to introduce herself and tell us a bit more about her work.
'I design pretty, romantic, floral inspired stationery for brides and grooms looking for something a little bit different.'
What made you start your business?
I was planning my own wedding and really enjoyed the process of designing my own stationery. I was working as a florist at the time which I enjoyed but was looking for a change and this seemed like the job I had always been searching for! That was in 2010.
Where are you based?
I am based in Edinburgh but offer stationery throughout the UK (and internationally if required). I work with most of my couples through email and over the phone which works really well but I also love to have clients round to my studio to discuss their stationery over tea and cake!
How would you describe your style?
Floral, Vintage paper pretty
What makes you different to your competitors?
All my designs are created using my own illustrations. Each design can be tailor-made, changing colour, card and fonts to suit a variety of tastes. I also offer hand painted designs, creating invites with a really personal touch and something that is extra special for their day. As well as my current collections I also offer a completely bespoke service designing all your stationery based on your ideas, themes and colour scheme. I will work work closely with you to create the perfect stationery for your big day. I like to think that whatever you are looking for, I can offer you, and I love the challenge of working on something new and different.
What do you enjoy most about your job?
I love working with my couples, being involved in their day. Having only recently gotten married I know how exciting the run up to your wedding can be and I love being involved and working with them to create the perfect designs to suit their personality.
What sort of couple do you think you attract?
I think the couples that come to me are looking for something that is a little bit different and special. They are usually looking for something that fits in with their theme exactly – such as a creating invitations with the same flowers as their bouquet. Although I offer a range of different styles of invitations my floral invites are definitely my most popular!
What would be your ideal wedding to work on?
I'd love to work on a vintage floral christmas wedding. I definitely think I will include a design like this in my next collection!
Pricing structure
I offer stationery with a variety of budgets and I always say I will work with couples to ensure they get the stationery they want within their budget. I have really focused on price in my new collections, offering cheaper and luxury versions of my designs. I'd say to any couples out their that if they see a design they like but aren't too sure about the price then I would encourage them to get in touch and I will see what I can do!
Current promotion
I have 3 new ranges to add to my collections Beautiful Birdcages, Summer Vintage and Love Birds. They have all been inspired by vintage florals. Each range covers all the important aspects of wedding stationery such as your Save the Date cards, day and evening invitations, menus and order of service. My favourite design of the 3 is the Love Birds collection which was inspired by vintage postcards and romantic red roses. I wanted to create something that was bold and stands out among the soft pastels of the other designs.
For more information on Paper Delights go to
www.weddingstationery.co.uk
[email protected]
FACEBOOK
TWITTER
07874236999