Todays wedding is a bright, colourful and fun-filled wedding from Maryland in the United States and has been sent into me by Sten Hartman from New Chapters Photography who is based in Pennsylvania. The lovely couple are Amanda and Chris who were married on 9th June  at High Point Farm.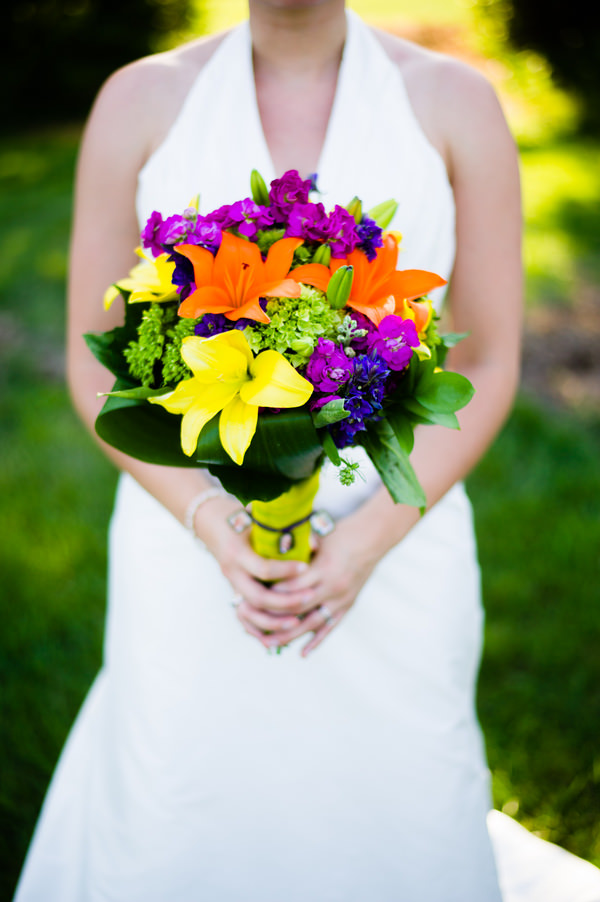 The wedding itself is bursting with colour from the table linen to the flowers and the cakes, it features a selection of games that the guest enjoy and add a real sence fo fun to the wedding. The wedding also has a relaxed, laid back feel to it which I love.
Sten tells us a bit more about the wedding……….
Chris and Amanda actually met through a DC-area kickball team. Chris asked Amanda out after their first game, and the rest was history. It seemed only appropriate that the wedding center around their mutual love of sports and of course, the game that brought them together, kickball. Their wedding day was set at High Point Farms where they had an outdoor ceremony followed by dinner, cupcakes and some good old fashion games. Guests played horseshoes, jumbo jenga, volleyball, foursquare, basketball, football and soccer. Towards dusk, they gathered up their guests for a game of kickball, and then they headed back to the tent where they danced the rest of the night away. Their wedding was filled with so many personal touches and was truly unique and unforgettable.
For more information on Sten's work go to
www.newchaptersphotography.com
www.newchaptersphotography.com/blog
[email protected]
FACEBOOK
TWITTER
♥  You can see more Real Weddings featured on the Blog HERE  ♥