I have a fabulous wedding for you to finish of the week, all the way from very sunny Malibu! It is actually a Vow Renewal and it couldn't be more gorgeous! The most stunning bride, who even manages to do her own Burlesque dance at the reception, the ceremony is held by the brides mother which takes place at sunset, what coud be more romantic!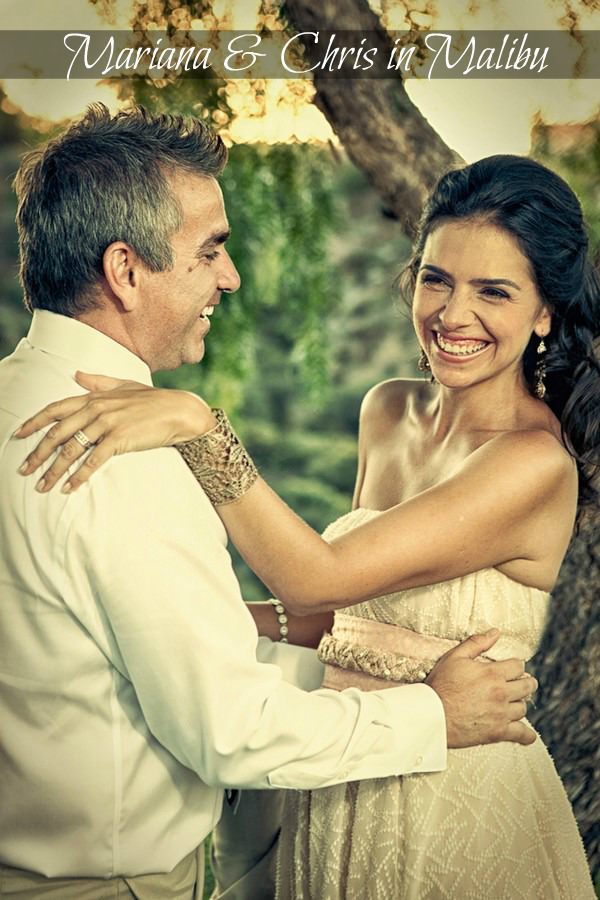 The lovely couple are Mariana and Chris who were married last August at a private estate in the Malibu Mountains, they had 100 guests and it took a year to plan, the lady behind the lens is Maggie Zulovic
Marianne the bride tells me…..
We have been together for 11 years, and the wedding day itself was just magical. It was a DIY wedding, with recycled glass jars with fresh rosemary from our garden and red paintbrush flowers from our friend's garden. We had Sting light bulbs, candles and little enchanted string lights everywhere
Maggie the photographer told me a bit more about the wedding………..
When Mariana and Chris asked me to photograph their 10th year anniversary vows renewal party, I was really touched. They never had a real wedding when they first married, so this was the opportunity to invite family and friends and celebrate big. Guests flew from Argentina and Italy to join them. The venue was a beautiful private property in Malibu, California. The bride wanted a relaxed bohemian feel which was easy to get on this picturesque venue. The preparations were charming with lots of little children running around. As the sun was setting, Mariana and Chris Castaña walked the isle hand in hand accompanied by the sound of ukulele played by their musician friend and by the joyful cheers of their family and friends. Ceremony was touching as well because Mariana's mom was the one re-marrying them. Soon after that the most fun and spectacular party begun. Mariana and Chris surprised their guests with a well performed burlesque dance where the finale of taking her dress and his pants off set the tone for the all night dancing. Around midnight when I was about to take my leave, they surprised me again. The men repeatedly through the bride and groom in the air and luckily caught them as well. I was able to run to the dance floor and get the shots. I sure hope they do this again in 10 years!
For more information on Maggie's work go to
http://maggiezulovicphotography.com/
www.maggiezulovic.com/
www.facebook.com/mzulovic
[email protected]
310.621.5622
I'm a Los Angeles based photographer from Montenegro. Having majored in film, storytelling is a main drive in my photography. I love shooting weddings because they are visually beautiful and emotionally packed. For me, the most exciting element of wedding photography is the unexpected spontaneous moment
♥  You can see more Real Weddings featured on the Blog HERE  ♥