Today we are talking Guest Lists with Boho Bride Jessica.  Jessica and Scott are getting married in Ibiza next month on the 10th June at the beautiful beach venue of Amante.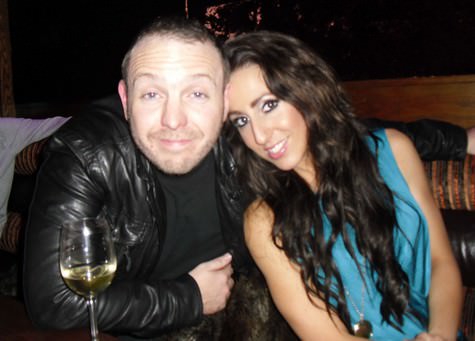 I often find myself telling my brides that the guest list and the guests will be one of the most stressful parts of their wedding planning. Not only you do you have the dilemma of whom to invite and who not to invite but you are also faced with the challenge of trying to keep all of your guest happy. To be honest trying to please everyone is near impossible and in trying to do so, you will only end up stressing yourself out even more! So try to be as considerate as possible but do remember it's your wedding, no one elses!
As for the Guest list, it is never going to be easy trying to figure out who you want to invite unless of course you have the capacity and the budget to invite absolutely everyone! Personally when I got married we started planning a big country wedding in Cornwall, but all to soon we realised we had people on the list that we really didn't want at the wedding, yes that may sound harsh, but why invite friends and relatives that you may see once a year, just because you feel you have to. So we sacked the whole english country wedding off and moved it all to Ibiza with only 35 guests and we only invited the people we really wanted there………..and you know what it was perfect!!
So today Jessica tells us all about her story. I asked Jessica to write about the 'dreaded' guest list as I know how much it stressed her out during the planning process, it was apparent that she was having a hard time with it, and I'm sure there are many of you out there who are finding the same thing!
So here's Jessica………..
I can bet that the hardest part of planning a wedding for anyone is not the venue, the cake or even the dress. No, it's got to be the question of whom to invite. The dreaded 'guest list'. The cause of many an argument, well it was for Scott and I anyway!
My guest list has changed so many times and now it barely even resembles my first draft. As we are getting married in Ibiza I thought that was a great excuse not to have to invite all those family members I never see, or school friends I haven't spoken to in years. My first thought was to 'keep it simple'. I have quite a big extended family; thirteen cousins all with wives and husbands. I had long talks with my mum about it and we initially decided not to invite them. I also decided not to invite a few girlfriends who I'd grown up with yet kind of grown out of over the past couple of years.
This latter choice was met with disdain from my best friend and bridesmaid, who thought I was totally out-of-order; disgusted I had chosen to invite certain other, 'newer' friends in exchange for these girls. She had got married the previous year with a guest list of approximately 300. I didn't have the funds or the venue capacity to be frivolous with my invites. To me, each prospective guest had to have a legitimate reason why they should get an invite; if I hadn't spoken to them within the last year they were off the list. If they hadn't wished me happy birthday one time- off the list…you get the picture. And yes, you have to be that pedantic.
Scott was entirely the opposite, wanting to invite anyone who'd ever so much as smiled at him nicely. Old friends, new friends, workmates….he's a friendly, sociable guy with a lot of friends, which is not a good thing when it comes to putting a wedding guest list together, believe me. And this is where I started to stress….it was after all, my family who would be footing most of the bill. I could comprehend inviting MY friends and family but when it came to some friends of his (who in my eyes did not have any legitimate reason to be there) I just couldn't fathom spending hundreds of pounds a head on them and would resent doing so.
I know this may sound a bit miserly but all I could see were the pound signs (or euros should I say) totting up, especially when I was trying to be so meagre with my invites. So after a bit of ranting and raving he managed to cross a few of them of the list, leaving his closest friends and family, which thankfully isn't that big.
So we were left with a viable guest list! I then met up with my cousin's wife who designs stunning wedding invitations and stationary and we got to work!
Gradually we started hearing back from everyone and its then that I realised I had been stressing unnecessarily. Most of my side couldn't even come! What we had overlooked was the fact that we had booked our wedding during half term and the week of the Queens Jubilee which meant the price of flights had skyrocketed, leaving many people unable to afford the cost. Scott's side was still very much intact, so I hastily starting inviting more people to compensate. Back on the list were the cousins, the old friends and very new friends who I had just practically met. I NEEDED guests!! I was going to Natasha on a daily basis asking for new invites to be printed.
The worst thing was trying to make these people not think I had invited them as an afterthought. So I sent out emails explaining that due to Scott's family offering financial help, we were now able to invite them. Turns out they couldn't come either.
There's been other issues along the way too; should we invite kids? We decided not to, except our own nieces and nephews. This was another reason people decided against coming, as they didn't want to go abroad without them or they didn't have anybody they could leave them with.
Another issue was people not sending RSVPS back to me. I understood that some people were unsure of whether they were coming or not due to it being abroad but others who had booked their flights still waited till the last minute to post me them back. I had made this as easy as I could by putting stamps on them and all they had to do was find a postbox!  I don't know why this irritated me so much, but it did!!
We are now left with a guest list of about 50, which I am actually very happy with. It will be an intimate wedding and we will be surrounded by the friends and family I know really care about us; for one, they're willing to fork out the money to see us get married in Ibiza!
Now I have to get to work on the seating plan!
I'm sure that Jessica isn't the only person to have problems with her guest list, do join in the conversation if you have a similar story! Maybe you didn't know who to invite, or maybe your guest are driving you mad? or have you had problems getting RSVPs back from your guests. Do let me know your dilemmas!
Big Boho Love
Kelly xx