A Few weeks ago I introduced you to Laura and Chris one of my lovely couples who I am currently working with for their 2013 wedding, you can read all about them HERE in diary entry 1 Laura and Chris are planning a very down to earth DIY filled wedding, with so many amazing details! so much so that Laura is going to be a regular DIY expert on the Blog over the next few weeks, as she shares with you some of her tutorials, the first fo which was yesterday. In case you missed it you are in for a treat as it is one fo the best things I have seen, check it out HERE – 1000 Paper Crane Backdrop
Today Laura is talking to us about one of the most problematic points of planning a wedding, Choosing a date and Choosing a Venue!
As a planner I often get hired to just find a venue for people, this is often when they have completely run out of options and have hit a brick wall. People have an idea of what they want, and when it is something away from the normal hotel or stately home, they often get stuck.
Reading this account from Laura proves very interesting as she really shares with us her experience of trying to find a venue that isn't traditional but is still 'them'
I will pass the Blog over to Laura……..
 (Photo credit http://jesspetrie.com )
When we got engaged, I had known about the wonderful world of wedding blogs for a while, and occasionally indulged when I felt particularly romantic or wanted to do a little bit of dreaming. I knew that before I started thinking of themes or colour schemes, I'd better find somewhere to hold the thing!
The date was simple. Due to Chris' work commitments we could either get married at some point before summer 2012, and then spend the next 12 months living apart (I was NOT happy with the possibility of being a newly-wed living alone and only seeing the Mr some weekends), or just wait a while and get married in the summer of 2013 when we would be in a permanent location living together again. It was fairly obvious, therefore, that 2013 was a good option.
The venue – now there's another story. I am from Milton Keynes. He is from Blackpool. We live in Sheffield. That's a 200 mile round trip. Already, this was going to be a hard choice.
We do not attend church, nor hold strong religious views, and so the traditional church plus hotel/marquee did not cross our minds, much to the disappointment of some members of my family aged 70+. This is something which we felt very strongly about, and so it was fairly easy to convince our families that a church wedding would not be happening. As a child I had never dreamed of getting married, and where some ladies may know exactly the atmosphere and setting they would like, all I knew is that I wanted to be comfortable and relaxed amongst close family and friends.
So, what else does Google suggest you get married in if you don't have a church? A stately home. A hotel. Even a castle. But as much as the church didn't appeal to us, neither did these. We have never visited an elaborate stately home, and we don't stay in anything more luxe than a Travelodge when we go away and a grand castle just screamed 'freezing' to me… so back to square one.
I'm not going to pretend the venue hunt was all plain sailing: I had a bit of a cry, gave up on wedding planning, and resorted to escaping back to my little world of wedding blogs to dream a little while longer. We just wanted somewhere which was small, relaxed, and where we could just be ourselves. I wanted to be able to have it exactly how I wanted, and was adamant that I would not be having any chairs with bows on them.
On my adventure into the depths of the internet, I stumbled across pictures of a gorgeous little Georgian farmhouse owned by the Landscape trust, just a mere 10 minutes from our home, and on the outskirts of the Peak district and Sheffield – the place where we met, studied and lived together for our whole relationship. A quick check on the website confirmed it could hold weddings, and thanks to some local wedding photographer's images on their website we had our hopes pinned on this little place in an instant.
Immediately we planned a visit, and tootled off on a dreary afternoon to have a nose. It completely out-shone our expectations, being cheap, laid-back, completely informal, beautiful and fairly intimate (80 guests max)… just what we had hoped for! A quick nod to each other, we happily browsed their availability and signed on the line for the 7th September 2013. It seemed so far away, and we were very surprised that they were booked so far in advance, but hey, we had a venue AND a date!
Hands down, the most stressful part of wedding planning to date but here is a little sneaky peek of my idea of heaven…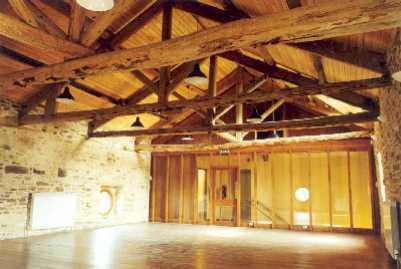 (source: www.woodlanecc.org.uk )
A little while later, we realised that it would be very hard to hold the ceremony, wedding breakfast AND evening reception in one room. It is possible, but very ambitious. To be honest I'd rather not leave the smooth running of my wedding down to chance, luck, and whether the weatherman on the day has got his facts right.
My mother suggested we find another venue, an idea which we entertained for about an hour. Not happening. Then I thought we could kit out the smaller barn in soft furniture for a 'chill out' or 'in case of rain' room. I saw a quote and ruled that out (£1k just for delivery? Crazy). Then my mind wandered to the possibility of a marquee.
I hear what you're thinking; the girl who wants a non-traditional venue wants a marquee? As in, 'country casual, white drapes, fancy dance-floor, marquee'?! Ah, but hold on a minute. We live in an age where marquees are no longer the style that leak through the roof, threaten to blow in at the slightest gust and freeze everyone to within an inch of their highly coiffed lives. There is now the possibility to have a yurt, a heated permanent function marquee, a Chinese pagoda, a big top, or best of all… a TIPI!
(photo source www.s6photography.co.uk)
Yep, on the lawn of our little farmhouse and barn, there will be a singular tipi, with seating for all of our guests, a fire, bedecked with twinkling lights for a lovely, intimate, cosy setting in which our guests can eat and then retire to during the reception if they don't feel like dancing.
In the words of Gordon Ramsey: Venue and date – DONE.
Luara is getting married at:
Woodlane Countryside Centre www.woodlanecc.org.uk (the same place as my 40th Birthday Party)
with a Papakata Tipi www.papakata.co.uk
Photos of Chris and Laura by  www.greyeyephoto.com
You can see the full set HERE