I have a gorgeous Christmas wedding for you today, with a dusting of snow to set it off perfectly! Big thanks to Source Images for sending it my way. It's the wedding of Gemma and Oliver Jenkins who were married on 19th December at The Ashes, Endon, Staffordshire, with around 100 guests in the day and an extra 20 in the evening. It took 12 months to plan the wedding.
Gemma and Oliver describe their day as 'Our wedding was a whirl wind of excitement, love and laughter. My husband and I loved every second of it and feel very special that we have such lovely friends and family to share it with.'
It's such a cute wedding with so many amazing handmade touches to it, Gemma really worked hard on creating all the DIY elements and pulling them together so well. Her dress is also stunning, a Vintage find that suits her perfectly! And the snow really finishes of the day perfectly. Great work from Source as ever!
How they met
We met at a mutual friends 21st and we've been together for 5 years
The proposal
It was New Year's Eve 2010 we were down in Devon with all my family. After I very long walk Oliver finally managed to get me on my own and took me down to the beach. I plonked myself down moaning about my aching feet. Being NYE I wasn't that surprised when Oliver produced a bottle of champagne out of his rucksack however I was surprised when he produced a ring instead of a couple of glasses. The celebrations that night were particularly special and it was great we had an instant engagement party with a house full of family.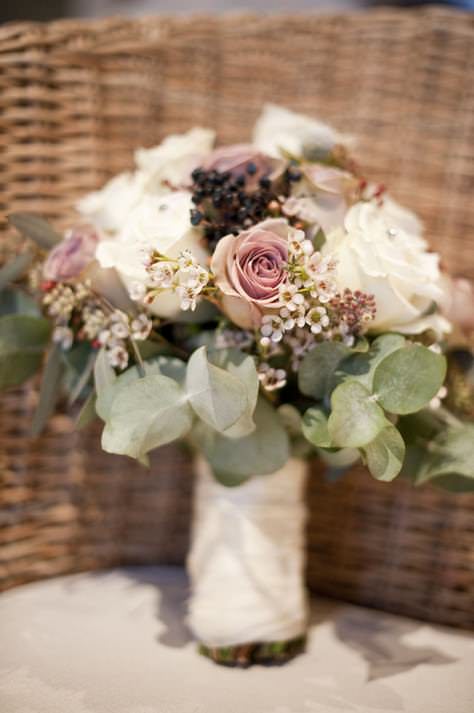 The Venue We wanted to get married in a barn as they're such beautiful buildings. The Ashes was the first barn we visited and fell in love with it.
The Dress
It was vintage picked up a right bargain! Accessories were from House of Fraser and shoes from Next.
The suit and bridesmaids
Bridesmaids were Karen Millen and Suits were hired
Theme
Colour scheme was monochrome and we had a theme animal- A stag!
Food
Canapé's: Mince pies and cheese twists.
Starter: parsnip and apple soup with bacon croutons.
Main: steak and ale pie, roast potatoes and seasonal veg.
Dessert: Chocolate brownie with clotted cream.
Entertainment
We sang the 12 days of Christmas and had a band in the evening
Flowers
Amnesia roses and eucalyptus leaves
Decoration
Did them myself so they were all dried. I went down the winter theme with dried pussy willow, cones, holy, fairy lights and candles.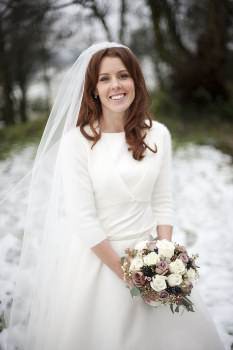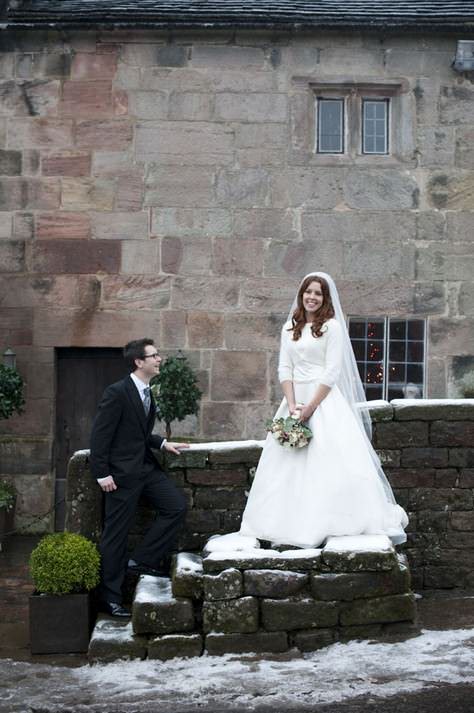 Personal touches
– Did everything myself;
o Made a wedding day post box
o All table and windowsill décor
o Oil burners with a winter scent oil
o Seating plan on a mirror
o Hanging stag picture behind the alter
o Wicker heart and holy décor on the end of the aisle chairs
o White paper trees with fairy lights and Christmas decorations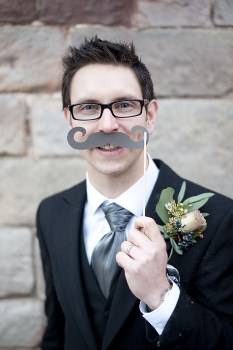 Special moments
Definitely the band! The disco was the best party I've ever been to. I also loved the 12 days of Christmas singsong, it woke everyone up after their heavy meal.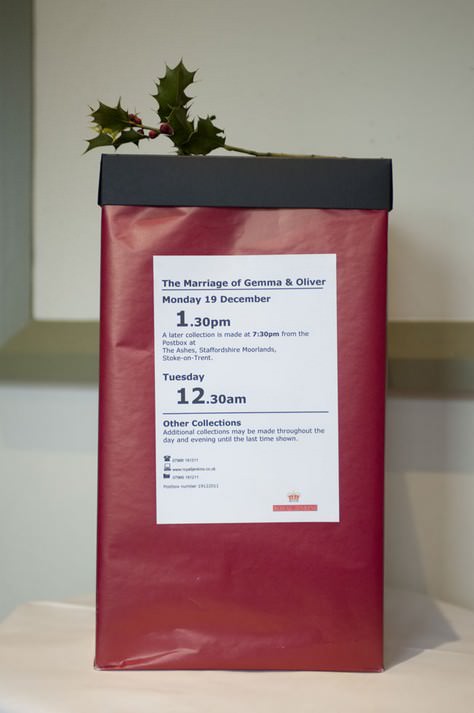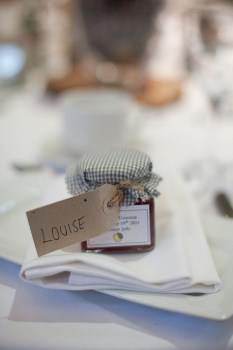 Advice
Do it your way, don't let anyone tell you what to do and don't let yourself get carried away with things also make sure you tell the venue exactly what you want- they aren't mind readers and you're paying them a lot of money!
Biggest surprise
How quickly it all went!
Supplier Shout Outs:
www.theashes-venue.co.uk
www.source-images.co.uk
www.notonthehighstreet.com
www.rockettstgeorge.com
www.miki.co.uk
Pure (Hair and Makeup)

For more information on Source Images photography services go to:
www.source-images.co.uk
www.sourceimagesblog.co.uk
[email protected]
TWITTER
T. 01628 770669 M. 07810 714400

[jprel]