Welcome to another week! and to start the week off as I mean to go on here is a BEAUTIFUL wedding for you! It's sunny, it has lost of DIY elements in it and it takes place in Ibiza……….PERFECT!!!!
It's the wedding of Helen & Dominic Hoile who were married on 20th September at Villa Can Jordi, near Es Cubells, Ibiza they had 90 guests. Helen the bride is actually a photographer (www.helencawtephotography.com) and I posted one of her gorgeous wedding a couple fo weeks ago HERE . For this reason Photography was very important to her so she chose Christian and Erica from Christian Ward photography to do the honours for her and what a fantastic job they did!
It is truly a magical day, and I'm over the moon to share it with you! Ibiza is of course the place that I got married so holds some very special memories for me, but it really is a truly stunning  island and I think that Christian captures this beautifully! Helen and Dominix have incorporated a lot of handmade elements into their day and lots of DIY touches that make this wedding totally them! I LOVE the accents of yellow and pink and think it works brilliantly with the Ibiza sunshine!
How they met
We met in Meribel, France. I was 19 doing a gap year season working as a waitress and Dom was my handsome chef!
The proposal
Dom proposed on a picnic blanket at the foot of Mont Blanc. He handed me a white rose and our "love album" (photographs of our time together) and at the end of all the photos he'd written a gorgeous message ending with "Will you marry me?"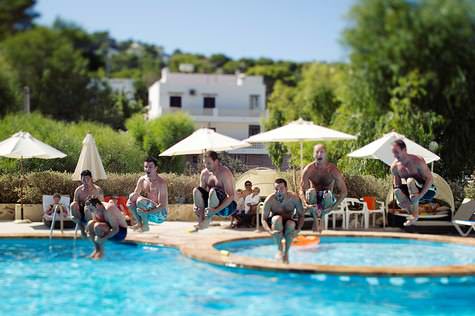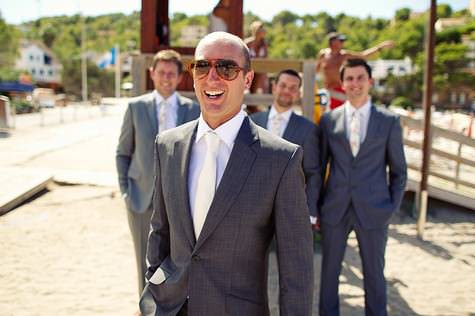 The venue
Bizarrely our original plan was to get married in Chamonix, France, as this had been our home for 5 (ish) years. However, we were really put off by how inflexible and almost rude all the venues seemed to be. We just wanted a super relaxed, laid-back day that we could make our own and it seemed that wasn't going to happen in Chamonix. After spending a summer working out in Ibiza in 2008 we had both fallen in love with the place and knew it would be perfect for the type of wedding we wanted. We decided to use the villa we'd worked in that summer as our venue and that way we were able to make the day completely unique, adding in little splashes of our personalities here and there…
The dress
My dress was Melita by Alan Hannah from Proposals in Chichester. My headpiece is the stunning Acacia II by Jenny Packham and my earrings are also Jenny Packham. My shoes were a pair of fun pink wedges (I can't really walk in heals) from the sales!
The suit and bridesmaids
Dom's suit was from Marc Wallace. The bridesmaids dresses are by Kelsey Rose.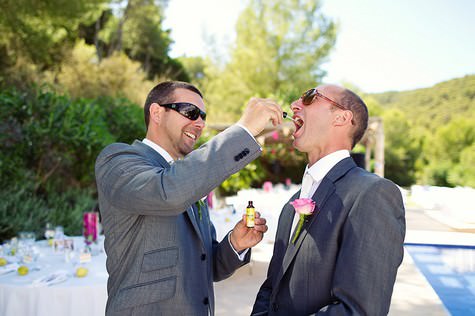 Theme
We both wanted a bright, sunny theme to our day, but didn't want to be too strict with it. The bright pink and yellow worked perfectly in the Ibizan sun and hopefully reflected our personalities too!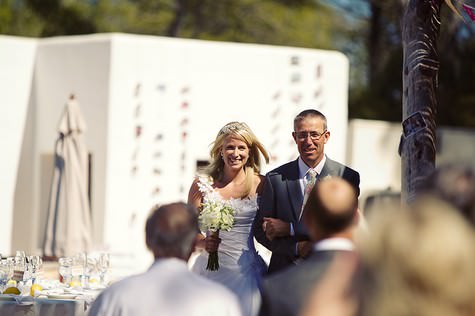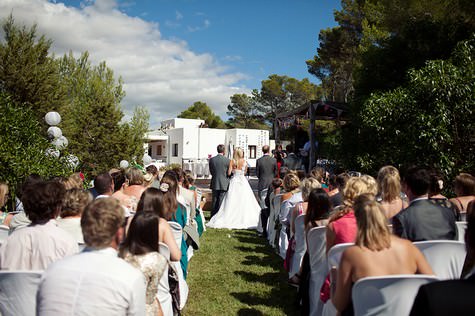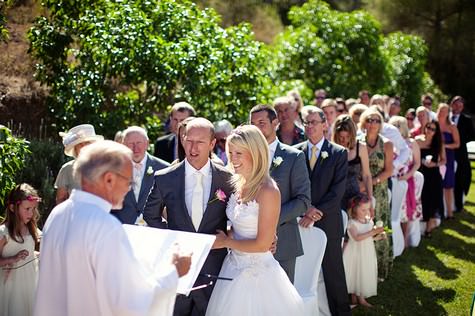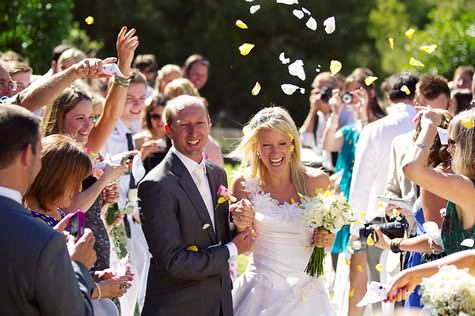 Food
As Dom's a chef food was really important to us. Vickki from Eat Ibiza was absolutely brilliant and her food was probably the best I've ever tasted at a wedding, not that I'm biased! We had a tapas platter for starter, then main was Medallions of fillet steak served with a rosemary – rioja jus OR Crispy Polenta crusted pan fried line caught Sea Bass fillet served with roasted  cherry tomato and torn fresh basil salsa. The desert was an "Indulgence Platter" of Bite sized amaretto scented chocolate fudge brownies, mini orange blossom and Madagascan vanilla bean baked cheesecake stacked with fresh strawberries, 70% coco warm chocolate fudge dipping sauce and cool fresh cream.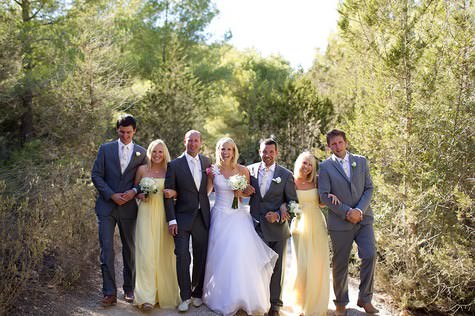 Entertainment
We had the amazing Luke Rogers to sing during the ceremony and during the reception and DJ Claire for the tunes.
Flowers
I had a bouquet of mainly white roses to tie in with Dom's proposal. My sisters had very simple bouquets of white roses and gypsophelia that we put together ourselves. On the tables we had vases of Fushia pink borgainvillea.
Decoration
We wanted to do everything ourselves and make it look different to your tranditional UK wedding. The villa is in a very beautiful setting with lots of greenery and a gorgeous view so it really didn't need very much. My fabulous Mum made heaps of bunting in fun pink and yellow prints, we covered a couple of walls and pillars in fun photos of ourselves, we had a big white D&H and white lanterns hanging in the trees. As the sunset we had 150 candles placed around the pool and villa. Each table was named after a place we had spent time in, written on slate with a picture of us there attached. The place names were lemons with little flags.
Personal touches
• Bunting – made by my Mum and I
• Ring cushion,
• D and H hearts,
• Menu design, order of service, confetti cones and invite design all done by the amazingly talented Rachel at Art & Mabel (Dom's sister).
• Lemonade for welcome drinks made by Dom and my Dad each with a stripey straw and flags saying "The Hoiles", "Love Lobsters", "D&H" and "I Do".
• We gave each guest a mini glow stick as a favour, a little tongue in cheek, as this is what most people probably expected of an Ibizan wedding!
• The cake was made by my incredible sisters. It was kept a surprise til the day and was a mountain with Dom and I at the top in our baggy bright snowboard gear and two lobsters at the bottom.
• I created a mini photobooth for guests with moustaches, wigs , signs and blow up instruments!
• The table plan was made by my sisters' fiancé Dan was was a signpost with all the names pointing off to the right and left.
• My Mum made my garter to match our colour theme and with little pendants of a camera and a chefs hat (I'm a photographer and Dom's a chef)!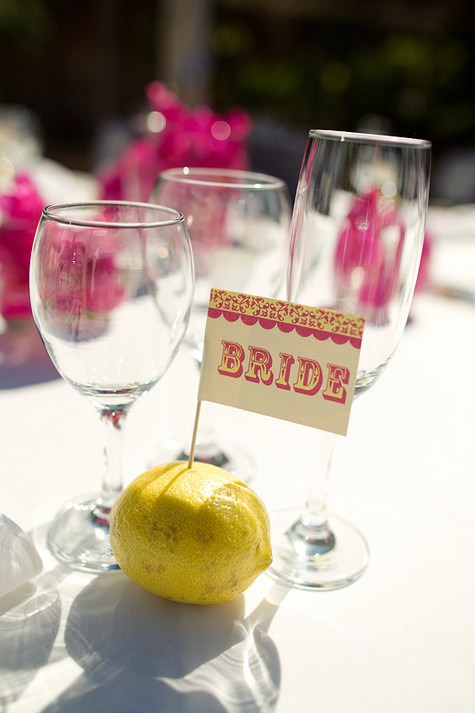 Special moments
The whole day was amazingly special. Everyone had made such an effort to join us out in Ibiza and we had such an incredible 2 weeks with everyone, not to mention the wedding day itself! The speeches were a stand out for me – I don't think there was a dry eye in the house after my Dad's speech! Apparently the highlight for everyone else was jumping in the pool at the end of the day but unfortunately we didn't get to see this as we'd already left!!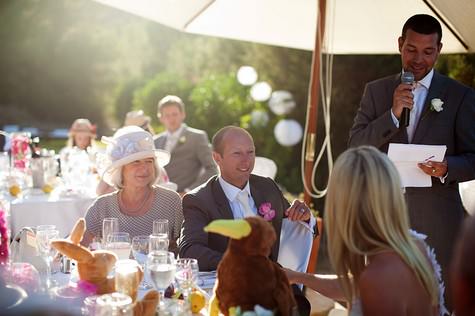 Planning Advice
I believe the main thing to remember is that you should make your wedding a reflection of the two of you and do things your way. As soon as you start trying to please everyone else it stops being your celebration and isn't fun anymore! Luckily we both have lovely parents who allowed us to do just this! On the day, just go with the flow and laugh if things don't go quite according to plan – they never do!!
Supplier Shout Outs
For more information on Christian and Erica's work go to:
Christian Ward Photography
www.sheffieldweddingphotographer.com
http://blog.sheffieldweddingphotographer.com
[email protected]
07832 113973