Today I have a super cute pre wedding shoot for you courtesy of Philippa James Photography. The couple are Becky Brown and Nick McIndoe who had their pre wedding shoot on 6th November 2011, in and around Islington, London.
Becky and Nick said about their shoot; 'The idea was to capture our every day life by shooting in the area we live and at places we hang out, but also with an element of heightened reality. We both slightly feel we were born in the wrong era and are both passionate about film and so went for a 1940s film noir theme for many of the shots.'
I love this shoot, it's fun, varied in locations and subject matter and really shows off the couples personality! Philippa has kept the tones of the photos slighty muted to work alongside the couples 1940s theme, and it's great to see a couple use a vintage theme because they live and breathe that era, not just because they think it's on trend! I love that we are walked though a day in the life of a couple and get to see a bit more about where they are from (Plus I was born in Islington so it's great for me to see some more of the area) I'm sure their wedding in April will be stunning!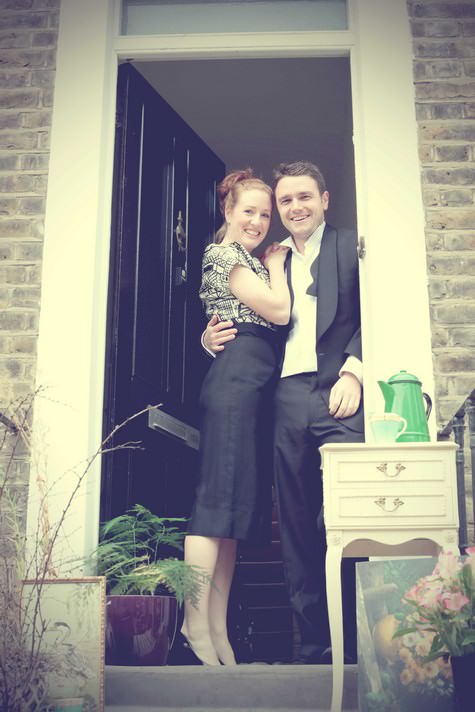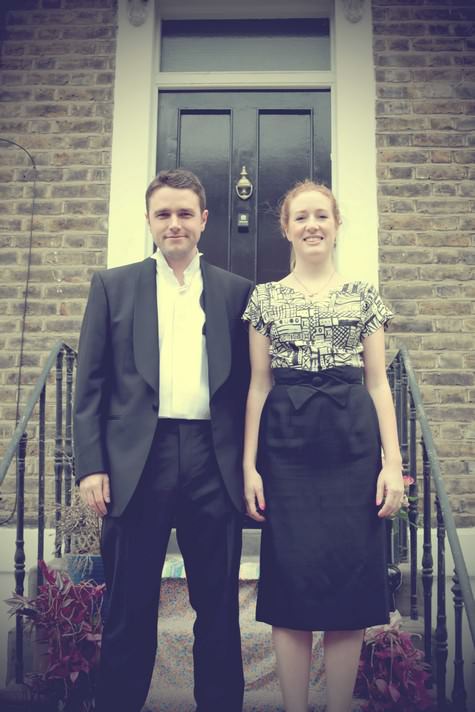 How did you meet?
Becky: Nick and I met four and a half years ago in the summer of 2007 when my friend Mike and I were looking for a third flatmate to live with us in a lovely apartment in an old converted school in North London. We had a viewing on a Saturday morning and Nick was 1 of about 5 people that came to view the place, and we hit it off straight away! After we had shown the various people around the flat Mike and I went to discuss our thoughts on prospective flatmates. We both liked Nick and another guy called Tom. I simply said to Mike I can't live with Nick because I fancy him, so we decided to ask Tom (who is now one of our best friends). Of course, this meant that I now had to pluck up the courage to tell Nick he couldn't have the room – and the reason why! Eeek
I met up with some friends on this glorious sunny afternoon on Broadway Market and sat drinking outside in the sunshine. We then went to a friend's rooftop BBQ where, following a few rum cocktails, I plucked up the courage to ring Nick and tell him he couldn't move in with us because I fancied him!! He then said he felt the same and said he would call once he had found somewhere to live….. and he did!!!!
Nick: I had just moved to London from New Zealand, and needed to find a place to live before starting work. One of the flats I looked at was an old Victorian school in Islington. Once there, I went through the motions of looking around the flat, giving the bathroom a cursory glance and the kitchen a brief inspection. It's not that I wasn't interested (in truth, the flat was great); it's just that I had found myself deep in conversation with this incredible red-headed girl named Becky who was showing me around. We talked about New Zealand (Becky had been a few times) and many other things, and I left in a bit of a daze. Later that day, Becky called me and explained that they had chosen someone else for the flat, part of the reason being that she liked me and thought it would be dangerous to live with me, but that she'd love to go out some time. Rather than being gutted that I didn't get the flat or being taken aback, I had talked to Becky for long enough earlier on to realise that she had done something quite brave and had put herself out there. More than that, it was great to know for sure that the connection I felt was mutual. I said I would love to meet up but that, as I started work on Monday, I should probably get through my first week of work as well as find a flat before we went out. We met up for a drink a week and a half later and have been together for four and a half amazing years.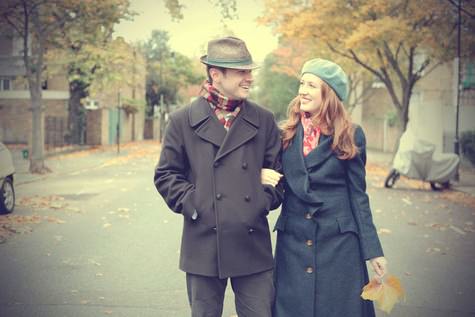 The proposal
Nick: By March 2011, I had been thinking about proposing for a while, but timing is everything. Becky and I had planned a 10 day trip to Cuba and this seemed the perfect time and setting to pop the question. I had smuggled the ring into Cuba in a little bag full of cables, power adapters and camera rechargers – the one place I knew Becky wouldn't look! We were staying for a few days in a small rural mountain town called Viñales which is nestled in amongst spectacular jutting rock formations called mogotes. It was an incredibly sunny day and Becky and I both love the outdoors, so we decided to go for a long walk. Towards the end of the walk, I found a beautiful spot in the middle of the fields, surrounded on all sides by these towering mogotes. The ring had been burning a hole in my pocket by this stage, so I pulled it out, got down on one knee and spoke a few words from the heart (I didn't want to have anything prepared). Thankfully, Becky said yes!! We stayed in that spot for a while and then walked back into town and up the hill to a hotel with an incredible view of the valley, where we spent the rest of the afternoon drinking mojitos and talking excitedly about all that was to come in our life together.
Becky: As Nick describes above we were in the most beautiful setting but I did wonder why he was adamant on walking right to the centre of this field. I think he persuaded me to continue when he started talking about the panoramic view, at which I begun rooting through my bag and pulled out my big old film camera and started messing about with lenses and playing about with framing as I had clocked this beautiful bare skeleton of a tree which looked wonderful against the red dirt and bright clear blue sky surrounded by the incredible rock formations (mogotes). So, there I was in my shorts and t-shirt, covered in red dirt, crouched down on the ground taking a photo of this tree, I got my shot finally and turned around to Nick who right then got down on one knee and proposed to me with the ring he had chosen. I instantly said yes but was utterly shocked and speechless for a good five minutes whilst I let it all sink in! We then walked together and talked about our future and I was absolutely overwhelmed with happiness.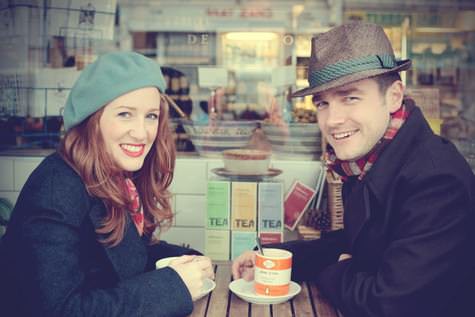 Tell me one the thing you love most about each other
Becky: Nick has an inner confidence, a quiet confidence. He knows his own mind and won't be swayed by the material world we live in; he appreciates the simple things in life.
Nick: To say that "everything" is the one thing I love most about Becky feels like a bit of a cop-out, so I'll rephrase that by saying that Becky has a beauty and grace to her which is completely natural, combined with an adventurous spirit and always being up for a laugh. The loveliest person I have ever met. She is effortlessly perfect.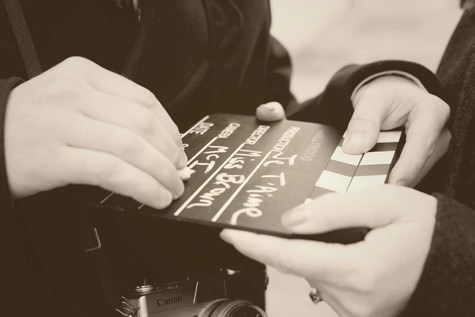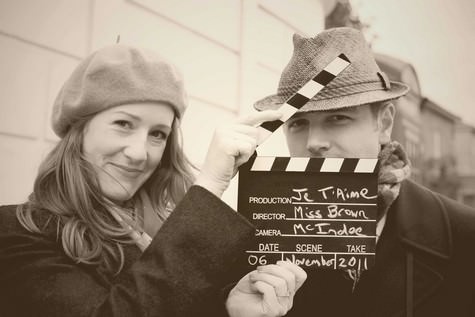 Date of wedding:
21st April 2011 at St Constantine Church in Milton Abbot, Devon, with the reception at Hotel Endsleigh a mile down the road overlooking the Tamar River.
Our wedding doesn't strictly have a theme – however it is very much a classic Devon country wedding. All of the food is sourced from the local area and the Champagne is from Cornwall, the band are a local Celtic folk band whom we watched perform at The Port Elliot Festival in 2010 – they really know how to get the crowd going! In terms of colour we are going for earthy, soft tones.
Philippa James Photography
www.philippajamesphotography.com
[email protected]
07968 501 851
FACEBOOK
TWITTER
I am based in Oxford and I cover wedding and lifestyle photography.