Hello Monday and how are you all this fine Monday morning? I hope your weekend was good? Did you go to a wedding this weekend, did you work at a wedding? maybe you get married yourself? Whatever you did I hope your weekend was a good one. Mine was good, we went to Gloworm festival on Saturday in Nottinghamshire which was lots of fun. Sunday was a chill day, so I am now ready for another busy week ahead, although it's a 3 day week for me, as I am off to Camp Bestival at the end of the week, so lots to get done before I go. I am starting off the week in style with this gorgeous York Barn Wedding, full of DIY details and so many personal elements. It's quite amazing how much of the wedding is DIY considering that Bridie and Shea had their baby 7 weeks before the big day! I just love the rustic feel of the day, mixed with their elegant vintage touches, the attention to detail is stunning. What a gorgeous venue and what marvellous photos by Joss Denham.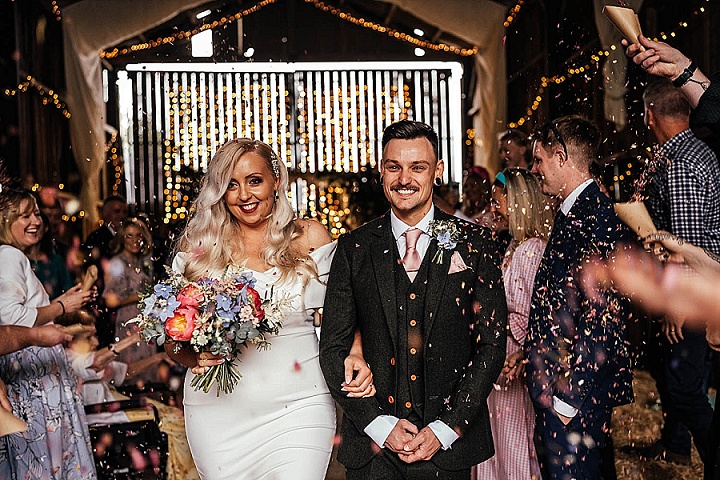 Bridie and Shea were married on 8th July 2023 at Deepdale Farm in York. 'We had both the ceremony and reception at Deepdale Farm. We wanted something really chilled and rustic looking – neither of us wanted anything polished or all singing and dancing, and Deepdale really suited the bill. if you have plenty of time to plan and know what you're doing, I would recommend Deepdale – its a DIY venue and I mean everything is DIY, even to hiring the electric for the caterers.'
How they met
We actually went to secondary school together! We were never friends though (mainly because Shea was a bit of an idiot), although there was one night at a house party…! We didn't speak for about 15 years, and then during lockdown 2020 Shea decided to slip into my dm's on insta. Really slic! We decided to meet to go for a walk (& a bottle of wine). Shea drunkenly said to me, "I think I love you you know", and that's the point where I knew he was the one.
The proposal
We were going for a night away at Swinton Estate, Masham. We had spent the afternoon in the spa, and had dinner booked at 8pm. We were getting ready in the room – well I was and Shea was sat in the corner of the room looking like he was going to puke up. I remember asking him if he was OK, because he was acting also strangely. We had brought a bottle of champagne with us, so I told him to get that open to make himself useful! When I was finished getting ready, I was sat on the bed, Shea came over and got down on one knee with the ring! Turns out the champagne was supposed to be for after the proposal…! Then we went to dinner where the hotel gave us a glass of champagne and a beautiful celebratory dessert.
Photography
100% happy – I was recommended Joss by a friend and I'm so glad I listened! I don't know what we would've done without Joss to be honest. He kept the day going to plan without being bossy or overpowering. He was so lovely and genuine, all of our guests commented on how nice he was. I expected to wait for weeks for the pictures back, however it didn't even take 2 weeks. Amazing.
The dress
I always knew I wanted a simple dress with a bandeau fit, 1950s style. In July 2021, I went down to London to the Halfpenny London boutique. We found the most amazing Okkatan Corset, and she was going to make me a custom ankle length skirt, with a floor length veil. It was honestly STUNNING! The following month, I found out that I was pregnant with our (now 8 week old) baby girl. I told Kate (Halfpenny), and she said there was no way she was going to make me an okkatan corset or skirt as the baby was due 7 weeks before the wedding and I probably wouldn't fit it! I spent about 2 weeks crying about it, and then decided I needed to look on Asos, get something stretchy and cheap (in case it didn't fit), and I found exactly the dress I was looking for. just before I had the baby, my cousin (and man of honour) came to visit from London. In his hands was the Halfpenny veil that I had tried on in the shop, as a special gift. I was over the moon – it made my Asos dress that bit more special.
Theme or colour scheme
I wanted the theme to be rustic, with an elegant vintage feel. I knew i wanted yo create feelings of warmth with light of candles, so unfortunately this meant spending half the wedding budget on candles! thanks Ikea! it definitely worked out how i planned, i was over the moon with everything and how it all turned out. 2 years of planning, drawing and sketching out plans, as well as collecting vintage items from charity shops paid off.
Our colour scheme was green, pink and white. It's kind of a classic wedding theme at the moment. Again, it looked exactly how I imagined, the greenery and succulents worked so well against the pink and white candles, and the bridesmaids colours all sat well with each other.
Flowers
I wanted flowers that were colourful and wild looking. A friend had married a few years prior, and I loved her flowers so much. I had also seen people using Astilbe on Pinterest and I thought it was beautiful. The friends flowers were by a florist in Darlington called Eliza Blooms. After a quick look on Instagram, we decided to pay her a visit, and we knew she was the florist for us! She did all the bouquets, the button holes, and the greenery for the tables. I decided that for the flowers on the tables, I was going to try and grow my own. I borrowed a patch of land on a friends allotment, as we don't have a garden, and started growing! I was so delighted with the produce that filled the vintage vases on the tables. The succulents actually came from my bridesmaids husbands grandads hedge! I collected jars for months, and then planted them.
Food
We used a company from Bradford called The Outside Kitchen. We knew that we wanted food to share – to be a thing to get people chatting and talking about the food! We had canapés to start, with goats cheese & fig crostini, manchego arancini & chicken satay. For mains we had a platter of garlic rump steak, chipotle sausage and maple glazed chicken, and patatas bravas, Greek salad, garlic mushrooms, houmous and flatbread on the side. The vegetarian option was halloumi and falafel kebabs. For dessert, a friend of ours actually made 100 brown sugar meringues for us, which we served on cut glass vintage plates with florentines. The evening food was pulled pork bao buns with loaded fries. We also had a cheese cake, which we made ourselves. The cheese was bought from our local deli, Lewis & Coopers. We had a Bishop Stilton, Black Bomber & then a local Wensleydale. Again, on the wedding morning, we dressed the cake with figs, grapes, strawberries and Chinese gooseberries. We served this at the same time as the cake with crackers and homemade onion chutney.
Cake
So our cake was by a friend, James Dowson, who isn't actually a professional cake maker – although he definitely should be!!! I knew he loved baking and was always seeing him post his bakes on Instagram, so I asked him how he would feel about making ours, and he accepted! He prepped it for me with the dowels, and then on the wedding morning I put it all together on a rustic log. The florist had provided raw flowers – so after watching a couple of videos on YouTube – I put the flowers on the cake! And I think it looked great. James and his mum gave us the cake as a generous wedding gift.
Entertainment 
During the day, we just used a playlist that we had put together on Spotify. In the evening, We used a company called Jonny Ross Music. We also booked a Sax player and a percussionist, who really got the crowd going! Unfortunately we're very fussy when it comes to music, and we made the mistake of allowing our guests to make requests (through the wedding invite) – it turns out some of our guests have bad taste!!! They were really great though and our guests had a great time.
Honeymoon
We've booked to go to Lanzarote on September – not quite the tour of the USA that we had originally planned, but after the arrival of Marley, we had to make things simple. We're so excited just to chill by the pool in the sun with good food and a few drinks.
Personal touches
Our celebrant came up with the idea of also having a Naming Ceremony for our baby at the same time as we got married. We decided to keep this as a surprise to all of our guests – and we're so glad we did. The gasps when she announced it! To me this really made our day so special, and amazing that our baby, Marley, could be part of it. We also made hangover kits for all the guests. These contained homemade sloe gin and bramble vodka (handpicked by me!), as a hair of the dog, paracetamol (it takes a long time to buy 100 packets of paracetamol), rehydration sachets and chewing gum. We had a personalised stamp made, so I stamped them all with that, and finished off with the contents label. Of course I wanted the confetti shot, so I bought some vintage looking confetti from Dollz Confetti. I then made cones using Kraft paper, and again stamped them all. The confetti looked great in the pictures. For the place names we wanted to make them a bit more personal. We decided to use Polaroids of all our guests, that had a picture of a memory or something funny that we had done together. We put them into corks that one of our guests had collected. We also used an Instax camera to try and get a photo of every one of our guests. We had pegs and strings with all of our guests names on tags – they had to replace their name with an instax photo.
Advice for other couples
Do what you want to do – the wedding is yours and not anyone else's. Trust your instincts and go for it!
Invest in a decent DJ. Sax player always goes down well too without being overly expensive! Make sure the drinks are flowing, and that you invite the right people – don't invite people you don't like or who don't want to be there.
Supplier Shout Outs
Joss Denham 
www.jossdenham.co.uk / www.jossdenham.co.uk/blog / [email protected] / 07584196881/ FACEBOOK / INSTAGRAM