Today I am taking you to a venue not far from me! Cannon Hall Museum Park and Garden in Barnsley is about 30-40 minutes away from me. So when this gorgeous boho lux styled shot landed in my inbox, I just knew I had to share it with you! The shoot is a mixture of two different looks and two different ceremonies. One loose and relaxed outdoor ceremony for a more intimate boho feel, soft drapes, stunning flowers and the most divine gown. While the second is inside, so more traditional with an elegant boho vibe. Both looks are stunning, both show of the venue beautifully and both give us some gorgeous inspiration for a Boho Lux style wedding.
Sumptuous boho elegance with a hint of hipster 
Meg Senior the celebrant was kind enough to send me the submission and tells us more about the shoot.
We had two insanely beautiful gowns from The White Yard (one was HAND painted – LUSH!). The shoot has a Spring feel, I just adore the images. Charlotte from Cannon Hall (concept) and Eve (photographer)
Real life couple, Helen and David, have a hipster look and wore beautiful pieces from The White Yard and Tweed & Groom. The locally grown English florals were by The Little Flower Hut and were the stars of the show (after Helen and David of course!).
These images show off two of the beautiful spaces that Cannon Hall has for weddings: The historic Deer Shelter nestled in the heart of the surrounding parklands and the sumptuous Jacobean inspired Ballroom. Styling in the Deer Shelter was dramatic with a fabric arch and asymmetrical floral columns for that boho feel.
The overall feeling was elegant and relaxed – Especially in the mini ceremony we held, as Helen and David were due to get married only a few months after the shoot. This meant the vows they shared were heart-warming and humorous.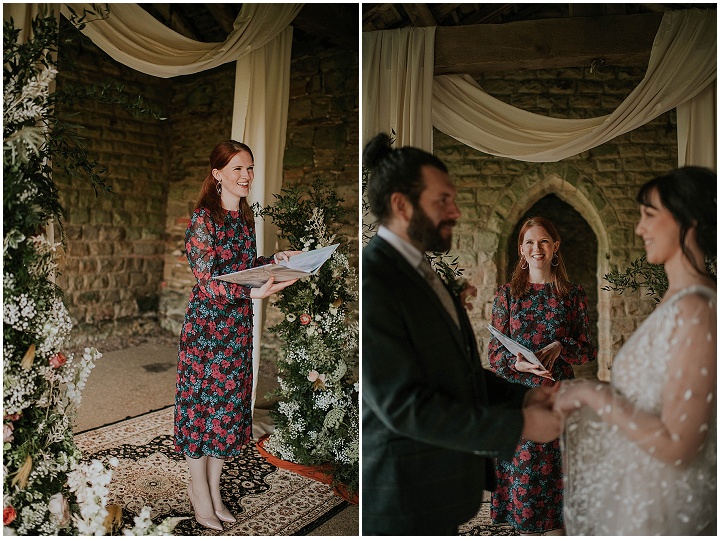 Supplier Shout Outs