Happy Friday everyone! I hope you have had a good week so far and are excited for the weekend? I am super excited as I am off to Warwick for a few days. I am meeting up with some Uni friends this afternoon, staying there for Friday and Saturday with them, then Sunday Nik and Dexter are joining me and we are having a couple of days there to make the most of the bank holiday…happy days!! I'm really looking forward to it. What about you? What have you got planned this bank holiday? To finish off the week of weddings I have this wonderful nature loving barn wedding to share with you. Jo and Andy planned a multicoloured day, paying homage to their love of the outdoors and exploring. The day is laid back, full of fun and home made goodness and of course full of love and smiles. Emma Stoner  was there to capture the day for us.
A whirlwind of emotions, surrounded by our incredible friends and family, on a sunny day filled with nature, colour, laughter, stories and memory telling in Dartmoor National Park.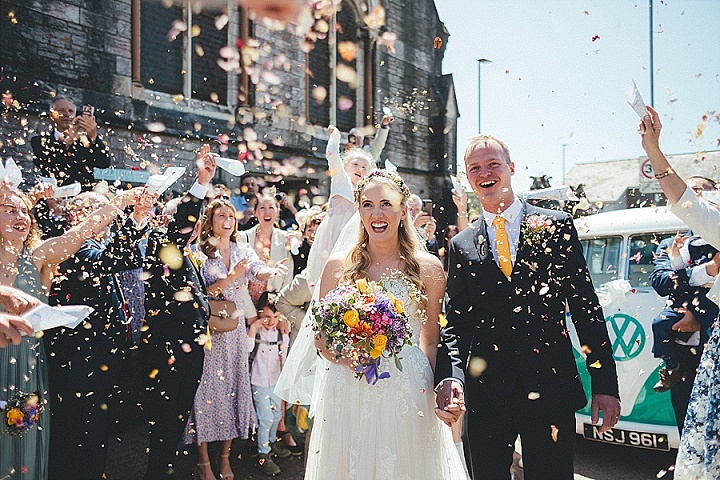 Jo and Andy were married on 28th May 2022 at Ivybridge Methodist Church with the reception at Neadon Wedding Barn in Dartmoor. 'This was the church that Jo and her family grew up in. It was super special knowing that we could have lots of extra people attending just the ceremony at the church. We live on the edge of Dartmoor, which holds a special place in both our hearts. Especially Jo, who grew up walking and running on the moors and knows a lot of the trails off by heart. We had 89 guests in the day and an extra 20 in the evening. We got engaged in September 2020 and our Wedding was May 2022.'
How they met 
We met on Plymouth Hoe on a blind date, where Jo took Andy on her family boat for a drink. Jo then offered Andy a melted kitkat and a warm Diet Coke. Andy stated he wanted to find someone he could go on adventures with. Years later this statement has been the backbone of our relationship, from van camping in our little VW caddy, surfing, sailing, hiking, trail running, skiing and snowboarding, alongside living in our dream house on the outskirts of Dartmoor. At the time of the wedding we had been together almost 5 years.
The proposal
On our 3 year anniversary, we went to Wonwell Beach, near Kingsbridge for a picnic with our mad cocker spaniel Willow. After wading across to another beach in early September, we were admiring the view whilst the dog ran free on the beach. The clouds parted and the sun shone, Andy called Jo's name and she turned and Andy was down on one knee.
How did you allocate your budget?
Our main priority was the venue. A lot of our decorations were second hand or handmade. We spent money on the things that were really important to us, such as the VW Camper and the band.
Where did you splurge and where did you save?
We splurged on a turquoise blue old fashioned VW camper. We totally loved the colour of the car and paid a little extra for it! Due to arriving and leaving the church in the camper, we spent more money to make it an extra special experience.
We saved money on going digital with all our invites and using a free online website called 'with Joy'.
How did you choose your photographer?
When looking at photographers, we looked at previous photographers who had pictured previously at the venue before. Emma Stoner also had a very relaxed vibe and her website spoke to us through the use of photography through adventure and nature.
The dress
Jo's dress was from La Boutique, which was a charity wedding dress shop. All dresses are normally donated from other people and companies and all dresses are under £600. All proceeds go towards a charity for terminally ill brides. Jos necklace and earrings are both moonstone, her chosen stone specially for the wedding. Her flower crown from Etsy. Jo's shoes were palm gold flat sandals, not one for heels!
The suit and bridesmaids
Andy's suit was from Next. He had a small pin which was made out of maple wood you would find in a skateboard. Andy is a keen skateboarder and also a talented woodworker who makes furniture, jewellery and other items out of old skateboard wood. Bridesmaids dresses were from H&M and were £50 each
Theme or colour scheme
The theme for the wedding was as multicoloured as possible. Guests were told to wear colour.
Flowers 
Andys mum is a retired florist and she created incredible multicoloured flower bundles. The following flowers were used: Gerbera, Gypsophila, Iris, Roses, Spray carnations, Alstromeria.
Decoration
Andys Mum is a retired florist and decorated the barn and the venue with beautiful potted flowers and also a decorated green halo. Handmade Colourful ribbon hunting was used for welcome drinks, alongside colour lanterns in the big oak tree in the welcome drinks field.
Food
Chicken and Bacon Pie, roasted potatoes and veg. All the ingredients came from the farm the reception was held at. Pudding – Sticky Toffee Pudding and Chocolate Mousse Balls
Wedding cake
The Brides mother created the wedding cake and with help from her aunt, the cake was decorated in as many coloured iced flowers as possible.
Entertainment
They had One Foot in the Groove. A funk band based in the Devon.
Who supplied the stationery?
We provided the guest book with lots of colourful pens, as well as 'memory cards' and pencils for the tables.
Where did you go on your honeymoon?
A mini moon surfing in Portugal directly after the wedding. The main honeymoon was exploring Canada for three weeks in the summer. This included hiking in Banff National Park and Whistler in the Coastal Mountains, alongside surfing on Vancouver Island and exploring the outskirts of Vancouver.
Personal touches
Jo created pieces of artwork on both skateboards and surfboards. This linked in with the multicoloured theme.
We had 'memory cards' on each table were each person wrote their favourite memory with the bride or groom. This was amazing reading them back after the wedding.
Jo also is a keen pebble artist, and hand painted a place setting on pebbles for all the guests. There were also decorated pebbles on all tables.
All tables were named after Dartmoor Tors, linked to the venue being in the Dartmoor national park.
A Polaroid camera station with an old crate was also a personal touch.
Special moments 
After the church, we went onto Dartmoor for photos on Saddle Tor. It was a really special moment to have some time alone before the reception and the weather was absolutely beautiful. The sun shone, the moorland grass was very green and there was a big blue sky.
There was a moment when dancing to Little Lion Man (Mumford and Sons) and we were surrounded by all our amazing friends and family. A real special moment.
Advice for other couples
Make your wedding as personal as possible and ask your guests to video and take pictures of parts of the day. It makes a lot of difference having lots of peoples different perspectives of the day.
Biggest surprise
The band were so much better than we could have imagined, and this was an extra bonus we didn't think we needed. Seeing friends we had not seen in a long time.
Supplier Shout Outs
FOR MORE INFORMATION ON EMMA STONER
www.emmastonerweddings.com / www.emmastonerweddings.com/blog / FACEBOOK / INSTAGRAM