What happens when you and your guests all live in different parts of the world? You find somewhere in the middle and get married there! Today's wedding takes place in Marrakech for that reason. Bree and Billy decided on their Moroccan Wedding as it was an 'equal inconvenience opportunity'  And a great excuse to get all their most loved friends and family together in one place. Having featured Moroccan weddings on the blog before they always come with such style and grace and such an amazing backdrop! Maria Rão Photography. has captured this stunning day in style, with the beautiful flowers, the gorgeous architecture, the colours, the sunshine! All exquisite!
Glamourous, magical and heart-warming- did that phenomenal and joyous weekend actually happen?! Our wedding was a perfect representation of us with all the beautiful details and glorious once-in-a-lifetime settings we wanted people to remember.
Bree and Billy were married on 16 September 2022 with the Wedding and Reception at La Mamounia in Marrakesh, Morocco. 'Coming from different continents, and both of us having friends and family across Europe, Asia, Australia and the USA, we wanted to hold our wedding somewhere that everyone would need to fly to. In other words, equal inconvenience opportunity?! We loved the exceptional cultural, travel and adventure opportunities of Marrakech and Morocco, and were excited to give people a reason to come and explore this spectacular part of the world! We chose La Mamounia hotel- chic, fabled, romantic and luxurious. It could provide everything we needed, and all the guests were able to stay onsite. We had 130 guests, we started talking to wedding planners around April 2021, so almost 18 months planning from start to end'
How they met 
Our mutual friend of many years, Harry, had his wedding in Puglia, Italy in early 2019. It was at that wedding that we were sat next to each other at the rehearsal dinner and became inseparable! Billy then whisked me off to the Amalfi coast for a surprise extra few days so we could get to know each other better- it was beyond romantic.
The proposal
After two aborted attempts (thanks to COVID border closures) Billy proposed a few days into the COVID lockdown in our Miami home (March 2020). Our friends joked that there was no way I could have said "no".
How did you allocate your budget?
Difficult to be super accurate here- we were working in four different currencies (Moroccan Dirham, Pounds Sterling, Euros and US Dollars) Venue (including La Mamounia room subsidy for all guests), catering, alcohol/beverages- ~50%. Decoration, flowers- ~25%. Photography, Videography- ~10%. Live music, bands- ~5%
Where did you splurge and where did you save?
We definitely splurged on catering and alcohol- French wines and refined cuisine were a priority for us. Each night over the weekend, we had almost 50% of alcohol on stand-by order (which we ended up using)! Otherwise, I'm not sure there was any area we necessarily "saved" on.
How did you choose your photographer?
Maria Rao was recommended to us by our wedding planners, and we are just thrilled that they made the introduction.
The dress 
The dress was Gloria custom couture. I worked with her to source the beaded lace from France and the gown was made in Miami. I wore simple pearl earrings by Pasapaly Pearls and shoes by Jimmy Choo.
The suit and bridesmaids
My husband's white jacket tuxedo was from Suit Supply in Boston. His brothers (groomsmen) wore black versions of the same style. I didn't specify particular dresses for bridesmaids, though I suggested a desert themed colour palette (burnt reds, terracotta, orange, pink) for the female members of the family to highlight the stunning gardens and architecture of La Mamounia.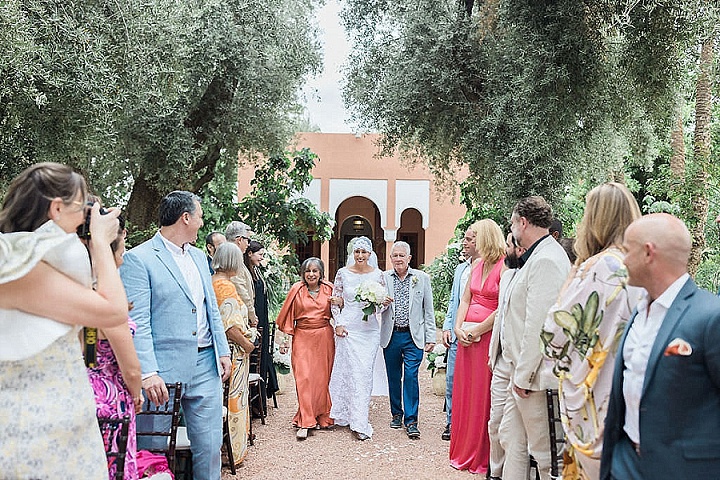 Theme or colour scheme
We kept with a pale pink/ desert colour theme for the wedding, accentuated with bursts of Moroccan colour, especially Marjorelle Blue (from the famous Yves Saint Laurent gardens in Marrakech)
Flowers
Cream and pale pink roses, ivory gardenias and hydrangeas with cascades of greenery including eucalyptus (a nod to my homeland, Australia).
Decoration 
We asked for the hand-drawn escort cards to be a decoration by itself. They were attached to Moroccan teacups, which served as wedding favours, and set up in a decorated stand with floral arrangements.
The table decorations included different layering of candles and candelabras with similar hued floral arrangements, together with lavender and vegetals from La Mamounia gardens. We wanted to showcase Moroccan artistry, so we included blue pom-poms napkin holders and a blue hand-painted Moroccan dinner service and flower vases.
We had fairy lights criss-crossing the length of the single long table and Moroccan lanterns placed in the nearby olive trees.
We had a dancefloor and band-stage purpose-built, as was the green-velvet bar which was modelled on Soho House Bar in London.
Food 
Appetiser: Royal sea bream carpaccio with avocado and fresh herb dressing
Fish course: Lobster and crunchy vegetable salad
Main: Fillet of beef, potato and parmesan millefeuille, seasonal vegetables
Dessert: Hazelnut dacquoise pannacotta, red berries, mint granita
Wedding cake
World famous pâtissier, Pierre Hermé created our wedding cake (he is the pâtissier in chief at La Mamounis). The cake was three layered, in his signature Isephan flavour (Damask rose and raspberry to complement)
Entertainment
Amine Blal Trio (acoustic) played at the reception and cocktail hour. 8 piece big-band played after dinner. Nomads Music DJs played the after party.
Who supplied the stationery?
Rosie Harbottle designed and supplied all our stationery- save the dates, invitations, escort cards and menus.
Where did you go on your honeymoon?
We spent a week in Marrakech before/after the wedding so no official honeymoon.
Personal touches
Truthfully, everything felt very personal and very "us"- given so much of our lives revolve around travel and adventure. We were involved in all the details (with the invaluable help of our magical wedding planners!) We loved that our mutual friend Harry (whose wedding we met at) was our officiant
Special moments
Our wedding vows were a very special time- there were tears and laughter aplenty and we expressed exactly how we felt to be there surrounded by our nearest and dearest.
Billy and I had a few minutes alone, just before the dinner entrance, and we sat on the steps of La Mamounia gardens watching it all unfold before us- sunset dinner, friends and family mingling under the twinkling lights, Marrakech's minarets in the background, new friendships being made- couldn't believe it was all real.
The wedding speeches were astonishing- each one was heartfelt, hilarious and poignant at the same time.
Advice for other couples?
The wedding weekend went by in the blink of an eye- make sure you savour every single moment. If something goes wrong put it in perspective- are your guests still having fun? Does it matter in the long run? Don't lose yourself in the planning, and don't do what doesn't feel authentically "you" as a couple.
Also, you will be amazed by the love and support of everyone there- they all show up for one reason and it's the best feeling in the world.
Biggest surprise 
We knew that everyone would get along, but we were truly overwhelmed by how quickly and happily our guests forged new and wonderful friendships- strangers greeted each other like long lost friends, people from every corner of the globe sat down for drinks together, there was a common and meaningful connection amongst everyone present. Most of all, that's what Billy and I wanted as our wedding legacy for everyone who had travelled so far- to create unforgettable moments and new relationships that will last a lifetime.
Supplier Shout Outs