Today I have a delightful terracotta wedding to share with you. This beautiful Berkshire barn wedding is a picture of autumnal colours, even if it did take place in May last year. The weather however was very autumnal with rain throughout pretty much most of the day, however it stopped long enough for some gorgeous portrait photos. Roxanne and Andrew created a lot of the wedding themselves making it super personal and full of character. They also made the whole day vegan, from the wedding breakfast to the wedding cake. Big thanks to Gregg Kmita Photography who was there to capture the day for us.
Our wedding day was relaxed and fun with lots of games and activities like wedding bingo and a temp tattoo station. It felt chill, less like a wedding and more like a family gathering.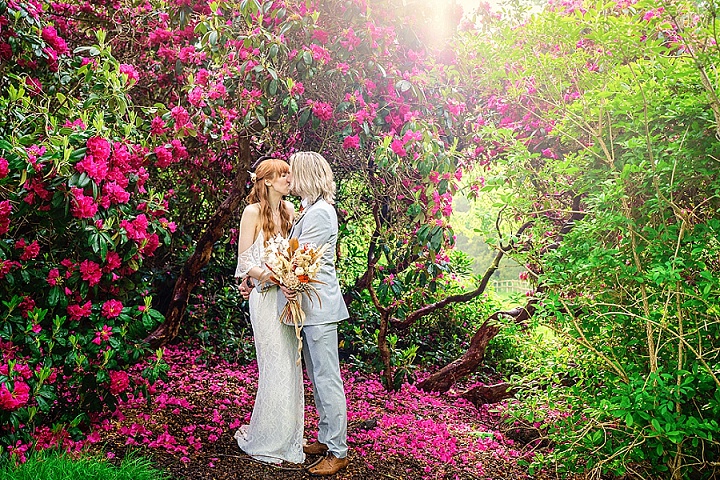 Roxanne and Andrew were married on 15th May 2022 at Ufton Court, Berkshire. 'Not only was the location ideal with a barn and manor house with large grounds to match our theming but they are a charity so all profits go back to their charity work. We had 67 guests, we spent about a year and a half planning the wedding but I got a lot done in the first 12 months.'
How they met
We met on Tinder 9 years ago. We both thought each other were local. It wasn't until we tried to arrange a date that we realised we lived 70 miles apart! We met in Windsor which was halfway between the two of us. It was both of our first dates from Tinder.
The proposal
Andy took me to Exeter when there was a break in the lockdowns in 2020. I could tell he was looking to propose all day as he kept messing about in his bag but nothing happened. So when we got back to our hotel I took all my makeup off, got in my PJs and that's when he got down on one knee. I looked terrible but it didn't matter.
How did you allocate your budget?
I am an Executive Assistant by trade so I am all about organising events, I had a good idea about how much things cost so once we had our guest total we allocated the budget.  I used several spreadsheets and an online system called Trello to organise all of the tasks and allocate a budget for each purchase/vendor.
Where did you splurge and where did you save?
We splurged on the flowers. I wanted to DIY them but I knew for them to look like what I pictured we had to pay out. We used a friend of a friend, she was amazing at creating our vision.
We saved a lot by DIY'ing a lot of decor, we made the copper arch, I hand dyed the napkins and sculpted everyone's name plates as well as colouring jam jars with glue and food colouring to match our wedding colour. I also designed and printed most of the signs.
How did you choose your photographer?
We wanted someone who used a lot of colour. We didn't want your classic wedding look. We're a couple of weirdos so we wanted a photographer who would be able to showcase that. We went with Greg after we looked at his work and it was amazing. We met him for an engagement shoot first and he was so understanding of our awkwardness in front of the camera and was just a ray of sunshine all day.
The dress
My dress was from David's Bridal. I wanted to go with a small independent shop but the prices scared me away. I was really impressed with David's Bridal's selection of boho dresses. My shoes were from Asos.
The suit and bridesmaids?
The groom's suit was from Suits Direct and the bridesmaid's dresses were also from David's Bridal.
Theme or colour scheme
We moved around colours and themes for a bit. I kept thinking of 70s boho. We landed on the colour Terracotta as it fit my need for Boho elements and that slight 70s vibe.
Flowers 
I always knew I wanted dried flowers. I love the texture and colours they can produce. Little did I know dried flowers are much more expensive than fresh. But it meant I could pick up my flowers a week before and save on delivery.
Decoration
We let the flowers do most of the decorating. I didn't want to make it too cluttered. The copper arch that my dad kindly made was moved around the room as the day progressed. It was the backdrop for the service, then it was behind the top table during the meal and finally the backdrop for the photobooth. I also made about 100 origami cranes that we hung up for the photobooth backdrop.
Food
We had an entirely vegan wedding. The meal was served family style so everyone could get a little bit of everything. We had Lasagna, Thai curry and mushroom pie. The menu was a bit all over the place but we wanted to cater for everyone's tastes as a lot of them weren't used to an entirely vegan meal.
Wedding cake
Our wedding cake was made by an amazing local vegan cake baker. She created a new flavour for us which was a mashup of our favs. It was brown sugar and cinnamon flavoured with biscoff icing. We had a small cake as we had so many desserts and I've been to many weddings where there are tables of lonely looking slices of cake being ignored.
Entertainment
We hired garden games from the venue and we picked up a load of board games from Facebook marketplace to scatter about. We had a great DJ who had a rustic set up that worked really well in the space. And he wasn't afraid to play a mix of folk, 70s classics and early 2000s indie for us.
Who supplied the stationery?
Andy is a graphic designer so he created all of our invites and had them printed from vistaprint.
Where did you go on your honeymoon?
Ever since I saw Lilo and Stitch as a kid I've wanted to go to Hawaii. We started in LA going to Disneyland and Universal Studios then onto Hawaii where we island hopped seeing amazing sites and ended up meeting another honeymooning couple who let us join them for a couple of days out exploring and ended our honeymoon at the Disney Aulani resort sitting on the beach and bobbing along the lazy river.
Personal touches
We did a lot of the wedding ourselves. Long nights were had standing in the kitchen with giant buckets of fabric dye as we coloured metres of cheesecloth. We also incorporated elements for people who couldn't be there. I had a temp tattoo hidden under my dress the same as my Grandma had. It was a blue butterfly so it also counted as my something blue.
Special moments
The highlight for sure was seeing the look on Andy's face when he realised I swapped out our exit music for the theme from The Terminator (his favourite movie). My dad cranked it up really loud until my mum told him off and he turned it back down to a reasonable level again, which made us all laugh.
Advice for other couples
Plan for all weathers! We had an incredibly hot week before the wedding and all the apps were saying it was going to be 28 degrees on our wedding day but on the day it was cold and rained pretty much nonstop from morning to night. I had to quickly pivot to a different plan for the day and that took some adjusting, so prep for all outcomes. And always pack umbrellas!
Biggest surprise
I heard from other people that they spent the whole day running around and didn't get much time with family and friends but I found the opposite. Our photographer was really good with timing so we didn't spend lots of time away from the party and we got to dance, chat and even have a sit down and a chill for a good chunk of time.
Supplier Shout Outs
GREGG KMITA PHOTOGRAPHY
www.photographygk.co.uk / www.photographygk.co.uk/blog / FACEBOOK / INSTAGRAM