Congratulations! You're engaged! Next comes all the excitement of wedding planning but first, you and your partner have to find the perfect wedding bands to go with your engagement ring. Purchasing wedding bands is an exciting step for any couple but there is a lot to consider before making your final decision. From carats to cost and several other factors in between, choosing the perfect pairing for your new ring stack isn't always an easy feat—but there are a few helpful hints that will simplify the process.
How to Match a Wedding Band to Your Engagement Ring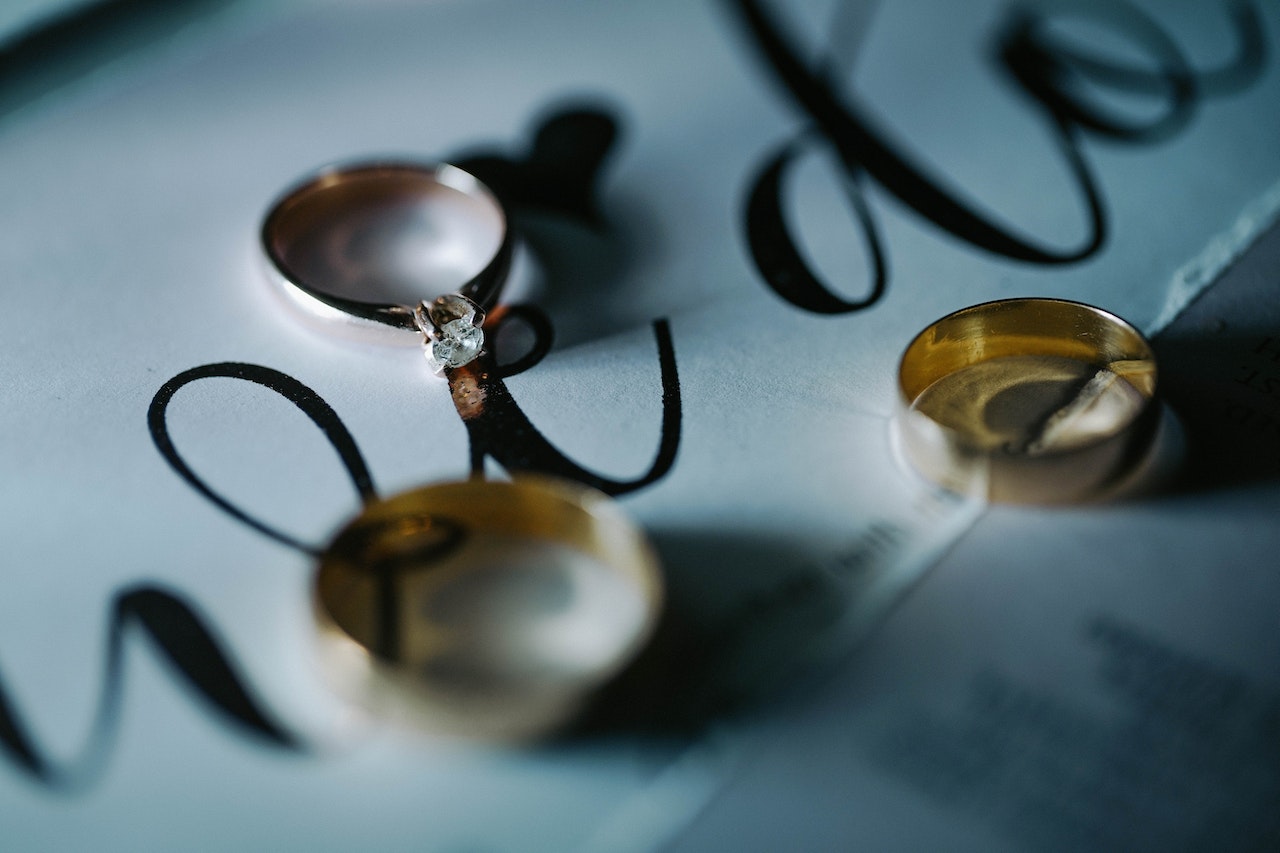 Fit for a bride
Fit is one of the most important things to look for in an engagement ring and wedding band combo. Is your engagement ring designed to sit flush with a wedding band? If your engagement ring is cathedral set or floating, you most likely have space to stack a wedding band comfortably and have a wide range of options.
If your ring has a lower setting or you like the idea of a ring set, consider a tiara band—a style of band with a curve in the middle to fit the dimensions of each individual's centre stone. A tiara wedding band is specially designed to pair well with any type of engagement ring style!
Mind over metal
Arguably the most important decision to make when it comes to pairing your rings is deciding which metal colour you want: stick with the same metal colour as your engagement ring or switch it up and add some contrast to your stack! While it used to be taboo, we are here to tell you there's no hard and fast rule saying you can't mix your metals. If you want to add some variety without mixing metals, consider mixing finishes, textures, or even shapes; mix your solitaire engagement ring with a simple pave wedding band or add a little spice to your round engagement ring with an emerald cut eternity band!
If you do decide to mix metals, remember that each one wears and ages differently. White gold and platinum may look the same at first, but this will change over time; white gold is an alloy that can lose some of its luster and the natural hue of the gold will become more apparent. Platinum is naturally white and much harder than gold, so it might develop a patina that makes it look dull but won't change its inherent color. The hardness of platinum could even wear down the softer gold with prolonged wear.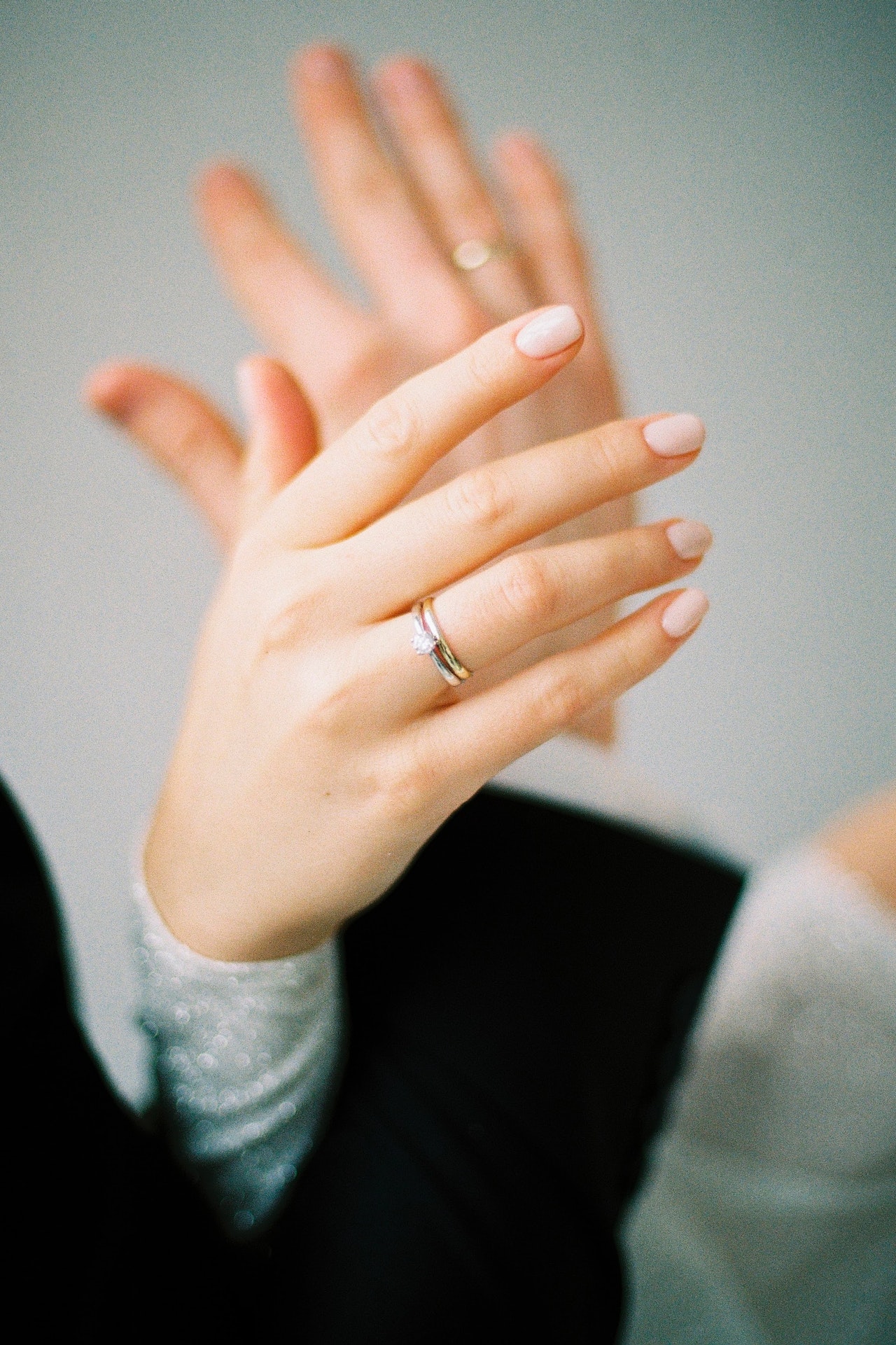 Choose your style
When crafting the perfect engagement ring and wedding band pairing, it helps to be clear about what you are looking for. Some brides prefer a subtle, dainty, and chic look, while others prefer to showcase their rings to the max.
For the maximalist bride who adores sparkle and shine, a "more is more" approach that combines a sparkling engagement ring and fancy shape eternity band would be perfect. For minimalist brides, a solitaire or slim pave band may fit the bill.
A perfect match
When it's time to shop for wedding bands, think about what your groom wants to wear, too. Many couples prefer to wear similar, sometimes even matching, styles and gravitate toward something simple. However, you can also achieve this look by finding rings that look different, but are made with the same metal color. If you'd like something more feminine without sacrificing sentimental value, consider engraving both rings as a special surprise. You may also choose to stack your rings by incorporating others that signify special milestones, such as a birthday or anniversary.
Designing your perfect diamond engagement ring and wedding band combination is an important step as your wedding day approaches. You'll be wearing these pieces every day, after all! The good news is that now you're prepared to be an informed shopper and find the perfect style to enjoy throughout your marriage.
this is a collaborative post