Boho weddings are usually associated with warmer seasons such as late spring and summer. That doesn't necessarily mean that you shouldn't have your dream wedding in a boho style just because you are getting married in winter.
Certain arrangements can be made for a Boho winter wedding and with a bit of flexibility and planning, you can get exactly what you want, regardless of the season. Here are some tips for your awesome boho wedding this winter that will help you have the time of your life and not a weather-caused disaster.
How to avoid the weather ruining your boho wedding this winter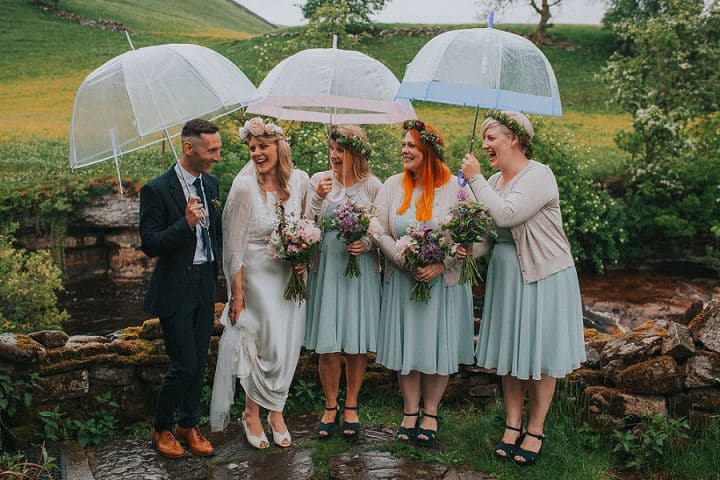 Be prepared
Weddings usually require preparation and planning, lists, to-dos, and so on, regardless of the season. But a winter or an autumn wedding in a boho style needs a different approach. Make sure you have enough time to think everything through.
Start by checking the weather forecast even if you think it is too early. Having at least a rough estimate of the weather conditions and temperature will help you a lot. This is very important for all aspects of the wedding, from the venue to the dress and wedding shoes.
Take your time and consult your partner, friends, family, or professional wedding organizers and get it all on paper. In the future, you will be so grateful that you invested your time to make sure everything goes right.
Choose wisely
When you have your plan ready, it is time to choose your venue, outfits, bridesmaid's dresses, decoration, and so on. So, a lot of work is waiting for you. When it comes to décor, that might be the easiest part because it does not depend on the weather per se.
Sure there is a possibility that you can't find the exact type of fresh flowers for your centerpiece if it is freezing outside, but you can probably work around that. One of the things on the list that can make it or break is definitely the choice of the venue.
Boho weddings are frequently associated with outdoor venues. Unfortunately, spectacular ideas like forest, garden, or beach weddings can be rough to organize if it is cold outside. We are not saying you should ditch the idea, but think about what this means for you. You would have to make sure that your guests and yourselves are not freezing.
The same goes for the rain and the snow. Might sound romantic, but if that is already the case, we suggest you opt for a closed space. If you are creative and inventive enough, you can bring a piece of the forest or a beach inside, and have exactly what you wished for, without the risk of the weather blowing everything up.
Outfits
Luckily, layering is already a part of the boho chic style. It is really important that your outfits are adapted for the weather, even when you are having your wedding indoors.
This is especially important when thinking about the wedding dress. Lace and flowy materials that are staples are not exactly the warmest. You would not want to catch a cold before your honeymoon. Speaking of honeymoon, make sure to check the weather forecast before heading on a trip. If you plan to travel to Venice, plan ahead to catch the sunny days for your favorite romantic activities.
Here comes layering to the rescue. Do long-sleeved, even if it is just a layer of lace on your arms. Adding a coat, a cloak, something furry, or kneaded over your wedding dress will help you stay warm.
Look for inspiration online and make sure you consider your partner's outfit too, as well as the dresses for bridesmaids if you have them. A great tip about classic boho long skirts and dresses is that you can wear a pair of thick thighs underneath, and no one will know.
We hope this article helped with tips and tricks and inspired you to do some more research. Planning is the key, so we wish you happy planning and congratulations on your big day.
THIS IS A COLLABORATVE POST