Happy Friday everyone and what a week it's been on the blog! It's been super busy one with lots of extra articles for you and some amazing weddings. But Friday is here and it's nearly time to get excited for the weekend! My weekend starts today as Dexter has broken up for half term, so we are off to Nottingham for a DJ lesson, he is so excited! Then it's on with the half term fun, lots of Halloween days out planned, I can't wait! But first we have Shikha and Toby's glorious wedding to share with you. The main aim for their wedding was to stay as sustainable as possible and make sure their wedding reflected them as a couple, fusing their cultures and personalities together. They held a gorgeous outdoor woodland ceremony, followed by one heck of a party, I don't think I have ever seen a dance floor so full at a wedding! Big thanks to Sasha Weddings for the lovely photos.
Our wedding day felt like a true reflection of us as a couple and the values we share. It was the perfect fusion of our cultures and our personalities.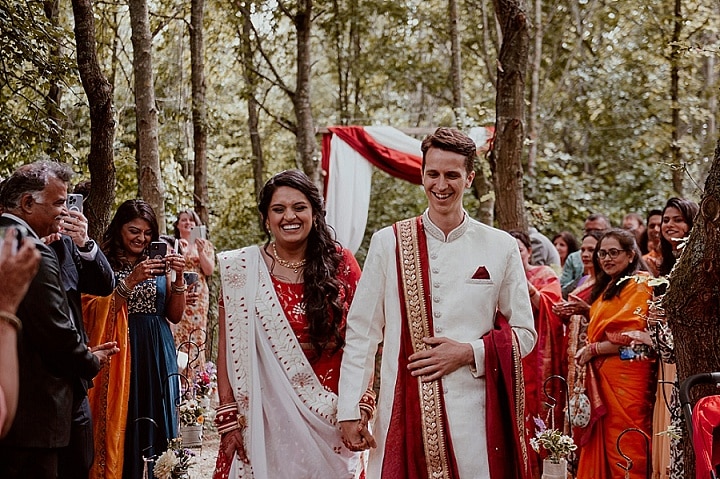 Shikha and Toby were married on 25th June 2022 at Alpheton Hall Barns in Suffolk. 'We were keen on keeping our wedding as sustainable as possible, and support as many independent small businesses as we could. Nic and Carol have beautiful values that match our own, as well as a gorgeous rustic feel to their venue. Also importantly, as a multicultural couple we needed a flexible venue that allowed us to really make the day our own and incorporate our own traditions, foods etc. Alpheton was an entirely dry hire venue but strongly believe their couples should spend money on things that are important so stock many props and decorations. This really allowed us to focus our energy on personalising the day.  We had 200 guests and it took 18 months to plan.' 
The proposal
For one of our early dates we went rowing on the serpentine in hyde park. Toby told me he was organising a surprise day for my birthday and took me in to London. He led me to hyde park and rowed us in to the middle of the lake. Once we were out on the water he gave me my gift, theatre tickets for a show I'd wanted to see for ages! While I was distracted with the tickets he pulled out the ring and proposed, with some sweet words about how he wanted us to be a team forever. We were sitting on a boat so in attempting to get down on one knee, he kind of just dropped off his seat in to a crouch which still makes us both laugh.
How did you allocate your budget?
We initially had a conversation about how much we were happy to spend in total, and what we wanted to prioritise. We then made a list of everything we would have to spend money on and started making rough allocations. We did a little research on the main aspects (venue/caterer/entertainment) and adjusted our expectations accordingly. Having those initial conversations was so important because the costs can really start to rack up when you get in to planning, and it's so easy to lose sight of what costs are actually reasonable, or get pulled in to spending on aspects that aren't actually that important to you. We took a good look around and spoke to lots of people and found there were so many amazing suppliers at all budget ranges!
Where did you splurge and where did you save?
We prioritised food and entertainment. We saved a lot by stocking our own bar from Majestic and Tesco's, and hand-making all the decorations. With the woodland/rustic theme, the beauty of nature did a lot of the hard work for us!
How did you choose your photographer?
Sasha was recommended to us by a friend whose wedding photos we loved. We wanted a photographer that really captured the real emotions and raw moments of the day, as opposed to heavily posed as we both get very awkward in front of the camera. We booked in our engagement shoot with her too which helped us get to know her and feel comfortable with her before the wedding day, and seeing how beautiful the photos from that shoot were got us so excited for our wedding photos and very comfortable that they were going to be perfect.
The dress 
I wore two dresses, a more traditional length for the ceremony which my mum designed and had made in India. The reception dress was from Goddiva. My Jewellery was my mums wedding jewellery, and my shoes were second hand from depop. My aunt made my beaded hairpiece. I'm quite sentimental, so many of these choices felt really special to me.
The suit and bridesmaids
The suit was from Moss Bros. We didn't have bridesmaids/groomsmen.
Theme or colour scheme
Rustic, natural and eco! Lots of greens, terracotta's and natural wood. Also reds and whites to match our outfits.
Flowers
I didn't carry a bouquet, all the fresh flowers we had for decorations were cut from my parent's garden. We had started gardening and propagating plants for the wedding months before the big day. Hydrangias, sweet peas, petunias etc a big mixture in the end!
Decoration 
All my decorations were made by myself, my mum and her friends. Our centrepieces were potted plants, a mixture of herbs, houseplants and garden plants. They were placed in terracotta pots that were hand-painted. The Aisle was lined with crook hooks and mason jars filled with fresh flowers. We balanced a wooden plank across 2 trees and draped fabrics at the entrance to the aisle.
Food
All our food was traditional Indian food .On arrival we had teas/coffees and snacks. For our Canape's we had spicy mogo, hara bara kebab, and chaat. For the mains we had 3 different curries (paneer tikka masala, Malai palak kofta & Dum aloo) and a dhal (dhal makhani) with naan and rice. The mains were served as platters on each table that people could help themselves to.
Wedding cake
The wedding cake was a vegan 3 tiered lemon cake. Each tier was a slightly different flavour, the bottom was Lemon, the middle was Lemon gin and Elderflower and the top was lemon and blueberry. The bottom tier had a light fondant icing decorated to look like a tree trunk and the top two tiers were semi-naked with greens and terracotta icing scraped through it. Trudy was incredible, not only did the cake taste amazing but she really worked with us to design something that was right for us.
Entertainment
Toby's friend and bandmate Stew, was our guitarist for the ceremony and drinks reception. Toby joined him for a few songs on his Cahon, with Stew's girlfriend Loren singing which was a really beautiful addition to the day, our guests are still raving about it. We had a DJ for the evening reception – DJ Nish I can't recommend enough especially if you're having a fusion wedding. She got the musical balance perfect and the dance floor was never empty.
Who supplied the stationery?
We sent our invitations via a wedding-website that we created on 'WithJoy' so didn't have any physical stationary. This again was a decision we made for sustainability reasons (but it also saved us a lot of money).
Where did you go on your honeymoon?
The day after the wedding we went on a short spa break where we totally disconnected from technology and really just relaxed for the first time in weeks. For us it was perfect, as it didn't have any stress of travel or organisation. We'll do a big honeymoon sometime next year.
Personal touches
Most of the décor was handmade, I'm so grateful for all the hard work my mum put in, a lot of the look and feel of the day came from her.
Advice for other couples
The things our guests remember the most about our day are the things we did that were a little bit different, e.g. Our ceremony, Toby performing etc. so try not to stress too much about the little details and focus more on how you can make the day feel special and personal to you! Also try to remember that this is a celebration of your relationship with the people you love the most in the world, if you're happy and having a great time your guests will too.
Special moments 
We spent the night before the wedding together. After a hectic day of decorating the venue and all the last minute organising, we had a cup of tea and read our vows to each other. It was a really serene and beautiful moment we could share together amidst all the excitement.
We had such a beautiful ceremony where we cherry picked our favourite aspects of the traditional hindu ceremony and added in some bits of our own. We walked down the aisle together and had our legal registry, read our own vows and exchanged rings. After the legal bit was over, we had my cousin take over as celebrant and he talked us through some of the more traditional elements. We exchanged garlands, had our scarves tied together, received blessings from maternal figures, and had a candle ceremony. The candle ceremony was probably my favourite part! We had guests stand in the aisle with candles they lit off the person next to them. We used the final candles to light a unity candle. It was to signify our guests blessing our union, and incorporated fire which is an important aspect of the traditional Hindu ceremony.
We did a really fun choreographed first dance with lots of lifts and spins! We're by no means good dancers, but it brought a lot of laughter to our day.
Biggest surprise
Once the venue was filled with our guests and all the love, laughter and happiness they brought with them, the day felt so much more amazing that I'd imagined. Toby and I really bounce off the energy of the people we're with, so being around all our favourite people made all the stress and anxiety fade away. Even though there were hiccups, to us the day felt entirely flawless.
Supplier Shout Outs 
FOR MORE INFORMATION ON SASHA WEDDINGS GO TO
www.sashaweddings.co.uk / www.sashaweddings.co.uk/blog / [email protected] / 07961542471 / FACEBOOK / INSTAGRAM
It's liberating capturing real life. I am a full-time wedding photographer and this is what I do best. Wedding is a very special day and I know capturing weddings is a huge responsibility. I really enjoy being there to capture beautiful, fun, emotional moments of the day. You won't find me running around telling people what to do, I observe and am there where emotion happens. I am an alternative and informal wedding photographer based in London and cover all of the UK and worldwide.