Happy Monday everyone, I hope you have all had a wonderful weekend? We ended up having a chilled weekend, bit of a change of plan to our original ideas, but sometimes life throws you a curve ball and you just have to go with it. Nik and I celebrated 17 years of being together with no babysitter, so we will have to celebrate when we get a chance! We did enjoy some good street food and a catch up with some good friends, though, so all was not lost! Today I am taking you to the woodlands of California for this super sweet outdoor boho backyard wedding. Megan and Carl wanted something fuss-free, easy and personal to them so with an intimate number of 28 guests they created the perfect maroon and dusty rose boho-inspired celebration o their love. Big thanks to Picturist Wedding for the lovely images.
The most perfect day, with our favourite people. Our most exciting adventure yet.
Megan and Carl were married on 2nd January 2022 at The Ferreira Property in Soquel, California. 'It actually started as a family vacation. Coming off of 2020- we had many cancelled family trips. My now husband booked an amazing vacation rental on a mountain in Soquel, CA, not far from where his brother and sister-in-law live. Both of our parents decided to join…and it was just too good to be true. I threw out the idea of planning a wedding, considering our immediate family would be together (in the most beautiful area)- and then the magic just happened. It started with a comment "how amazing would it be to get married surrounded by the Redwoods…" We had 28 guests and it took 8 months to plan.
How they met
I moved to New York in May of 2014. I met Carl walking through Central Park on my very first day in the city. We stumbled upon Carl and my friend says, "oh there's my roommate." Well, the rest is history.. 8 yummy years of it.
The proposal
I was caught completely off guard. We were making one of our typical walks across the park to go shopping. He got down on one knee right where we first met. He had snuck ahead of me before I left our apartment …("to stop at the bank").. and actually hid his GoPro in a tree. We have an amazing video of his sweet proposal, at our spot in Central Park, surrounded by the autumn trees. Does it get any better?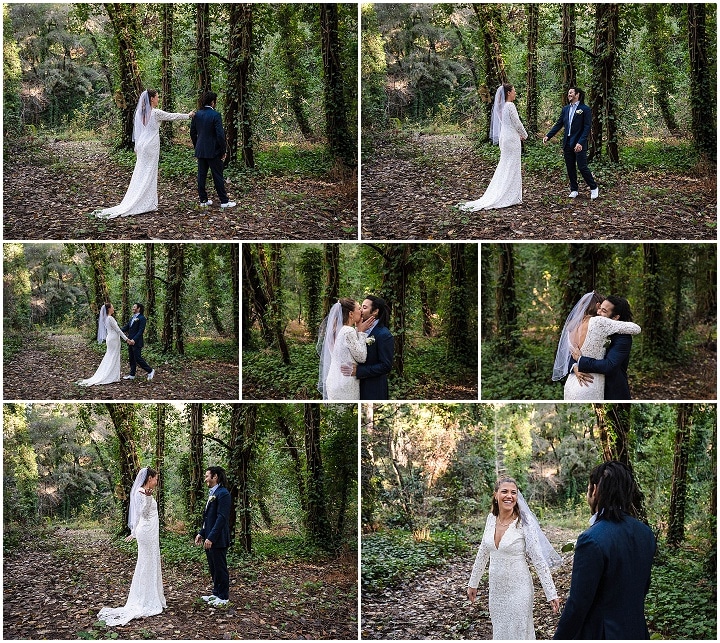 How did you allocate your budget?
To be honest, our whole family contributed to our wedding. It was their gift to us to make our special day happen. Our sister took care of the flowers (literally down to every design), our brother and sister-in-law (event planners) coordinated everything from set-up to entertainment. Our parents contributed to the venue, rentals, and beverages. My best friend in the whole world was able to make it to my wedding, and as blessed as I am- she has been doing my make-up since high school. It was truly a family affair, from caterers to bartenders to hair & make-up.
Where did you splurge and where did you save?
We decided to splurge on our dinner and photographer. Our dinner could not have been any more perfect (thank you Paul & Anna).. and our photos truly tell a story. We saved tremendously on my dress!! But we also saved through this event being planned and executed by our family and friends.
How did you choose your photographer?
I was so fortunate to find Danieka (Picturist Photography). Neither my husband nor I are fond of posing for a picture. I was searching for someone that could be a part of our special day, while also telling our story. Through wedding website searches of photographers in the area, I found the perfect person. Being across the country, she was so accommodating to set up a few Zoom calls with my family and me (2022 and that virtual world again). As the rest of my story goes, the rest is history. Danieka was the perfect addition to our day.
The dress 
My dress was ordered from Lulu's. Yes, I ordered my wedding dress online.. and I was obsessed upon arrival. Our shoes were all white Converse, artistically designed by my husband. My blue sapphires were borrowed from my mother.
The suit
Carl's suit is from SuitSupply, and he looked so damn handsome in it.
Theme or colour scheme
Our colour scheme was maroon and dusty rose with a boho, rustic backyard wedding in the woods theme.
Flowers 
My vision was big eucalyptus leaves and delicate baby's breath. She added colour with peonies, dusty roses and maroon roses.
Decoration
I pictured a boho backyard wedding with eucalyptus and lace. Our venue was so beautiful that it was a decoration on its own. Our ceremony was in the most charming Redwood meadow, with our arch hand crafted by our sister.
Food 
We had the most incredible BBQ Brisket and BBQ Chicken thighs with braised collard greens, baked beans, roasted delicata squash with pomegranates and homemade cornbread. We had the most amazing caterers (also like family- thank you Anna & Paul)…. every detail of our meal was perfect.
Wedding cake
Our cake was delivered from MilkBar, and our cake topper was ordered through Etsy. We ordered 2 separate cakes that were turned into our very own 2 tiered wedding cake by our sister. It was the perfect piece of New York added to our California wedding day.
Entertainment
Our DJ caught COVID 3 days before our wedding. This probably should have made us panic, but my brother-in-law took care of everything. (Did I mentioned he's a DJ??) He provided us the best entertainment we could have ever hoped for… our ceremony was executed perfectly.. and at our reception, we danced all night long.
Who supplied the stationery?
We used Greenenvelope to send virtual invitations. (It's 2022 and a virtual world after all..)
Where did you go on your honeymoon
We went to Taino Beach Resort in the Bahamas. It was beautiful. We had the beach to ourselves every day- and even made a few friends (especially at the pool bar)!
Personal touches
Our wedding programs were handmade by Carl's sister- with a sweet family photo included. All of the decor was personal and intimate, completely set-up by our family. My main contribution was welcome bags for all of our out of town guests. (Thank God for my skillful family).
Special moments
We decided to have a first look followed by family photos before the ceremony, so that we could dive right into cocktail hour with our family. Danieka (our incredible photographer) found the perfect spot in the woods for Carl to wait for me. It was so very special, he didn't even mind that I was 15 minutes late. I'll always remember that time together- and I am SO grateful we were able to soak in those moments alone. We followed that with amazing photos with the whole family. Planning photos before the ceremony was truly a moment that I love the most.
Advice for other couples
Enjoy every moment. It's easy to get lost in the chaos. Don't forget this is YOUR day.. be completely present and take it all in. This is the beginning of your greatest adventure together.
Biggest surprise 
Our entire day was a surprise. I shared my ideas and photos with my sister-in-laws- they turned my vision into a reality. I was not part of set-up or execution. Arriving to the venue, seeing Carl, walking down the aisle, arriving to cocktail hour, sitting for dinner… it was one amazing surprise after another. I am the luckiest bride in the world.
Supplier Shout Outs
Photography: www.picturist.photography
Rentals: M&M Party Rentals
DJ & Event Planning: Turner Events