I don't often talk about hen parties on the blog, it's not something I'm normally asked about as a planner, most of my brides have a strong idea what they want to do, or have designated the job to a bridesmaid. However when I had an email from Rebecca at Chillisauce Events, asking me if she could submit an article to me on hen parties I thought why not. We talked through some ideas and came up with the idea of glamping. Now I'm not a camper at all, I like my creature comforts, but their  is something about Glamping that does interest  me!……possily the word glam is doing it for me, but it does sounds kind fo fun!
Chillisauce Events, specialise in the organisation of Stag and Hen parties  Our mission has always been the same: to be more interesting, more creative, more resourceful and less predictable in everything we do. So with that as their mission statement I will had the Blog over to Rebecca
Top five Glamping destinations
As you all know the wedding process involves more than just the one day, there is the engagement party and of course the Hen Night. As with all of your wedding plans, you want your Hen Night to reflect your personal tastes and individuality, and something unique you.
Glamping is fast becoming the alternative Hen weekend activity, partly because it allows you to get involved in every aspect of the organising, to make it as individual and special as you
are. The other reason Glamping is rising in popularity is because it goes back to the fundamentals of what a Hen night is all about, time away from your man, with your closest female friends and family, having a great time.
From luxury to simplistic there are Glamping sites to suit everyone, varying in price, location and choice of amenities.
Glamping Holiday Surrey (www.glampingholiday.co.uk )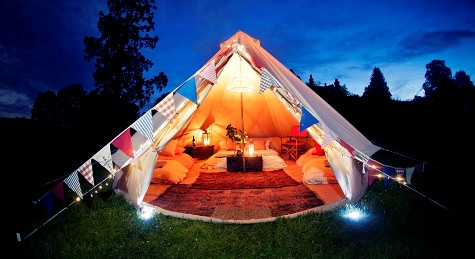 This site boasts the celebration of camping with the combined luxury of camping comfort. Glamping Holiday will provide you with a canvas Bell tent that sleeps up to 6, complete with bedding, towels and cooking equipment. All tents are decorated in an antique shabby chic style, perfect to compliment the rural surroundings of Springbok Estate. In addition, they offer a Glamping menu with tasty meals to feed up to four, as well as a welcome basket of tasty goodies on arrival.
Boho Wedding Loves: The welcome breakfast pack, which includes the basics you'll need for you stay, like eggs, bread, butter, jam, milk, and of a camping staple, marshmallows.
Cedar Valley, Hampshire (www.cedarvalley.co.uk )
When it comes to Glamping you really can have it all, with this safari style site. Situated in the South Downs National Park, the area is secluded and private, complete with all modern amenities. At Cedar Valley each tent comes equipped with beds, shower and a toilet, and outside has its own barbecue area, and outdoor
seating, ideal for an evening around the campfire. Be the first to go, when the site opens in April 2012.
Boho Wedding loves: The Space, each tent has three bedrooms, a large double, a twin and one bunk room, so there is space for all your hens under one roof.
Dome Garden Gloucestershire  (http://domegarden.co.uk/)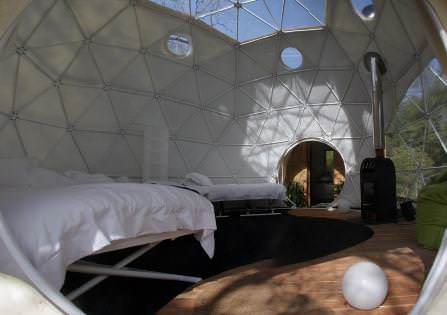 This eco friendly Glamping site in the Forest of Dean comprises of 6 Geodesic Domes, each sleeping up to five people. Do your bit for the environment and have an awesome weekend away, enjoying the comfort of the carpeted domes, hot running water and real beds. In addition, the grounds have access to Sallowvallets off-road mountain biking area as well as 35 square miles of forest, stretching down to the River Wye.
Boho Wedding Loves: If you're not up for braving the outdoors, you can always stay at the Eden Lodge B&B next to the site.
Demelza Farm, Cornwall (http://demelzafarm.com )
Fancy a vintage inspired weekend away? Demelza Farm offers 1950's stainless steel gypsy caravans, just two miles away from the coast. Set in outstanding Cornish moorlands and in close proximately the sea, this site is both picturesque and practical. Features include electricity, wood burning stoves, gas cookers, kitchen utensils, pots and pans; as well as a double bed; all within the spacious trailers.
Boho Wedding Loves: The location of Demelza Farm is ideal for a Hen weekend away, close to Zennor, Penzance and St Ives, with activities like surfing, art museums and local pubs.
Secret Valley Somerset (www.secret-valley.co.uk )
With this site, there is a choice of accommodation, between Mongolian Yurts or Wooden Wigwams, both sleeping up to six people. Whether you chose to go with the way of the nomadic Mongolian People, with the Yurt or opt for the rustic, yet modern equipped huts there are plenty of local sites and places if interest in the rural surrounding of Somerset.  Facilities include a communal Kitchen and dining room, as well as shower and toilets.
Boho Wedding Loves: Secret Valley has a Winery adjacent to its camping grounds, with guided tours of the vineyards, and wine tasting at the Wine shop, open on Sundays, where you can buy bottles to take home, perfect as a memento of you weekend away.
Thank you to Rebecca for her review, I hope you  found it useful. If there are any other areas of hen parties you would like covered do let me know.
For more information about Chilisauce Events go to:
www.chillisauce.co.uk
FACEBOOK