I have a dream of a styled shoot to share with you today, full of natural tones, neutral decoration and some gorgeous wedding inspiration. The shoot took place on 9th February 2020 in Croatia and was created by the students of the Croatian Wedding Academy. They wanted to highlight the trend for earthy tones, natural fabrics and a more organic way of celebrating weddings. The results are stunning, so soft, airy and full of some gorgeous ideas. Big thanks to Andrea Grzicic Weddings for capturing it so well and to Weddings in Croatia for the planning and submission.
Organic – natural and calm, but a view to remember. The shooting was created by the students of the only Croatian Wedding Academy "Postani organizator vjencanja" as a part of their practical task in order to complete the degree in wedding planning and coordination. This is the result – a bright and lovely scene. Thanks to all the vendors and great organization these pictures show the result of hard work and great enthusiasm.
For several seasons, the interior has been in the trend of using natural materials, earth tones and rich texture. As more and more newlyweds experience their wedding as a presentation of their personality and lifestyle, no wonder organic style is becoming an increasingly popular trend in the wedding world too! If you want a sustainable wedding that looks amazing with it, then the ideas we bring to you in cooperation with our dear partners and collaboration with the students of our 5th generation on the only Croatian wedding academy will be a great inspiration for you.
The ceremony is the most moving moment at every wedding, so pay extra attention to it. On the styled shooting, the studio Cvit Happens surprised us with the selection of a magical background that looks like a fairy tale forest. The path to the ceremony is arranged by a series of gentle cotton, lunar and white candles.
The most famous Croatian wedding planners – Weddings in Croatia have found the perfect location for an organic wedding. Don't be afraid to take risks, industrial spaces like old factories will be a great fit for a delicate theme. For table decoration, we chose a refreshing colour palette – white and earthy tones with a gold accent. The beautiful wooden table of the brand Meblo is decorated with dried flowers, cotton and just with a few fragrant Perfume Flower roses to breathe life into the decoration. Meet Mia cakes proved that the cake of delicate tones is by no means ordinary, but a true work of art. For the unique experience, we played with different plates using an organic style like Terraceramica brand plates. As an extra detail, the brand White and Glory provided their paper stationery.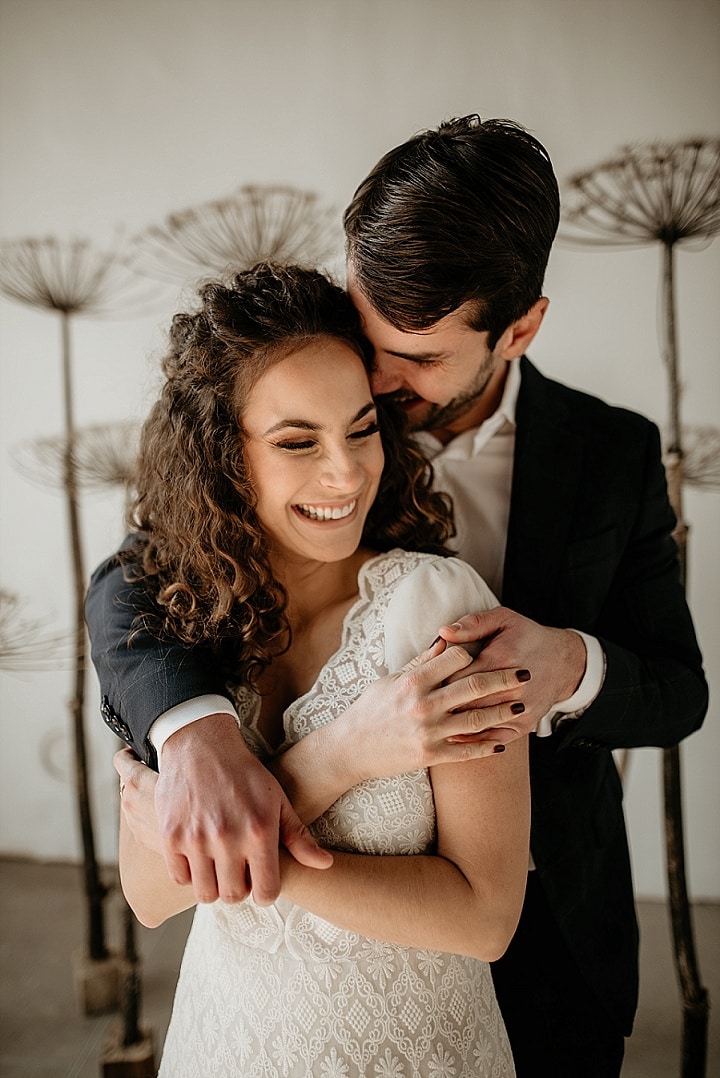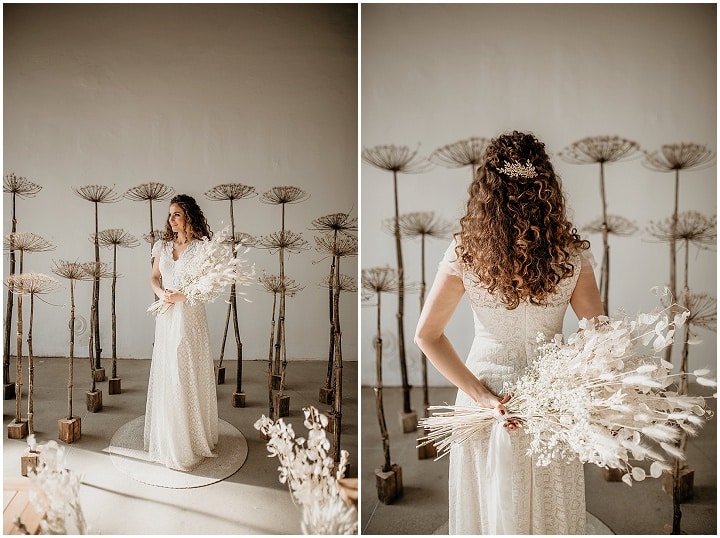 Supplier Shout Outs