Happy Friday everyone! I hope you have all had a marvellous week and that you are ready for a fun bank holiday ahead of us! This weekend I am celebrating my 50th birthday. It was my birthday at the beginning of March but because Dexter and I caught Covid I never got to hold my party, so it is this weekend instead. I just hope this time it gets to go ahead! What have you got planned? I can imagine there are a lot of weddings going on which will be amazing! Today's wedding sees us head over to Italy for this gorgeous wedding set in a winery. It is modern, elegant with a big splash of Boho, gorgeous flowers and beautiful decoration. Big thanks to Loving Marche Wedding for planning it and submitting it to me and to Flavia Eleonora Tullio Photographer  for the wonderful photos.
Our wedding was a concentration of excitement and fun never experienced in a lifetime. It was the exact representation of who Andrea and I are and what we love to do.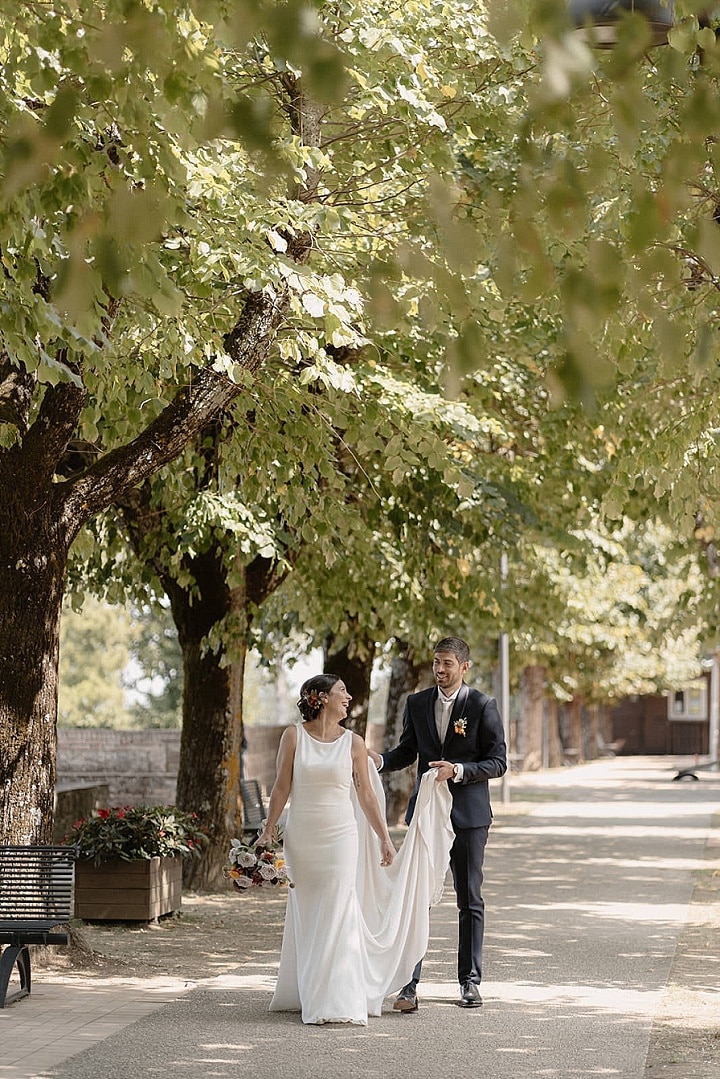 Francesca and Andrea were married on 11th September 2021 at  convent of SS Tommaso E Barnnaba  San Ginesio in the Italian region of Marche. 'We made the choice to get married at Christmas 2020 one evening at the end of the day while we sat on the sofa to relax a bit. That was a very special year for us, with the pandemic our hectic lives and full of work commitments and not, have stopped and for those who do not know how to get bored, that life made for a long time, becomes deleterious. We needed to have a goal, to have something to organize, something that would allow us to move with just the mind. So we said to ourselves, or rather I said: "Why don't we organize our wedding?" And so it was … in early January 2021 we immediately started making the first phone calls. Our other friend couples were cancelling weddings while we were planning it. We had 130 guests and it took a year to plan.'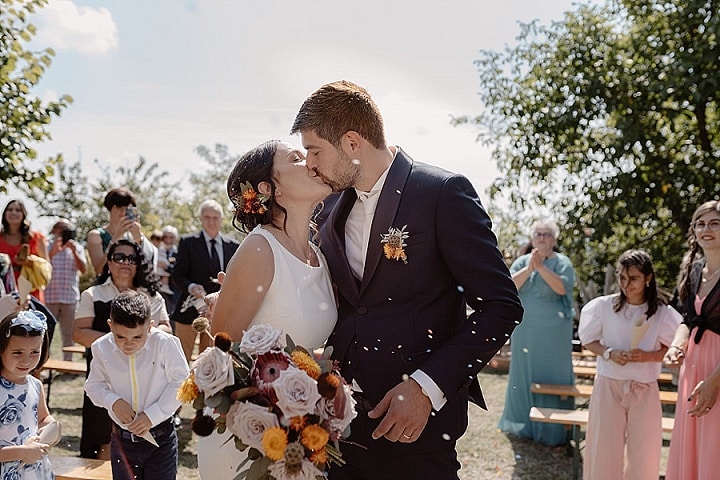 How they met 
We got engaged in January 2019. In a short time we did everything but I think that long engagements are for the right ages, when you are young, you have not yet worked out and you do not have your own independence. Andrea and I, when we met, we were looking for a stability that we both lacked to "close the circle" and above all we were no longer kids. In just under two years we had our daughter Emma and got married. Now we enjoy some daily routine but I'm sure we will soon find a way to break it!!!
The proposal
No marriage proposal like the ones you see in the movies. We are more rational than romantic people. I started the topic on a classic night at home and from there we started on what was going to be an amazing day.
How did you allocate your budget?
35.000,00€ more or less
Where did you splurge and where did you save?
Two important elements that always accompany our life are eating and drinking well. Well understood not only of quality but also in abundance, so on which we did not want nor what we needed was the location mainly for the care of the wines of our wedding and the Catering. As far as savings are concerned, we do not feel like saying that there is something on which we have saved but simply, loving the simple things, we have for example opted for "home made" favours. However, I would not talk about savings because several of the people close to us have dedicated a lot of their time to make and compose them.
How did you choose your photographer?
By my planner Nadia of Loving Marche Wedding
The dress and suit
I bought my dress by PRONOVIAS and shoes and the suit of my husband from a renowned and professional Atelier "Delsa". Talking to Nadia we decided to buy a dress with simple and elegant lines that would give an idea of ​​refinement and modernity. So that I chose a mermaid dress completely smooth on the front and with a small lace appliqué on the shoulders and tail; obviously without a veil and with the hair gathered in a natural chignon to lighten the figure and enhance the shapes.
Theme or colour scheme
More than a theme, I had a style in mind. I wanted a wedding in the cellar because we love the wine and the products of our land, we are linked to the territory but at the same time we have avoided the country style and the too extreme boho chic style. The cellar we have chosen has been restored in a modern key while respecting the ancient features and our style has reflected this aspect: no macramé lace, no details that are too kraft, no wood, and even on the table we have chosen a very modern and linear equipment (plates, glasses and cutlery)
Flowers 
What sort of decoration did you have? Even the flowers have best expressed this style: eucalyptus with berries and protea as the protagonist, always to give an exotic, elegant and modern touch. Then pastel lilac roses, craspedia, white ruscus, peach dahlias and a few touches of yellow with helichrysum small flowers.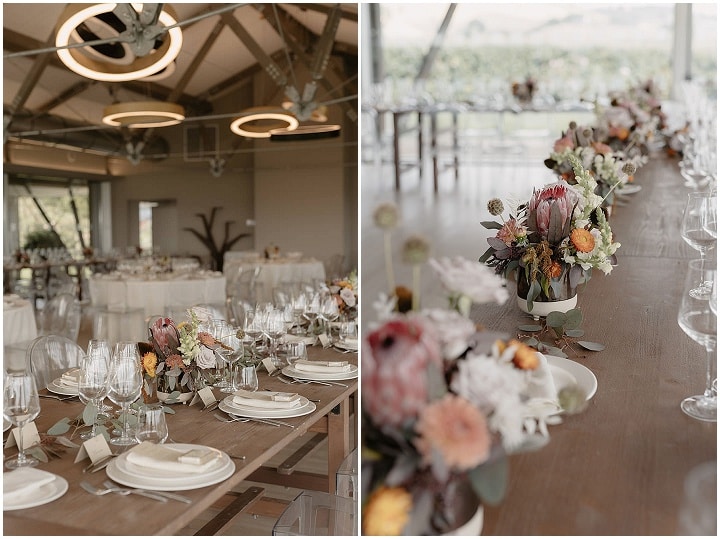 Food 
We had a fish menu' because we love it! risotto with courgette flowers and shellfish, spaghetti with squid and clams, turbot baked in the oven, prawns in coarse salt potatoes with rosemary
Wedding cake
The wedding cake was a fantastic layered Italian typical Millefeuille with chantilly cream on four floors decorated with berries: a marvel!
Entertainment
We had a local band made up of guys we know who made different music according to the moment
Who supplied the stationery?
Claudia of Bianco su Bianco – she's a provider collaborating with Nadia the planner and she realized a stationery perfect for our style; we have chosen a very light kraft paper for the invitation and for the menu, with a modern botanical motif that recalls the olive leaf with a modern and fresh font. We had a bib paper as table seating plan with the scheme of the table and the name in a very modern way. Nadia proposed a table plan set as a big horseshoe for friends with 3 round tables in the center for relatives for a very friendly and funny wedding lunch.
Personal touches
Our personal touch were the cars that took us to the church: an old SIMCA for my husband, a rare very vintage car, and a black FIAT 500 for me, also original from the time. Then my mother-in-law made the colored rice grains that we put inside the cones with our initials. Another very nice thing was the natural soap we made at home that we used as wedding favours, one small natural soap for each guest.
Special moments 
If I think of special moments as moving moments, surely the entrance with my dad during the religious ceremony and to see my little girl and my future husband waiting for me. If, on the other hand, I think of special moments as funny moments, our party at Vinery Muròla was for me the day in which I had the most fun in my entire life.
Advice for other couples
Always organize your wedding thinking about what you spouses like and what should not be missing in your opinion. Do not think about what the guests' judgments or thoughts could be because doing so will always limit your choices. It's your day, no one else's.
Biggest surprise 
My biggest surprise was not before the wedding … there was after and it was that of having truly and personally lived a perfect day, identical to how we wanted it!
Supplier Shout Outs