Since Covid Micro weddings are becoming increasingly popular. At first, due to necessity of following the new wedding rules but now as things get back to normal many couples have decided that micro weddings are just a great way to host a wedding. No massive guest list, no massive stress and you save a huge amount of money. Micro weddings can be a lot more personal than a big formal wedding; you get to spend more time with your specially chosen guests, and you have only the people you really want at your special day. But what are the rules when it comes to dressing for a micro wedding. Most micro weddings tend to be a bit less formal than a big full scale wedding day so does that mean the dress rules change? Today we look at all the different options to give you a better idea on what to wear.
Black Tie
Chances are you won't be attending a black-tie micro wedding; these events are usually on the casual or semi-casual end of the spectrum, thanks to their smallish less formal nature. That said, there's every chance a micro wedding is a black-tie affair, though it might be for a novelty.
If you attend a black tire wedding, you will have to show up with an excessively formal suit for men and a formal dress for women. This of the lavish clothing worn by people in the 1920s, and you're getting close. Black tie events encourage to go all-out formal with special wedding ties.
Formal Wear
Take one step along the formality spectrum, and you will encounter a formal wedding. Formal weddings offer a little more flexibility than black-tie weddings, but they still ask for a high level of formality. Men can wear suits of varying colours, and women are still expected to dress lavishly.
Although micro weddings feature twenty people or less, they might still be considered formal depending on when it's located and the venue. Micro weddings frequently take place over a longer period, thanks to the savings and circumstances, so you might have to budget for more.
Semi-Formal
When it comes to micro weddings, you are much more likely to be in the market for semi-formal wear. Micro weddings are designed to be relaxed and memorable, and there's no better way to feel relaxed and smart than with a semi-formal outfit like a loose collar suit or stylish midi dress.
Again you might want to invest a little more in your semi-formal clothing – especially if you are attending a destination wedding. Micro weddings of this kind usually take place over a few days, and you want to have something special for the day and something new to wear afterwards.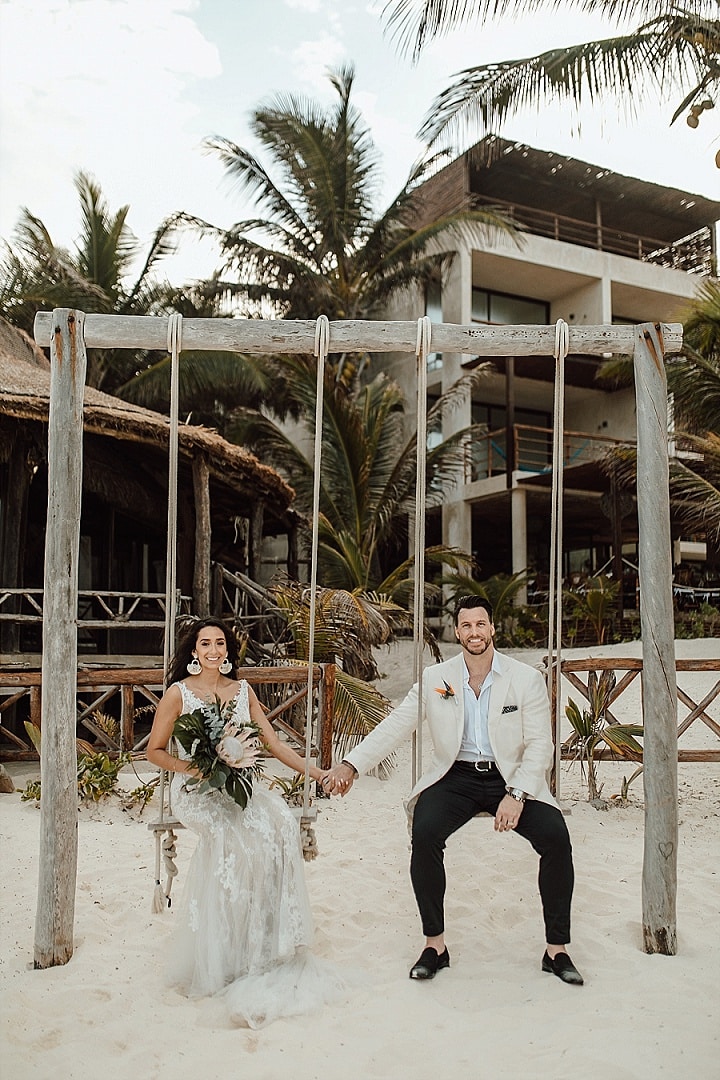 Festive Wear
This end of the spectrum is where micro weddings come into their own; picture a relaxed situation on the beach with close friends and family members or a festival style wedding in the middle of the countryside; this is the best time to relax with the wedding party with festive wear.
Festive wear might consist of loose-fitting suits and brightly coloured dresses, don't be surprising to see some bare feet here and there if the weather is hot and the ground is soft. This relaxed celebration is sure to create plenty of natural smiles for the occasion and the camera.
Casual Wear
If you go to the other extreme, you find a totally casual wedding where pretty much anything goes when it comes to your wedding wear. Casual wear might be appropriate for a beach wedding, an outdoor wedding, or a festival wedding; make sure you confirm the style code.
Are you holding a Micro wedding? if so have you decided on a dress code or are you leaving it to your guests to decide? If you are going to a micro wedding what have you decided to wear? I would love to hear about your outfit choses in the comment box below. 
this is a collaborative post
[jprel]