Happy Friday everyone! I do hope you have ha a good week as we dive headlong into the weekend. What have you been up to? With wedding season now in full swing I'd love to hear all about your wedding planning and how it's going. You can join the chat in our Boho's Brides and Grooms Facebook Group. With nearly 4 thousand members there is advice a plenty for everyone and always someone to chat weddings with! Today's wedding sees us head to Gloucestershire for the wedding of Jess and Tom. They held their forest themed wedding in the gorgeous Cripps Barn, and they really made the most of the venues gorgeous decoration. Third time lucky due to good old Covid this wedding eventually went ahead last November but it was certainly worth the wait! Martin Dabek was there to capture the day for us in all its glory.
Truly the best day filled with love, laughter and so many happy memories with (nearly) all our favourite people. It felt so surreal, yet amazing to finally say 'I do' after our journey to get there!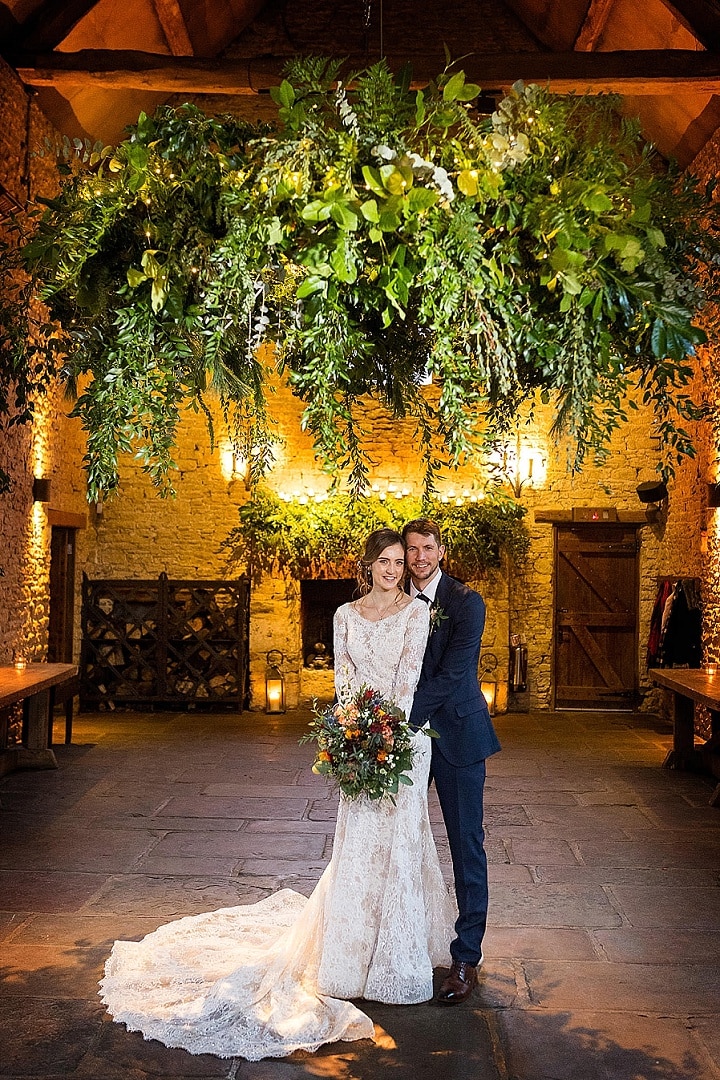 Jess and Tom were married on 20th November 2021 at Cripps Barn, Cirencester, Gloucestershire. 'We loved Cripps Barn from the moment we walked in. It was only the second venue we viewed but we knew straight away that we didn't need to go and look anywhere else! We wanted to get married in the countryside and the barns, beautiful rustic beams and roaring fireplace were big ticks for us! We both love the outdoors so it was important to be able to 'bring the outside in' as we wanted to create a woodland feel with lots of ferns, foliage and wild flowers. Cripps is the perfect venue for this, it is already so stunning that any decor just adds to the wow factor. We took inspiration from our Cotswold dog walks and the gorgeous outdoor area surrounding the barn. Having the option to sit with friends around a firepit and explore the grounds under twinkling fairy lights was also very appealing! Not forgetting the food. We are both foodies and the food at Cripps is really something special. There is such a diverse range of deliciousness to choose from and the way it is served on sharing platters and cooked in an open kitchen is different from anything we had seen before. We can't wait to go back to one of their feast nights! We had 68 guests with only a few extra in the evening.  We had a two year engagement as we wanted to plan the day in a relaxed way and not put ourselves under too much pressure. We wanted to enjoy the process! We were all set to go in March 2020, but unfortunately due to covid, like many couples we had to postpone. This happened again when it came to our second date the following December, but it was a case of third time lucky and we managed to finally tie the knot in November 2021!'
How they met 
We met at The University of Worcester back in 2011. We met on Tom's birthday on a night out but it was quite some time later than we decided to make it official! We had some hilarious dates in the early days including a trip to Sainsburys where Tom bought a whole trolley full of shopping even though he was going on a ski trip the next day, a date to the Tudor museum to help with one of Jess's teaching assignments and various outings to the Malvern hills where Jess acted as a guinea pig for Toms Mountain Leader Training. It all paid off though. We have now been together over 10 years, had many fun adventures, survived a few tricky house moves and owned two fur children.
The proposal
Tom proposed the day after Jess's 27th birthday. We had just got back from a lovely trip with friends in the Peak District. He had planned to propose on the trip, but couldn't quite find the right moment. This explains sitting on a bench for a very long time… The engagement was perfect though. Tom played Jess's favourite country music song by Chris Stapleton, lit some candles and proposed using Jess's nans Australian Sapphire ring which has always been very special. Our dog at the time, Milo, also played an important role.
How did you allocate your budget?
We knew we didn't need to spend lots on decorations so our main focus was the food, the flowers, the photographs and the band. We made sure we did our research, spoke to friends that had recently got married to ask for tips and tried to save money wherever possible. We also set up a savings account and tried to save as much as possible over lockdown.
Where did you splurge and where did you save?
Splurged on the venue and the food. We actually managed to save money in a couple of areas. Some of the best advice we had was not to worry about wedding favours as so many of them get left behind. Jess also got her dress in a sale!
How did you choose your photographer?
We read lots of reviews and used social media to get a feel for a variety of different local photographers. Our main priority however was to find a photographer that we would be happy to share our day with! We read Martin's 'A bit about me' section on his website and instantly had a good feeling that we would get on due to our shared love of the outdoors, adventure and four legged friends! Of course we also loved his relaxed, natural and beautiful style that we really felt captured the best of all the emotions portrayed on your wedding day. We knew that Martin would make the photo experience fun, that our guests would feel comfortable and that we would come away with some stunning photographs. All of which were definitely true! On receiving our pictures our family and friends' comments included 'stunning', 'captured the day perfectly', 'what incredible colours' and my favourite, 'absolute bangers'. He was also so kind and positive throughout the numerous date changes. It was stressful at times, but his friendly and professional approach really helped to keep us going!
The dress 
My dress was by Allure Bridals and I got it from The Cotswold Frock Shop in Stow on The Wold. It was actually the last dress I tried on but I instantly fell in love with the champagne lace, statement buttons and shimmery sequins woven throughout. I had always fancied long sleeves and loved Kate Middleton's classic lace dress she wore on her wedding day. My shoes were also from The Cotswold Frock Shop, although if I am honest I did spend most of the day in my sequin converse! My necklace and earrings were from a charity shop and were 'my something blue'.
The suit and bridesmaids
Tom's suit was from Moss Brothers in Oxford. He wanted a hint of country chic opposed to anything too formal but still wanted to look smart. The boys also had matching three piece suits, but Tom opted for a different waistcoat and tie to compliment the warm tones of the season. The bridesmaids wore dresses from Little Mistress. We all really loved the warm dusty blue colour and the way the buttons and lace complemented Jess's dress. They also delivered to Australia where one of Jess's bridesmaids was living at the time.
Theme or colour scheme
Our main theme was loosely based around bringing the outdoors in and a forest theme. Our colour scheme included lots of greens, whites and dusty blues with hints of peach, burnt orange tones and burgundy for an Autumnal feel.
Flowers 
Our flowers were from the very talented Beth at Go Wild Flowers. She did an absolutely incredible job and really managed to create exactly what we had in mind (and more). We had lots of mixed foliage including our favourite, ferns, mixed with dill, lisianthus, veronica, blue thistle, dahlia, berries, safari sunset and roses. They really did look absolutely stunning. Thank you Beth!
Decoration 
Beth dressed the venue for us using woodland foliage and fairy lights for an overhead wheel on the ceiling of the barn and across the fireplace. We also designed our own centrepieces for the tables using blue Bombay Gin and Haig Club whiskey bottles, copper coloured glass containers, bark hearts, moss and vanilla candles. Beth kindly supplied wooden log slices to stand these on and wild flowers for the bottles. We kept the top trestle table rustic without a table cloth and instead opted for a foliage runner. All of the tables were named after our favourite forests across the UK. Jess and her dad also made a large frame for photo ops using moss and artificial flowers to compliment and we used rustic pallet boards to display some of our signage and as a container for blankets.
Food 
It was a tough choice but we decided to go for a starter of goats cheese and beetroot salad with garlic chips, marinated roast pork, creamy mashed potato, root vegetables and apple sauce for main and the yummiest creme brulee and shortbread biscuits for dessert. Our favourite canapes were the seared tuna and barbeque sausages!
Wedding cake
Our lovely friend Becca at 'Willimonts Cakes' made our delicious wedding cake for us. She created a two tier semi-naked cake with two different flavours; lemon, blueberry and white chocolate and carrot cake with orange frosting.
Entertainment
We used Cotswold Band Hire to search for the perfect wedding band. They were super helpful and professional throughout. Live music was especially important to us after so long without being able to have a dance! The Fiction did an excellent job of keeping us all entertained with their fun and upbeat repertoire and in-between sets we used good old Spotify.
Who supplied the stationery?
One of Jess's best friends  at 'You Bloom' supplied the stationery for us. Chloe and her Mum create wonderful designs that help us stay positive, celebrate the joyful, the quirky and promote good mental health. I simply gave them our theme and they came up with the perfect designs. We also had some beautiful slate table place settings made by Caboodle Design. They looked perfect simply placed on top of a single fern on a napkin.
Where did you go on your honeymoon?
We went on a post Christmas mini moon to The Acorn Inn in Evershot, Dorset. A gorgeous, cosy pub in Thomas Hardy country. Of course our dog Albie came too and we enjoyed more yummy food, dog walks, sea air and cosines. We are in the process of relocating from Cambridge to Oxfordshire where Tom grew up so the honeymoon is on hold until we are settled.
Special moments 
Walking down the aisle, looking at Tom and thinking oh my gosh we are finally actually doing it! Sitting at the top table surrounded by twinkling lights in the most beautiful surroundings and seeing all of our favourite people laughing and having fun after so long apart and sitting around the fire pit together taking a minute to reflect on the most amazing day!
Advice for other couples
Don't worry about wedding favours or the 'little things' that only you will notice, make sure you take time to be with each other on the day and take a step back to take it all in and remember it is your day. Do what makes you both happy and try not to do things because you feel 'you should do'.
Biggest surprise 
Venus, 'the planet of love', making a special appearance for us whilst sitting around the fire pit with Tom. We got very lucky with a clear night and lots of stars.
Supplier Shout Outs
 For more information on Martin Dabek
www.martindabek.com / www.martindabek.com/blog / FACEBOOK / INSTAGRAM / PINTEREST / TWITTER
Martin Dabek is Bristol based wedding photographer for fun-loving couples, covering the whole South West and beyond.