Honeymoons are a once-in-a-lifetime experience. But in order to have a truly unforgettable honeymoon experience, you need to plan it accordingly and visit destinations that you and your new spouse will love. For outdoorsy couples, an all-inclusive getaway at some luxury resorts is not going to cut it.
So, to help you plan your honeymoon and make the most of your holiday, refer to this list. These destinations will allow you to explore the great outdoors and, perhaps, take up some thrilling adventures, too!
The Canadian Rockies
If you want your honeymoon to be filled with outdoor adventures, the Canadian Rockies would be the most obvious choice. This UNESCO World Heritage site stretches 69,498 square miles through British Columbia and Alberta. The scenic Canadian region attracts millions of visitors from around the world for its picturesque nature views.
One of the best things you can do on your honeymoon in the Canadian Rockies is to drive through the Icefields Parkway. The highway stretches 144 miles connecting Banff to Jasper National Park. Take time to pull over and explore the many beautiful glaciers and lakes along the way. When you get to Jasper National Park, head to Horseshoe Lake, a gorgeous lake surrounded by rugged high cliffs. Another beautiful lake you should visit in the Canadian Rockies is Peyto Lake, a glacier-filled lake sitting in a stunningly beautiful valley.
Make your honeymoon even more special by staying at the Banff Springs Hotel, one of the most picturesque hotels in the Canadian Rockies. Perched on a hill overlooking the town and the surrounding mountains, the hotel looks like a castle taken straight out of a fairy tale book. It comes equipped with a relaxing spa, golf course, and restaurants for a truly relaxing honeymoon getaway.
The Serengeti
What better way to celebrate your life as newlyweds than to explore the wildlife? For couples who love the outdoors, Tanzania's Serengeti National Park is the perfect destination. The world-renowned park is famous for the Great Migration, a spectacular event where you see millions of wildebeests migrating along with a large number of zebras and gazelles.
One of the highlights of your luxury tour of the Serengeti National Park is the game drives, where you get to see an amazing number of animals, including leopards, cheetahs, hyenas, and lions. Your tour may also include a visit to the Maasai Village, home to the Maasai people, one of East Africa's most well-known local tribes.
Deciding where to stay in the Serengeti for your honeymoon will mainly depend on what time of the year you're travelling since wildlife movements are seasonal and most lodges and camps are only open for certain months. But the best option for your honeymoon is to stay in a luxury camp with modern facilities like swimming pools and spas.
The Queensland Coast, Australia
Home to the Great Barrier Reef, the coast of Queensland is filled with natural wonders that you must absolutely visit at least once in your life. It has a vast collection of coral reefs, the largest in the world, with 400 different types of corals, more than a thousand species of fish, and 4,000 different types of molluscs.
When honeymooning at the Queensland Coast, you could spend most of your days swimming and scuba diving on one of the islands available for tourism. Fraser Island is a great destination to escape the bustling cities. You may need to hire a four-wheel drive for this and be mindful of dingoes crossing down the streets. Make sure to visit the stunning Lake McKenzie and take a dip in the crystal-clear waters.
If you want to experience scenic hikes, head to the Springbrook National Park, a short drive from Brisbane. It offers many scenic walks suitable for couples who love to explore the outdoors. Take a break between walks and enjoy a picnic by the Springbrook plateau. On the northeast coast of Queensland, you'll find the Daintree Rainforest, Australia's largest continuous area of tropical rainforest, stretching right down to the edge of the sea.
The Smoky Mountains, North Carolina
The UNESCO-listed Great Smoky Mountains National Park in North Carolina is an ideal honeymoon spot for couples who love exploring the great outdoors. It's home to America's oldest mountain ranges, lined by luxury camping retreats and riverside lodges. But if you want to make your honeymoon even more romantic, consider glamping in North Carolina. You will find many excellent glamping sites in North Carolina, especially in the Smoky Mountains area.
One of the best ways to experience the natural beauty of the Great Smoky Mountains is to cool off right next to one of its many beautiful waterfalls, which you can easily reach through the park's scenic hiking trails. From mid-March to late November, horseback riding stables in the park offer fun horseback riding adventures, so take advantage of these. There are also drive-in horse camps providing access to backcountry horse trails.
Another romantic activity in the Smoky Mountains is hiking through the Cades Cove, a gorgeous verdant valley surrounded by mountains and lush greenery. It's a perfect spot to discover wildlife while soaking up the breathtaking views of the Smokies.
The Remarkables, New Zealand
Lying along the south-eastern shores of New Zealand's Lake Wakatipu, the Remarkables is a remarkably stunning mountain range, a must-visit for honeymooners who love the outdoors. There are many ways to enjoy the views of the Remarkables. You can go for a hot air balloon ride, take a helicopter tour, or go on a boat cruise along the lake.
Hot air ballooning is a honeymoon experience you will never forget. As the balloon rises to an altitude of 6000 ft, you'll witness the panoramic views of the Remarkables and the surrounding areas. If a balloon ride is not something you fancy, consider taking a helicopter tour. Fly above Lake Wakatipu to enjoy Queensland's most breathtaking views! You'll land at the Remarkables Mountain Range, where you will be treated to your choice of bubbles for a more romantic experience. It's also possible to go on a boating tour across Lake Wakatipu to enjoy a close-up view of the stunning mountain range.
Eastern Himalayas, Bhutan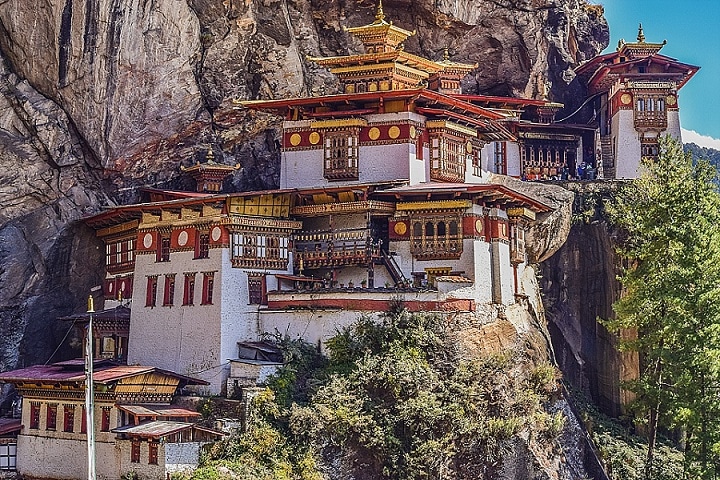 You'll find the Buddhist nation of Bhutan in the Eastern Himalayas in South Asia, a small but totally stunning country that is great for honeymooning couples looking to get off the beaten path. If your idea of adventure is visiting somewhere with a fascinating culture, dramatic scenery and a tiny population, this is a great location for a honeymoon focused on the great outdoors.
70% of the terrain in Bhutan is covered by forests, and because the nation has only been open to tourists since 1974, the landscape is incredibly wild and untouched by any kind of serious development. It's also the location of Gangkhar Puensum, the highest Himalayan Peak, so if you're looking to explore the mountains then this is an excellent place to stay. Tourism is carefully managed in the country so any exciting Bhutan holiday packages must be booked through an official tour company, but if you're after a totally unique outdoor adventure with your new spouse then this is the perfect place to do so.
THIS IS A SPONSORED POST