It's your girl's big day! You've done the showers, had the bachelorette party, rehearsed and now it's time for you to all get ready to walk down the aisle. Lucky for you there are plenty of elegant DIY hairstyles that are simple to achieve.
Before we dive in, we just want to quickly go over some bridesmaid hair etiquette. Everyone has different preferences. To some, these things matter more than to others so use these as a general guide and be sure to plan ahead by talking to the bride-to-be.
Be mindful of the bride's wishes – if she has a specific style in mind, follow her lead.
Do not upstage the bride – your hairstyle should complement her look, not overtake it. If the bride is doing a fancy up-do- make sure yours isn't too similar.
Consult the rest of the bridal party. As you shouldn't upstage the bride, you also shouldn't upstage the maid of honor. In addition, you don't want to be the only bridesmaid wearing their hair up if everyone else is wearing theirs down.
When it comes to doing your own hair for the wedding, keep it simple – avoid elaborate styles that may be difficult to achieve and/or take a lot of time. Remember that you will need to be ready before the bride so you can help her get ready and into her gown. Be mindful of the day of schedule and plan accordingly.
Messy Low Chignon Bun
If you're looking for a style that's elegant and easy to do yourself, consider a low chignon. This type of bun is perfect for all hair lengths and textures. To create a low chignon, start by gathering your hair at the nape of your neck and pulling it into a low ponytail. Leave a few face-framing pieces out of the tie. Then, twist the ponytail into a bun and secure it with bobby pins. Teaze a few strands away from the bun to create texture. Be sure to spritz your hair with hairspray for extra hold.
Elegant Braided Bun
Another easy style to DIY is the braided bun. This style is perfect for long hair and can be dressed up or down, depending on the occasion. To create a braided bun, start by braiding your hair into a standard three-strand braid. Be sure to start your braid where you want the bun to sit on your head. Then, twist the braid into a bun and secure it with bobby pins.
The Half Up, Half Down Bun
This style is perfect for showing off your jewelry, keeping your hair out of your face but feeling a tad more casual. This is a look that will never go out of style. Plus, it's simple enough for any bridesmaid to do on her own. Start by sectioning off the top half of your hair and securing it with a hair tie. Take the bottom half of your hair and loosely curl it using a curling iron. Once your curls have cooled, brush them out for loose flowy waves. Take the top half of your hair and loosely curl it in the same way. Again, brush out the curls for loose waves. Wrap a 1-inch strand around the rubber band and pin in place to hide an ugly elastic. Apply product to your curls for a light-medium hold that will last through the evening.
Braided Crown
To achieve a braided crown, start by parting your hair down the middle. Braid each side into a standard three-strand braid. Secure with an elastic and tug on the strands a bit to loosen the braid for a fuller look. Pin the braids against your head, and crisscross them in the back. If needed, tuck any stray pieces of hair under the braids for a polished look. This style is perfect for long hair and creates a soft, romantic look.
Finger Waves
This style is nostalgic yet classic. Think 1920's flapper. The great thing about this style is it works for all hair lengths and looks super classy with short hair. This style does take a little extra time and practice to achieve so be sure to accommodate for that. Add some moose or a light gel if you're hair is clean to add some extra hold. Part your hair down one side with a fine-tooth comb. Be sure your part is extra straight. This style is achieved by being very precise with sectioning off your hair. If your hair is thick be sure to pin the top layer or two up so you can work in small 1 inch sections. With a hot straightener, take the section closest to your face and begin bending your hair forward and back like an accordion to create flawless flat waves. Repeat with the remaining sections keeping to the same direction of bending until your whole head is curled. Be sure to apply a generous hairspray as this look needs extra support. Wear in a loose pin-up or if your hair is down simply add a small pin to the smaller parted side and you're good to go.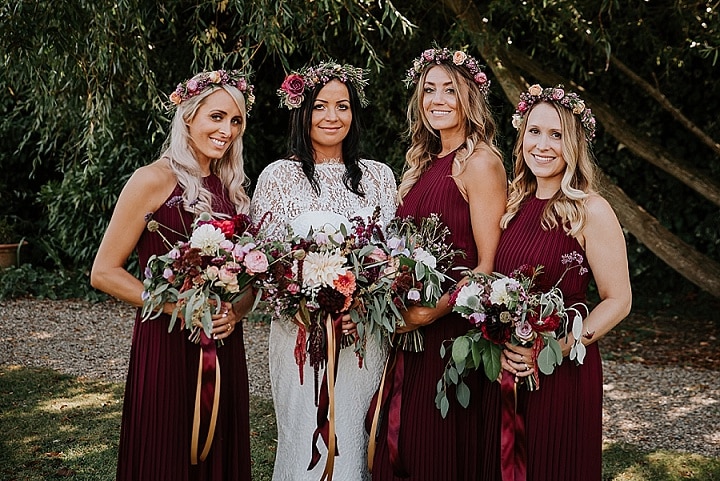 Enjoy the night with any of these simple elegant looks! We know whichever look you choose you'll be looking radiant, feeling confident and ready to party the night away!
THIS IS A COLLABORATIVE POST