It's February, the weather has been pretty pants over the past few weeks, cold, wet and incredibly windy. However the end of February is in sight and with that Spring! I don't know about you but I feel that spring is in touching distance! The nights are getting longer, I have seen a few snowdrops in bloom and plans for Easter breaks are in the making. So today I am bringing you this super stylish spring shoot, filled with the most amazing bright blooms, perfect for a spring wedding. A Maypole plays centre stage, while a rather extraordinary cake really steals the show. The shoot took place on 16th May at Amphitheatre of the Redwoods at Pema Osel Ling, California and it really is a shining example of how marvelous a spring wedding can be! Big thanks to Daniel James Photography for the fabulous photos.
What comes to mind when you think of spring? Bright flowers, flowy dresses, and new love! We thought a maypole would be the perfect representation of spring, new lives together, and tying the knot! As tradition goes, the maypole was a celebration of the union of the feminine and masculine. How has this not been used before!? Using amazing textures to combine the delicate and vibrant color selection was the perfect challenge when thinking of ways to combine our ideas. The maypole was it!
Amphitheater of the Redwoods was the perfect location for this Redwoods Spring-inspired session. Surrounded by the famous California giants, couples can tie the knot then hold a reception or other events at various locations on the property from the open grass field that works so perfectly at sunset with the film aesthetic or under oak trees to cut the cake.
The cake. Totally unique with four layers, all different heights, and widths; this modern springtime wedding cake from Flour and Batter based in Napa was the perfect piece to sum up all of the creative energy gone into this shoot.
Overall, the whimsical florals with table settings all come together to form an almost dreamlike, fairy tale spring session.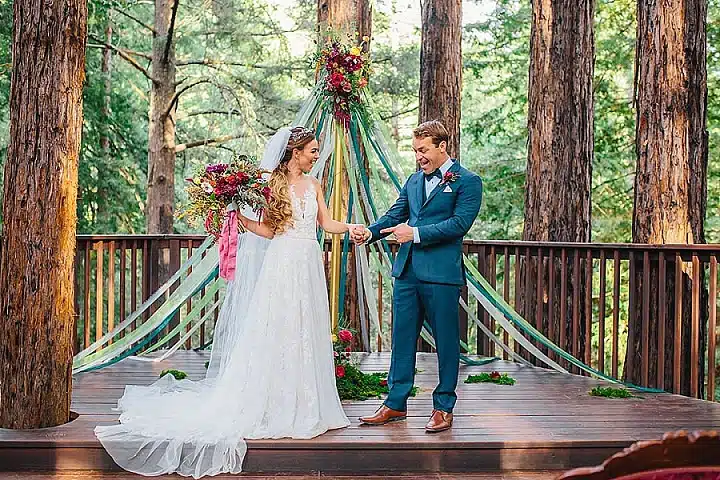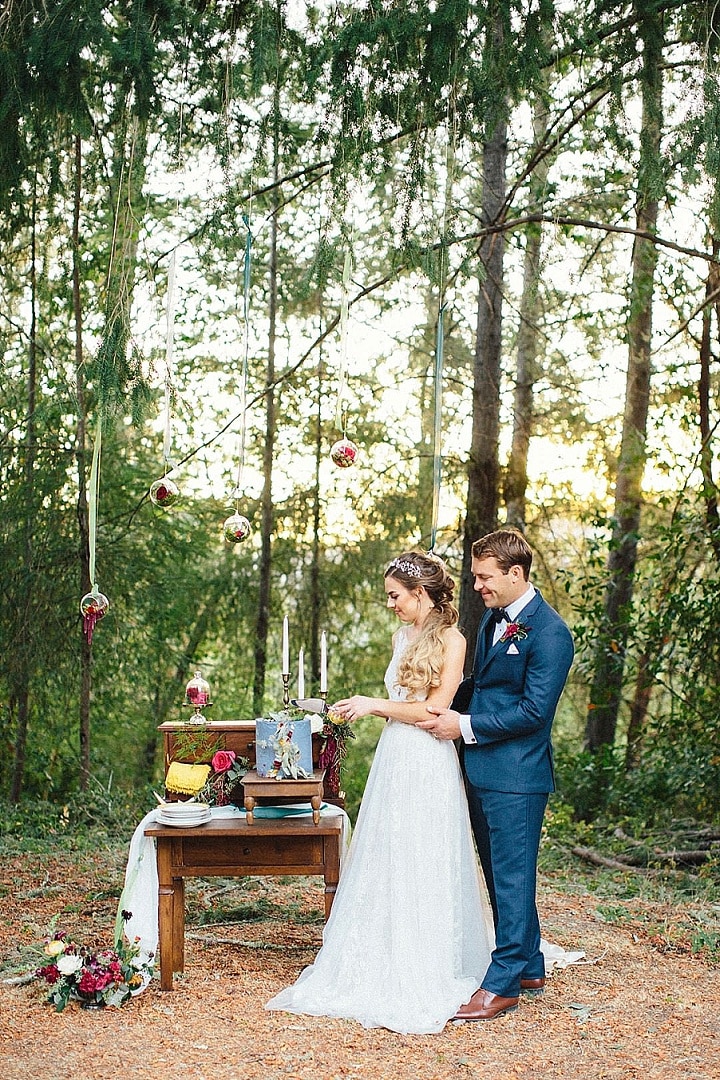 Supplier Shout Outs