I have another gorgeous wedding for you today from Nicola Thompson . I featured Nicola a couple of weeks ago HERE and her photos went down really well. Nicola is going o be the official photographer at next weeks Boho Christmas Party so I am delighted to be able to feature more of her work.
The couple are Aimee and Alex Clare were married on 17th September 2011 at Penketh Methodist Church with the reception at the Fir Grove Hotel, Grappenhall, Warrington with 90 guests in the day and another 50  in the evening.
I love Nicolas soft style of photography mixed with her great use of colour and this is shown off beautifully with this wedding. Some lovely shots here of the couple, I'm especially loving the first shot in the car and the ones outside the church.
Aimee and Alex describe their wedding as 'A day infused with music of all sorts, purple, elegance and love; we couldn't have wished for anything more. It completely reflected us and everything we had dreamed for our special day.' 
How they met
We met at a centenary Theatre Company rehearsal. We are both musical lovers. We were doing the show The King and I at the time. Alex is a great big Warrington Wolves Rugby league fan so i lured him in with the offer of a signed Rugby shirt that I had at the time. We have been together four years.
The proposal
We were at the top of the Empire State building (hence our table names being New York landmarks). It was quite funny really…Alex had planned it to be really romantic outside overlooking the views, however we went at Christmas and it was sooooooooooooo cold I lasted all of 2 minutes outside and spoiled it a little by being determined to appreciate the view from inside. It was still beautiful…He just asked me nice and quietly…It was nice a simple just as I'd of liked.
Planning the wedding
I've been a fundraiser for five years so im  used to organising and planning events.  We were both extremely excited and had the venue and the important things booked within a few weeks. We got engaged 9 months before the big day.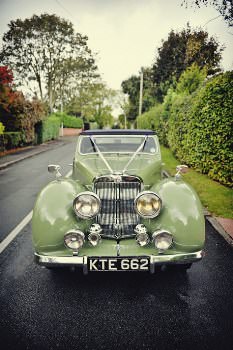 The venue
The church means a lot to Alex's family. It's been their church for many years. They recently knocked down the old one…we were the first people to get married in the new church (how fantastic is that!) The hotel is just gorgeous inside and the food and service is just amazing. It also has a fab dance area and room for our live band…I wanted somewhere with ambiance; a place that would look just beautiful in the evening with candles and colour…This venue was just perfect for that. Also, it was local to all our friends so nobody had an excuse not to come along, have a few drinks and enjoy themselves.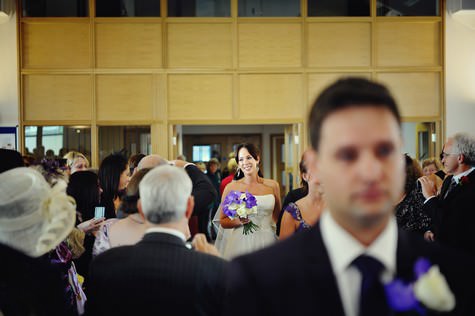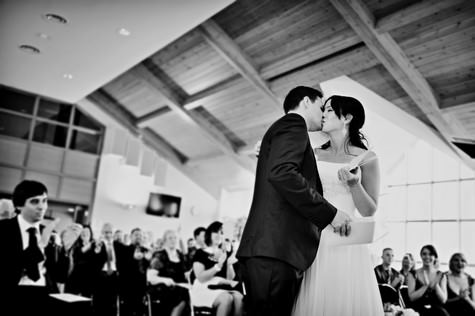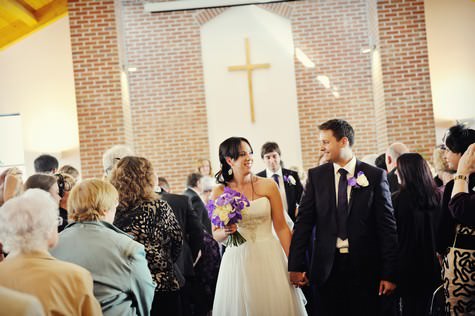 The Dress
Blue by Enzoani. I knew I wanted a chiffon style dress and this was just perfect…I knew as soon as I put it on it was the one. Well I had Jimmy Choos of course. They were gorgeously gold and silver and matched the dress perfectly. I went simple with the jewellery. I love statement earrings so i went for chandelier earrings and no necklace. Alex surprised me on the morning of the wedding with a simple bangle to wear.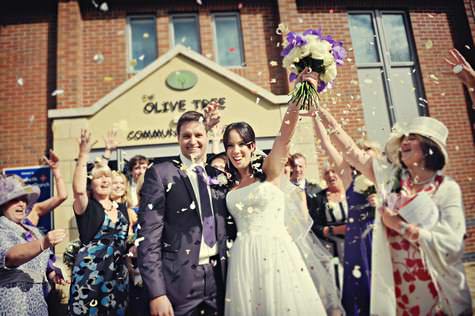 The suit and bridesmaids
The Suits were purple!!! And from Next.  They are gorgeous. When we told people they purple, their confused and a times concerned face were obvious but they were lovely. Alex didn't really want to go for tails and lots of fuss and him and his brother (best man) looked just gorgeous in fitted suits.  In the evening they took off their tie and put on a different purple floral shirt and some purple converse (Alex's idea-very Alex)
The bridesmaid and flower girl dresses were from Monsoon…just gorgeous!
Theme
Purple, purple, purple. Our table names were New York Landmarks and we had lots o music incorporated into our day. Music is a big part of our day so it was extremely important. The Warrington Male Voice Choir (Alex has been a member since he was small) performed at the church before and within the ceremony. Alex is also a member of Golborne Brass Band who played whilst guests arrived for their welcome drinks at the hotel after the ceremony.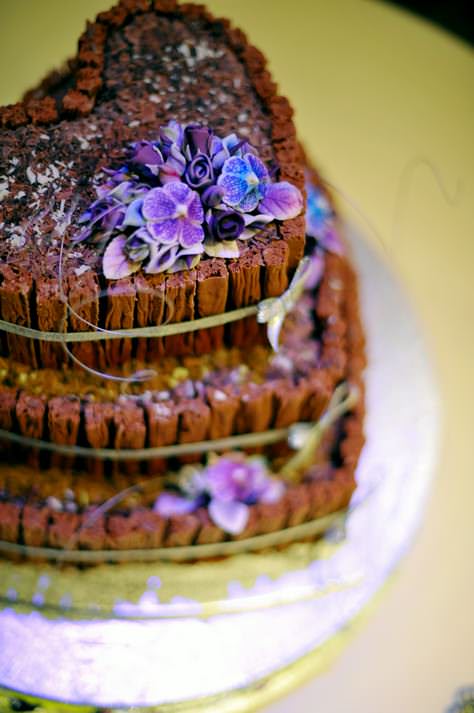 Food
Cream of Tomato soup, Chicken and Strawberry Cheesecake with a difference…the chef arranged it in such a fab way…see the photos!
Entertainment
Alex's cousin Micah is in a band. They were just brilliant!
Flowers
I had cream roses and vanda Orchids…the most beautiful purple flowers that ive ever seen. My florist www.thegreenroom-flowers.com was just brilliant.
Decoration
My florist draped Vanda orchid heads all up our candelabras in the middle of the tables. We had purple candles and additional candles everywhere. I love candles and my big request was for the room to look stunning with candles lit everywhere in the evening. The hotel did just as I'd asked…the room was beautiful day and night.da orchid heads all up our candellabras le flowers that Ive ever seen
Personal touches
-I made our Mr & Mrs letters for out top table…they took me days but were well worth it!!
-I also put together our table name love hearts and table plan cards.
Special moments
Its really hard to pick any one thing out really. Seeing Alex and the service was beautiful. Hearing the words my dad had wrote for his speech. He writes poems and had written us both a very special one for us to keep forever. Everything was a highlight!!
Planning advice
Dont get carried away with everything being perfect. Enjoy the planning and be as organised as you can as early as possible with dates and booking the important things like the venue, church, flowers, entertainment etc. That way you can enjoy the creative things.
Keep your table plan and guest list to yourselves…it's your day and your guests are your choice!
Invest in your photographer and really take time to pick the right one. Our photographer www.nicolathompsonphotography.co.uk is just amazing…For the moment we laid eyes on her work we knew she was for us and she didn't disappoint. Our photos are beautiful and look forward to looking at them and showing them off to our friends…and always will.
Finally, have as much fun together as you can…involve each other and always remember why you are doing this…because you love each other and want to spend the rest of your lives together.
Biggest surprise
The effort that everyone had gone to for me and my husband and the overwhelming emotion that you feel on the day!
Supplier Shout Outs
Photography www.nicolathompsonphotography.co.uk
Venue www.feathers.uk.com/firgrove
Choir http://www.warringtonchoir.org.uk/
Brass Band http://www.golbornebrassband.co.uk/
Band www.cheshire-wedding-music.co.uk
Flowers www.thegreenroom-flowers.com
Bunting from www.notonthehighstreet.com
For more information on Nicolas work go to:
http://nicolathompsonphotography.co.uk
FACEBOOK
TWITTER
[email protected]
Due to an email issue if you have emailed me between the 2nd & 9th of December, please resend it.
X