If you have just started your wedding planning journey then it will feel like you have a million things to tick off your to do list! From my experience, finding the right photographer should be up there at the top of your list! Maybe you are in the middle of your planning and not found a photographer yet? Well never fear, as today I would like to introduce you to two amazing photographers who are just what you are looking for. Liam & Stam from Liam Collard Photography are London Wedding Photographers who have an incredible eye for their work. They split their time between London and Lisbon but travel all around the world capturing the most amazing images for many wedding couples. With 10 years of experience behind them, they bring with them a depth of knowledge, a huge range of creative ideas and an incredible use of light. Liam and Stam are first rate professionals in their field and their images are breathtaking. Don't take my word for it though, read on to find out more about them and view some of their finest work.
Creative documentary photography that loves finding dramatic and atmospheric light to play with.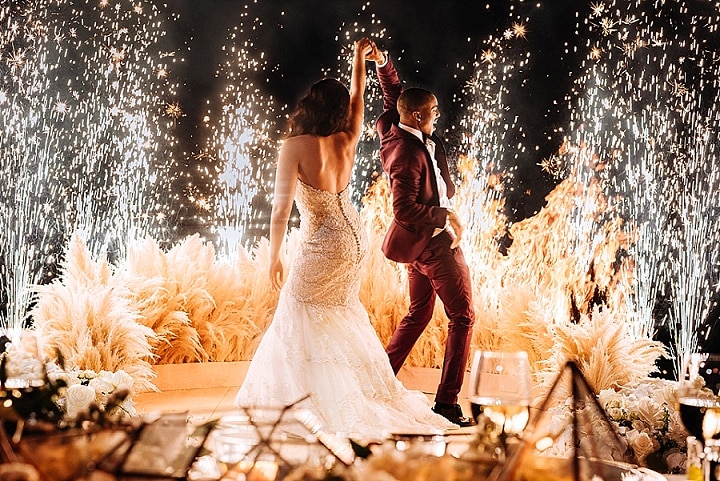 Liam & Stam have been shooting weddings together across the world for the best part of a decade. Their work has been awarded consistently by their industry peers and their distinctive style, rooted in the compelling real moments that happen at every wedding, defines their edgy, creative and vibrant imagery. They attract couples from across the globe that are looking for special memories of their wedding day, to make them and their family proud and their friends desperate to see more.
They have also hosted their own podcast and are educators and mentors to other photographers looking to carve out a successful career in the wedding industry and lived for nearly 7 years in Thailand, where they were based until 2021. They are now based back in London.
How long have you been taking photos for?
10 years
When did you start your photography business and what made you start
We both had a desire to do something meaningful, away from the corporate world that we left behind. Having loved photography for a long time and seeing so many friends disappointed by their own wedding photos, we felt a calling to create a photography studio that pushed the boundaries of what's possible and delivered genuinely inspiring memories to our couples.
Where are you based?
London and Lisbon (we split our time between them)
How far will you travel for a wedding?
Globally – we have already worked in 5 continents and 15 different countries
What is your favorite bit of technical kit?
We are not really that technical people but we do love the Sony cameras (A9) we use at weddings
What makes you different to your competitors?
We deliberately look to tell your story in a different way and never shy away from creative ways to do so. Being a couple ourselves helps us do this and as we are both photographers we often work with one of us being a lighting expert and the other as a photographer, so we can capture images with lighting setups that just aren't possible for single photographers. Check our our after dark photography to see how atmospheric it is and you'll see what we mean.
What do you enjoy most about your job?
Meeting awesome couples that sometimes get tearful with happiness when they see their final photos. That really is so satisfying for both of us.
What is your biggest achievement so far?
Leaving our old jobs and creating a business that makes us and our couples very happy
What sort of couple do you think you attract?
We have worked with so many amazing people from all different cultures, but most are insistent on having a big party, love to have fun but also like a hint of glamour to celebrate their special day.
What would be your ideal wedding to work on?
Honestly we love them all. It is more about the personalities that attend than the locations.
Who is your favorite photographer and why?
So many inspiring people out there. It is hard to name one. We both really like Joey L. He's a portrait photographer from Canada that has worked on some incredible projects, photographing different cultures around India and Africa.
If you were to get married who would take your pictures?
We are getting married but had to delay due to COVID – we asked Lanny and Erika from Twomann Studios to photograph it. They are amazing people and incredible photographers.
What in your opinion makes the perfect photo?
Fantastic moments, beautiful light and interesting composition. Getting all three in one image is tough but always the goal.
What is your favorite photo that you have taken?
So hard to pick one, but the image of the elephant grabbing our groom around the neck in Thailand was hilarious and continues to get shared and commented on even now, 7 years after we took it.
What advice would you give couples when choosing their wedding photographer?
Get to know them a little bit as you will spend more time with them than any other supplier. Really liking them as people is as important to you having a great wedding as loving their photos.
Can you give me some information on your pricing structure?
Pricing starts from £3500 for full day wedding photography but we do have a flexible structure depending on the needs of our couples, so this can change up and down.
It is best to get in touch with us to tell us what you have planned so we can create a package that includes everything needed and leaves the rest.
What is your ideal way to spend a day off?
Taking our French Bulldog, Bob, out for a long walk in the countryside, followed by a large brunch somewhere delicious.
What can you never leave the house without?
We find it hard to leave it without our Frenchie, but promise we will do on your wedding day !
Who would be your 5 dream dinner guests dead or alive?
Nelson Mandela, Dalai Lama, Michael Jordan, Winston Churchill, Bob Marley. An odd mix for sure…
What would you do if you won the lottery?
Definitely buy a dream home in central London and look after our families, then donate the rest to charity. We already have such a great life doing what we love so feel really lucky as it is.
If you weren't running your business, what would you be doing?
Travelling, eating great food and photographing people around the world.
For more information on Liam Collard Photography 
www.liamcollard.com / www.liamcollard.com/blog / [email protected] / 07584255361 / FACEBOOK / INSTAGRAM / PINTERST / TWITTER 
THIS IS A SPONSORED POST