There are many things to consider when planning your wedding. Keeping it sustainable being one of them! Eco friendly weddings have been a thing for quite some time now and I have had many a feature about the subject on the blog over the past few years. It's always great to be able to feature styled shoots with sustainability as the main focus of the theme. Today's shoot took place on 13th March 2021 at Ermita Madre de Dios, Úbeda (Jaén, Spain) and was organised by Cotton Weddings. The main focus was to show couples that weddings can produce less waste, less impact on the environment, less pollution, yet lose none of the beauty or individuality!
Eco-sensitive wedding in Úbeda: a self-sufficient venue, a streaming ceremony and a guitar ballad for the bride.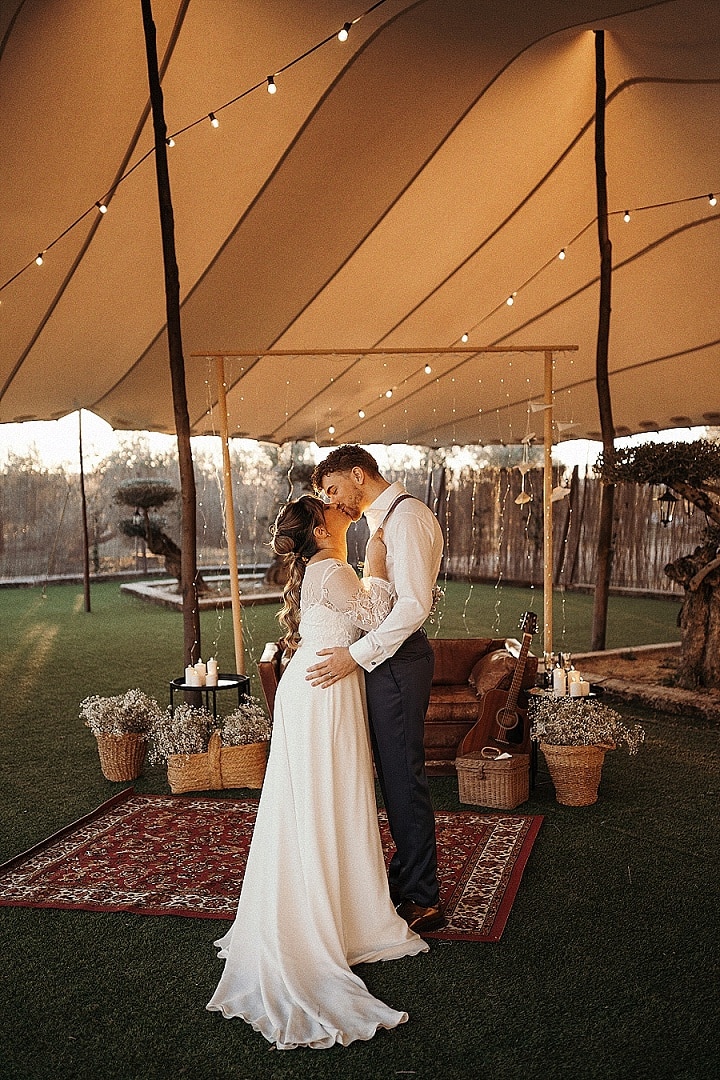 Our team is determined to change the wedding landscape. We want to naturalise that these events can be done from a more environmentally conscious perspective and that they generate less impact on the
environment, using options that produce less waste, that do not pollute or that have been produced in a
responsible way. And what better way to do this than by organising a photo shoot that inspires those
couples who are unaware that they can have the wedding they want and that is more respectful of the
environment.
This session was done to present our new brand and we wanted it to reflect the philosophy and values that we now represent.
We were inspired by the couple, who were real, and their tastes, adapting them to the idea we had of
sustainable and environmentally friendly weddings, hence all the details such as the digital invitations, the Google Meet broadcast of the ceremony, the dress made of organic cotton, reused flowers….
Despite the difficulties when doing the session due to the pandemic, everything went great and we got an exceptional result. All thanks to the team that was 1000% involved in making the photos and video come out as we wanted and that reflected everything we feel a wedding should be.
Supplier Shout Outs