Happy Monday everyone, I hope you are all well and happy and ready for the week ahead of us! Did you have a good weekend? I had a lovely one, Nik and I finally ordered the bedroom furniture as our bedroom is the last one to get a face lift. Having had the rest of the upstairs renovated it's now our turn, so we ordered all of our new bedroom furniture on Sunday which is a relief to get done. I took Dexter to the theatre on Saturday and then he went for a sleepover at his Nan's house, while Nik and I went out to dinner. Sunday afternoon was a long very muddy bike ride and a whole lot of cake! A good weekend all round! So on with the first of this weeks weddings and it's the turn of Zoe and Danny and their gorgeous DIY Devon wedding, captured perfectly by Helen Lisk Photography. This was Zoe and Danny's 3rd attempt at getting married after the pandemic caused them to postpone twice, but it really was a wedding worth waiting for! With so many handmade personal details, from the hanging decor to the items collected for the ceremony, these two really went to town putting their own personal stamp on their day. I just love this wedding, it's fun, laid back, super stylish and full of heartfelt love.
The day was beyond anything we could have envisaged – we knew we'd love it (of course), but it was a weekend full of laughter, love and so much fun. It felt relaxed, natural, and right, it felt like us really – and extra special to get everyone together after such a long time too.
Zoe and Danny were married on 3rd September 2021 (third time lucky after their first 2 dates got cancelled due to Covid!) everything happened at The Old Rectory, Pyworthy in Devon. 'We knew we wanted to get married in Devon as we're lucky to be from such a beautiful part of the world, and it meant that everyone could come including our precious older relatives. We were looking for something that we could use as a blank canvas, without rules or restrictions, and we wanted somewhere a little less traditional with bags of character. We got engaged in a treehouse in Bali and I remember the first random Google I did for wedding venues was 'wedding venues with treehouses' and up it popped – we looked at others in real life, but this first find was the only one we fell in love with in real life. A lot of the venues we looked at were the same price (or more!) for just one day, and we wanted to make the most of it (drag it out some might say…) and have time to properly set up with our close family and friends, as well as party all weekend. So we hired the place for 4 days and did exactly that.
We had 60 guests which is more or less what we planned for – we would've had a handful more, though some were not able to attend due to being stuck abroad with the pandemic. On the planning side it would've been bang on a year, but with the postponements it ended up being 2.5 years which we didn't envisage, but feel so lucky to have been able to do it exactly how we wanted and with who we wanted on the third date.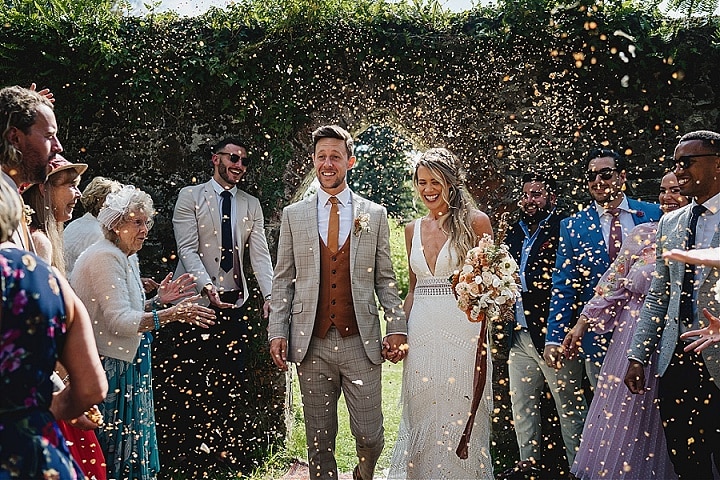 How they met 
We worked together in our teens at Sainsbury's as weekend jobs during college, and we're both from the same small town too. I was a couple of years older than Danny but always had a soft spot for the floppy haired trolley boy, nothing ever happened apart from the odd flirty text.
Danny went away to London to study, and then stayed and worked there and every now and then we'd bump into each other out in town when he was back visiting family or friends. Then, one weekend he was out for a friend's 30th at an Oktoberfest night, and I was there with another friend and we got chatting…and we've been together ever since.
We've now been together for 5 years – we're both in our 30s now and I think that you just kinda know what you want when you find it. We've crammed in a lot in that time especially given that 18months of it has been during a pandemic – we've lived in 5 different places and had a few different jobs, but we've now settled into a place we've bought together with our dog Steve
The proposal
The proposal was a bit special. We went to Bali back in May 2019 on a three week trip. We travelled around, had loads of fun, sun and made the most of the incredible (and incredibly cheap) accommodation and food. We were about two thirds into our trip, staying in a treehouse on Nusa Penida. We got up for sunrise and the lack of sleep didn't matter – framed by palm trees and the ocean, the sunrise was beautiful. He seemed really flustered by it which isn't like him at all. Now I know why – as the sun was coming up he got down on one knee and proposed. It's all a massive blur but I remember him using my full name, me not quite believing what was happening, and us both crying a lot. He'd been to ask my Mum for her permission and Mum had given him the ring my Dad had given to her, as she knows how much I've always loved it. It was perfect
How did you allocate your budget?
This is where Danny was king. Excel spreadsheets are his guilty pleasure, although I'm not sure he actually feels that guilty about it. We also asked our friends who had the most amazing wedding to share their budget with us and what they allocated to check we were in line and not going too wild on things. We also had a clear idea on what really mattered to us and was worth spending out on, what we could do ourselves, and what was a 'nice to have' and could be ditched or saved on
Where did you splurge and where did you save?
We knew we didn't want to scrimp on our photos, as we'll have these forever. And we were so so lucky to have Helen – the photos are indescribable. We also knew we'd regret it if we didn't have a video to watch back, even if it's a bit cringey and Shaun was brilliant on the day, we've never seen someone run around so much.
I was super lucky that Emma Roberts, one of my best friends and bridesmaids is a make-up artist, and she did my face on the day.
I was also lucky to have Sam Smith do my hair – she'd done a great job at my friends wedding and she embraced the thousand pics I sent her in the lead up to the wedding and nailed the assignment on the trial and on the day.
The rest was easy – we like our food, so that was important, and we wanted to treat all our loved ones to a free bar so we splashed out on that too and snapped up supermarket deals and did a booze cruise to France for wine too.
We're big music fans too and have been to loads of gigs together, so Danny was amazing and put together playlists for every part of the day, and we booked a band who we'd seen at our friend's wedding who were great at getting everyone on their feet in the evening.
Where we knew we could save was buying and making props and decorations – Facebook Marketplace was a treasure trove for old rugs and floor vases, we collected pampas grass from neighbours with permission and dried it out, and gathered other dried florals too. Danny's Dad is a star and made us an aisle arch, a cornhole game and a million other things we'll never be able to thank him enough for.
How did you choose your photographer?
It was a no brainer for us – Helen photographed my best friend's wedding, and we also have a mutual friend so we already kind of knew each other. I knew that she was completely amazing, her shots are timeless and don't feel influenced by passing trends, and to top it all off she's just the loveliest person. It felt like having a friend in the lead up and on the day, we adore her
The dress 
My dress was Willow By Watters and I got it from Eleanor at The Ivory Secret in Crediton, who was completely amazing. It was the first dress I tried on and I knew nothing else would compare – and I was right. I paid for it the day after I tried it on and never swayed.
The suit and bridesmaids?
The suits I guess you can now call vintage…they're from the now-extinct Topman!
I gave the bridesmaids a brief and a budget of around £100 each – neutral tones, bit of sparkle, champagnes/golds/nudes and then let them pick their own. We've got the gorgeous Bella in a sparkly, floaty taupe Maya dress, my beautiful Emma in a taupe Nelly with a rocking thigh high split, and the most gorgeous gold Monsoon number on my amazing Maid of Honour Kat who looked like a Hollywood star on the day – well, they all did. I almost locked them in the bathroom for the day so they didn't outshine me!
Theme or colour scheme
We knew we wanted to stay fairly neutral, with a pop of colour, which ended up being a rusty colour. It sounds a bit autumnal given that we were going to get married in May, and our day in September was so bright and sunny, but it worked
Flowers 
Our florist, Sophie, just nailed the assignment with the bouquets and the buttonholes – I don't know much about flowers but I know what I like. We went for warm neutrals with pops of orange and gold. They were so dreamy, unstructured and every bouquet and buttonhole was a bit different.
Sophie was incredible to work with and so lovely, she just kind of got it and I nearly cried when I saw the flowers as they were so perfect, right down to the trailing crushed velvet ribbon.
Sophie also decorated our wooden arch – I trusted her completely so she just went and did her thing, and I didn't see them until I walked down the aisle. They were beautiful, I've never seen anything like what she did. And they lasted ages too – we displayed them all through the next couple of days
Decoration 
Everything was DIY or bought from charity shops or Facebook Marketplace. We dressed the aisle with rugs, large floor vases and churns, pampas and the arch. The outside space was beautiful so didn't need much apart from some festoon lighting we bought, some signage and tin baths for beers and drinks which we found around the place.
For the hall, it was very much a blank canvas that needed some vision – our parents were slightly concerned that we'd never get it looking ready but I had faith and a clear vision. And it looked stunning. I did think it might feel a bit DIY, but actually I can safely say that we nailed it – it all just came together. From paper star lanterns that I'd sprayed in various golds and coppers, to the dried florals in the charity shop vases, to canvas signs my friend and mum made, to fairy lights in all the right places. It just looked celestial and dreamy. The one issue was that we couldn't fit all the tables in so we ended up with our top table on the stage – which felt a bit weird and like we were lording, but actually it was kind of nice because we could see everyone, and everyone on the top table was making a speech so it meant everyone could see. Was probably a nightmare for Helen and Shaun the videographer though!!
Food
We had Buen Apetito cater for us – they specialise in Paella and are a lovely couple, very relaxed and calming to have around. Nothing is too much trouble for them and we were sold when we had the tasting.
We had canapés during the reception drinks – top tip is to get the caterers to bring you a little tray of them and some drinks while you're having your photos done. The thought of spending so much time choosing (and paying for!) the food and then not getting to eat any would be criminal!
The paella was cooked outside on huge burners – it smelt amazing as guests were mingling, and looked really great too. We had antipasti sharing boards on the tables when people sat down, then the paella was brought around in little terracotta dishes for guests to choose between meat, fish or veggie.
Then we had a couple of choices of puds – it was all delicious and really well executed, the terracotta pots even fitted our colour scheme!
Wedding cake
We didn't have a traditional wedding cake and we didn't cut a cake. We tried to steer away from traditions that represented something archaic or that we didn't agree with, though I'm sure we probably still unintentionally did a few!
Instead, we had any bakers in the family or our friendship group make some cakes. We had a fruitcake, brownies, a cake that came from my friend Kate who's also a friend of Helen's who sadly couldn't make it.
The best part was we had loads left the next day and I had a Devon cream tea for breakfast courtesy of my new husband.
Oh, and we also had Chunk pasties in the evening supplied by the caterers. They were so good – so good in fact that one of our slightly worse for wear guests took a whole tray home then dropped them in the taxi!!
Entertainment
We had lawn games, a lot of music and a live band who got everyone up and dancing
Who supplied the stationery?
I did all the stationery and most of the crafty stuff – I went to art school a long time ago and got myself a graphic design degree which helped, and I love having creative control over stuff.
I used Khadi rag paper for our invites and place settings etc, and it's beautiful, so I just designed everything in black and white and put it through out cheap Canon printer then added gold leaf to the corners. It was perfect!
Where did you go on your honeymoon?
We were lucky to squeeze in a quick trip to Corfu straight after the wedding, we went to a few spots on the island then spent a few days in Paxos which was so lovely. We hired a boat and visited Anti-Paxos which was super secluded and beautiful. It was paradise after such a long build up to the wedding. We hope to go to the Philippines this year for a big trip.
Personal touches
We tried to make everything feel true to us, so I think the wedding was pretty personal and a glimpse into us as a couple. One thing that was really special was Danny's Dad providing fireworks – he does them every year for the local football club, and he arranged them for us for the wedding. It was so special and the display was stunning – we managed to keep it a secret(ish) so it was a nice touch for our guests, and us as we didn't know much about what we'd see
Special moments 
It's cheesy but we loved every second. To be honest, the most special thing was that we could see all these people in one place together, as that hadn't been allowed for so long.
Weirdly, as important as that part is, I thought the ceremony would be a bit stiff and structured (and I was very nervous) but as soon as I saw Danny at the end of the aisle the nerves melted away and we just had so much fun. I kind of forgot anyone else was there, we were in a bubble pretty much all day. Equally, getting married outside in Britain was a dream moment – and given that because of COVID they changed the rules to mean that we didn't have to do the legal bit inside after, it just flowed so much better. That should be a thing – it's such an outdated rule.
The weather topped it all off because it meant we could do everything as we wanted, like get married outside and mingle and use the whole venue
Advice for other couples?
I think that you get it drummed into you that you won't spend time together on the day but we didn't experience that. We literally spent the whole day together – that might be because we had a smaller number of guests and a whole weekend to speak to people, but I also think it's a conscious decision. Why not mingle as a couple, why not be in a bubble of happiness together – if you know that everyone is having a good time, you should have a good one too.
The thing about the day going fast is true though. We can remember parts vividly, and also how we felt, but the day as a whole is a blur. If you can stretch it over a weekend, do – the setting up day was one of my faves ever, and having a day either side meant you saw and caught up with some people before and didn't feel so pressured on the day. So even knowing you had a brunch the next day would help alleviate that and mean you can enjoy the day.
Be true to yourselves and what feels like you. Weddings don't have to be traditional if you're not that way inclined, it's about love and celebrating that, not ticking boxes of having things like something borrowed or blue, or not staying together the night before if that's not you. We woke up together and had a fairly normal morning of a cuppa in bed which felt like the perfect way to start the day – we also benefitted from a good night sleep as we stuck to our typical routine which was good
Biggest surprise 
It was actually the morning of the wedding. We love The Office, and in the US version Jim makes Pam a video of their time together. On the morning of, Danny made me a cuppa and gave me a box. I freaked out coz we'd said no presents, but he said it wasn't…it was our iPad and headphones with a video he'd spent weeks and weeks on, digging up footage from our archives and our journey over 5 years up until the big day. I was in bits – we both cried which I think helped get some of the emotion out of the way but it was really special and just between us.
The rest was just how much fun it all was – I've never smiled or laughed for that long ever, or felt that much love. It's almost overwhelming but somehow remained at the completely amazing level instead.
You might not remember all the little bits, but the feeling you have on the day will stay with you forever and that's pure, joyous magic.
Supplier Shout Outs
FOR MORE INFORMATION ON HELEN LISK PHOTOGRAPHY GO TO
www.helenliskphotography.co.uk / www.helenliskphotography.co.uk/blog / [email protected] / 01392 927646 / FACEBOOK / INSTAGRAM