The Boho Wedding Directory is a hand-picked list of all awesome wedding suppliers in the business, ready to help you plan your Boho wedding. The Directory is located in the main menu bar at the top of each page and is super easy to use. It is split up into suppliers and regions making it easy for you to find the perfect Boho supplier for your wedding.
To make sure you don't miss any of the wonderful suppliers that have been added to the directory, each week I showcase the suppliers that have joined in a mini update. This weeks new suppliers added to the directory are:
Stationery: Wedfest Wedding Stationery
Wedfest is the ultimate rock 'n roll, festival and boho wedding stationery company. Catering for festival weddings, rock 'n roll brides, bohemian couples and anyone looking for some amazing and alternative wedding stationery. Specialising in themed wedding stationery couples can choose from our many existing designs or have stationery custom designed. We supply everything from Save the dates and wedding invitations to order of service, wedding table plans and much more.
More Information: www.boho-weddings.com/wedfest-stationery
Photography: Smiley Huseyin Photography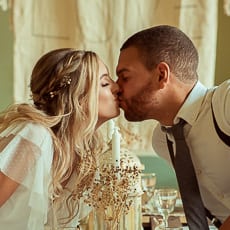 Story telling through photos, the story of friendship and love, the story of challenge and adventure. I immerse myself into your special day to capture every smile. My plan is to leave you with lasting memories to look back on whilst you write your next chapter of your forever story.
More Information: www.boho-weddings.com/smiley-huseyin-photography
Marquee's and Tipi's: Hooe's Yurts
Hooe's Yurts provide beautiful yurts specializing in decorating them with stunning textiles & furnishings. With a large range of sizes available you can have one huge yurt or link them together to create amazing yurt palaces. The smaller yurts are perfect as bedrooms for wedding guests or your honeymoon night.
More Information: www.boho-weddings.com/hooes-yurts
Photography: Helen Rose Photography
Helen is an adventurous Wedding photographer who lives in Sheffield on the edge of the Peak District National Park making it easy to access venues across the whole of Yorkshire, Derbyshire and surrounding areas as well as her speciality being Peak District Elopements.
More Information: www.boho-weddings.com/helen-rose-photography
Decoration: The Prop Library
The Prop Library offers an eclectic and diverse range of props and decor to help you style your special day. So if you love browsing for ideas but don't have the time, energy or space to source it all yourself, we could be just what you're looking for…
More Information: www.boho-weddings.com/the-prop-library
IF YOU ARE INTERESTED IN GETTING YOURSELF ADDED ON TO THE 'BOHO WEDDING DIRECTORY' EMAIL ME AT 

[email protected]

 FOR AN APPLICATION FORM.
HAVE A FABULOUS WEEKEND  
BIG BOHO LOVE
KELLY XX