Yesterday on the blog it was all about the hens and how to have an Adventure-Seeking Hen Weekend. In the interest of balance and not leaving the boys out, today I thought it would make a change to focus on the groom. Stag do's and Bachelor parties have the reputation for being, alcohol filled, messy, affairs, which often lead to many a story for the best mans speech. BUT stag dos' have come a long way, so maybe it's time to think if that is what the groom really wants. So today I have enlisted the help of stag party expert Anthony to give us his advice on organising the best Bachelor party.
How to organise an epic bachelor party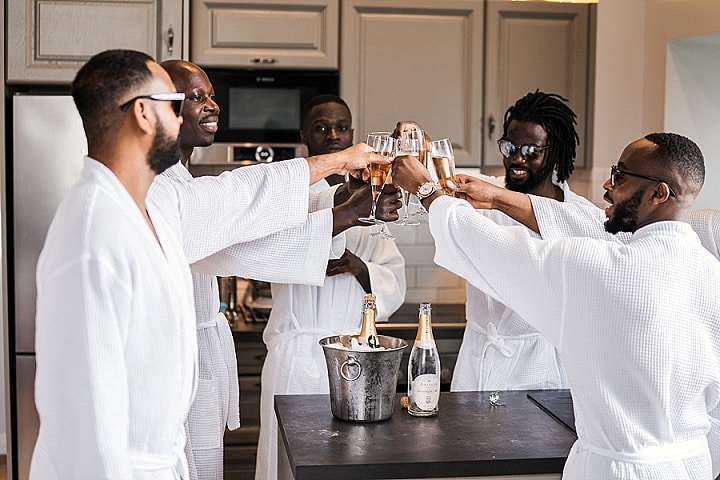 I'll pass you over to Anthony to tell you more about planing the perfect bachelor or stag party
As the organiser of the Bachelor Party or Stag Do you have a lot of planning ahead of you. It's important to gather all the wants and desires from the bachelor himself.
Of course, being the Best Man presents a double responsibility.  Not only are you in charge of organising a memorable Bachelor Night, but you will of course be his right-hand-man on the big day itself. Having organised an awesome Bachelor Night should certainly help supply plenty of anecdotal material for that all important Best Man's Speech too.
Unless you are going to completely surprise the bachelor with a weekend then the first thing you should do is take him down the pub for a few beers, and get as much information from him about his expectations for the bachelor celebrations.  There is no reason why the bachelor shouldn't be involved in the planning process, so use him.
Having a frank discussion with him will help you ascertain the potential level of debauchery (if any). For instance, if he mentions the words 'strip bar' then you'll be planning something very different compared to if he just wants a weekend away staying in a remote country lodge.  It's also important in the early planning stages to find out what kind of activities he might like to do.
Once armed with the information from the bachelor, the serious job of planning the weekend can start.
Before you go any further, here are some other things to consider.
Try and not make it too expensive and keep the costs down at every possible opportunity. Not everyone who is going to be invited will have deep pockets and you will risk people dropping out if you go mad with expensive activities etc. The weekend may be expensive anyway as the group may need to travel, be accommodated and then there is the beer money too!
Consider safety and legal issues. Things can get seriously out of hand when a bunch of male friends are out drinking all day. You don't want anyone ending up in a police cell or the hospital. You should still make some calculated considerations here.
On the subject of safety, try not to drink too much too early. Think of ways you can organise the weekend to keep the guys away from the temptations of alcohol.  Of course, drinking will likely play a big part in the weekend.  But don't stress too much about drinking time because your group will be having some late nights anyway.
Photo source Pexels
In terms of activities and things to do, again it's your responsibility to ensure the bachelor has fun. With this in mind, try and plan something unique and personalised for him; something he'll remember.
There are so many companies out there now that provide unique group experiences that go way beyond the traditional clay pigeon shooting or go karting.  One example is an outfit called Welsh Games, who are based near the bachelor night hotspot Cardiff and provide multi activity 'games' in the style of former BBC TV show It's a Knockout.  This is perfect for any Cardiff stag weekend.
Or just across the river from Cardiff, you may also want to try West Country Games, who can organise a totally hilarious Bristol stag weekend.
Other examples of outdoor bachelor weekend activities for groups include Blindfold Driving weekends, Zorb Football, completing an Assault Course, Canyoning, Caving and Coasteering.
Once you have a good idea of the activities that the bachelor might like, then you can go about considering a destination.  If it's going to be a winter bachelor weekend, then you'll probably be looking more at being based in a large city with plenty of indoor activities. Obviously in the summer time there will be many more options if you want to be in the great outdoors.
So, to sum up here is your list of things to do to organise the perfect bachelor weekend.
Find out direct from the bachelor what he wants from his weekend and then consider how far you can push things in terms of what surprises you might have lined up.
Who is coming along to the weekend? Find out the numbers, try and get people to fully commit early on so you can book accommodation and activities.
When should the bachelor do be held? If it's just a bachelor night, then the golden rule is never on the night before the wedding! Otherwise you are asking for trouble.
Consider the location. Does that bachelor want to be closer to home or does he want fly off somewhere? Take into account the potential costs and try and keep things affordable.
Don't be too overwhelmed with all this planning.  There are companies out there that will organise the whole thing for you, but the more you do yourself, the cheaper it will be for everyone.
Remember the most important thing is the bachelor himself.  Married life lurks around the corner so give him the awesome send-off he deserves!
This is a collaborative post