Today I have a rather special wedding for you as it's a wedding that took place just after all the restrictions were lifted here in the UK. Bridie and Kris took two years to plan their epic party wedding, but seeing as the majority of that time we were in lock down the last few months saw them in full-scale planning mode. Their efforts paid of though, as they created the most fun looking wedding I have seen for some time. So many smiles, so much laughter and of course a whole lot of love! The day not only looked amazing, with pastel accents and giant streamers for decoration but it was also full of first class entertainment. Bongo's Bingo, New York Brass Band, eclectic string quartet and a whole lot of dancing. I just love the energy this wedding brings. Big thanks to my good friend Shelly from Toast of Leeds for the awesome photos.
It was exactly what we wanted. An amazing party by day, chaos at night.
Bridie an Kris were married on 30th July 2021 at Left Bank Leeds. Bridie was googling quirky wedding locations in Yorkshire. She made a list of a few. Left Bank was the first one we saw, thought it was an amazing old church (all the pictures with none of the God) so we didn't bother looking anywhere else! We had around 120 guests. We booked it about 2 years in advance with the idea we had 2 years to plan. Then the world turned upside down from March 2020 for a year, so we didn't know what was going on. We heard it was going ahead pretty last minute and scrambled to get everything sorted. We got the big stuff (photographer and band) in relatively early but were incredibly lucky to get our brilliant caterers in later.
How they met  
We've been together 10 years. We met when Kris was helping to write a musical with his friends at university. Bridie auditioned, and the rest was history.
The proposal
We visited Rovaniemi in Finland in the Arctic Circle. We were staying in an amazing cabin with a glass roof and hot tub out of the back. It was -25 though, so when Kris decided to get on one knee outside of the hot tub, Bridie's first response was "get in!" before saying yes.
How did you allocate your budget?
We booked everything we wanted and hoped the money didn't run out (bad advice).

Where did you splurge and where did you save?
We splurged on band, photography, food. We saved by not doing stationery, cake, fancy wedding car or anything we didn't think was 'us'.
How did you choose your photographer?
We were introduced to Shelly by Left Bank's brochure and, like the venue, we knew we didn't have to meet anyone else. She was absolutely brilliant from our first Skype to late on on the day. She made the day what it was in the end. And the pictures are class.
The dress 
The dress was purchased from The Bridal Emporium in Leeds (who were amazing) and then it's an Australian brand called QNIQUE Bridal. Shoes were from Charlotte Mills
The suit and bridesmaids
Paul Smith suit, bridesmaids picked their own, the only brief was pastel colours.
Theme or colour scheme
Nothing too strict, pastel palette and dried flowers!
Flowers
Dried ones. Which means we've been able to keep them. Bouquet is still in a vase in our living room!
Decoration 
We made our own table decorations with small vases, gold thread and more dried flowers. Then the venue was decked out by the superb Streamdellica with their incredible, reusable streamers.
Food
BBQ sharing boards with canapes and a dessert table, supplied by Blues Catering (who again, were incredibly accommodating and superb).
Entertainment
We had eclectic string quartet for an hour or so in the day time, then New York Brass Band on the night. We also had some friends do their own version of Bongo's Bingo after the speeches.
Who supplied the stationery?
Again, we didn't! We did everything online, on withjoy.com. We just bought our own URL (herecomesthebridie.com) to make it a bit more personal.
Where did you go on your honeymoon?
We went on a minimoon to Portugal as our original Maldives plan was called off thanks to COVID. We're going to get away in the new year though somewhere exotic!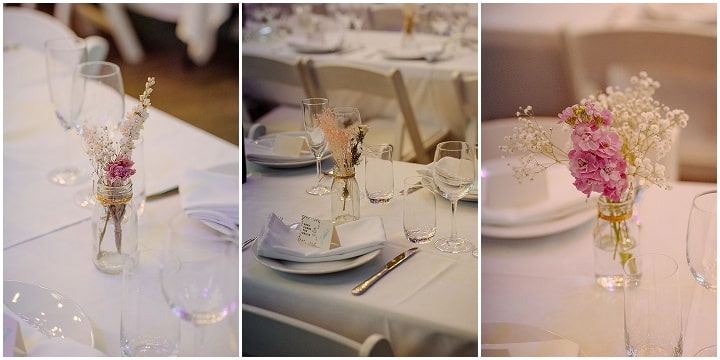 Personal touches
We did a lot ourselves. in the end. Everything invite-wise we did ourselves online. We did a lot of the table decorations ourselves. We also gave everyone a hand stamped (seemed a good idea at the time) party bag which we packed ourselves.
We also wrote our own ceremony (we got registry office-married a couple of weeks before) so were able to have a lot of fun with that!
Special moments
We had Bridie's family sing 'Caravan of Love' acapella as Bridie walked down the aisle which was incredible.
Then our celebrant-cum-good friend Matt finished the ceremony by singing We Didn't Start the Fire by Billy Joel. Only he changed all the words to everyone's names at the wedding which was ridiculous.
Advice for other couples
Don't sweat the small stuff and don't take it too seriously. You (hopefully) only get to do it once, so it should be fun. Also, if there is any bother, you won't know about it so go wild.
Biggest surprise
How drunk everyone got.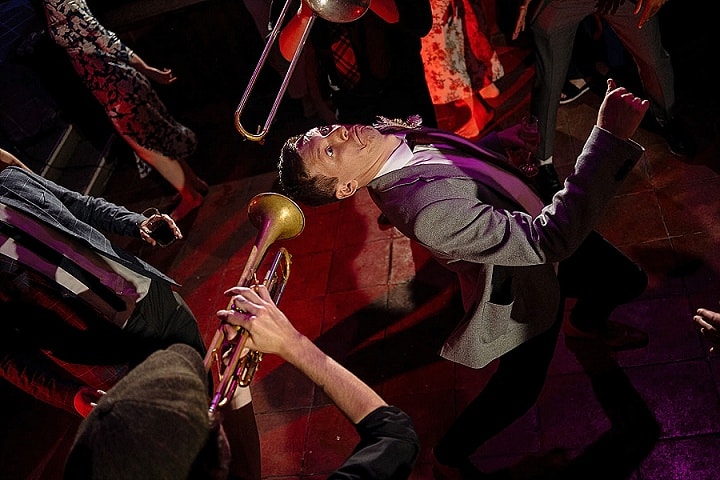 Supplier Shout Outs
Blues Catering: www.bluescatering.co.uk
Toast of Leeds: www.toastofleeds.co.uk
Streamers: Streamadelica
The Bridal Emporium: www.bridalemporium.shop
Eclectic Strings: www.eclecticstrings.co.uk
The Petal Studio: www.thepetalstudio.co.uk
New York Brass Band: www.newyorkbrassband.co.uk
Left Bank: www.leftbankleeds.org.uk
Viva La Booth (amazing photobooths) www.vivalabooth.co.uk
For more information on Toast of Leeds go to
www.toastofleeds.co.uk / www.toastofleeds.co.uk/blog / FACEBOOK / INSTAGRAM / PINTEREST