Happy Friday to you all, I hope you have all had a great week and that you have something fun planned for the weekend? I am looking forward to a quiet house with no builders. It's been especially noisy and incredibly busy this week with the building work going on, they have made progress but still a bit more to do. Tomorrow I am taking Dexter to the theatre to see Elf the Musical, and then the cinema on Sunday. Nik is away for the weekend, so I have my best friend coming over on Saturday evening for a good catch up and a few glasses of wine. On with today's styled shoot and it really is one of the cutest shoots I have featured for a while as it's full of the most adorable 5 week old puppies. The shoot took place on 3rd May 2021 in Elgin, llinois northwest of Chicago. It has a 'Celestial Boho' theme with some stunning decoration, but the real stars of the show have to be the adorable puppies. Big thanks to Lauren Ashley Studios for the gorgeous images.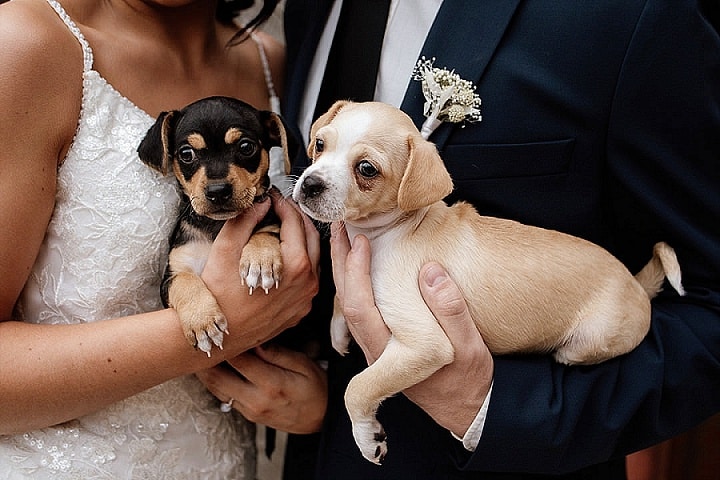 Lauren from Lauren Ashley Studios tells us more about the shoot
Lauren Ashley Studios (I) and Millennium Moments hosted a celestial styled shoot at The Haight in Elginbringing awareness for newlyweds to adopt. Over the last two to three months, Nicole and I reached out to super talented vendors pitching the idea for our shoot. Everyone loved the idea and got on board including the animal rescue called Anderson Animal Rescue. One week before our shoot, they surprised us with 5 weeks old puppies! Finally, Monday was the day and it went PAWTASTIC! At the end of the shoot, Nicole and I thought it would be an amazing idea to give them a donation for bringing their furry friends plus using the styled shoot money toward the rescue.
Supplier Shout Outs
For more information on Lauren Ashley Studios go to
[jprel]