Today at Boho HQ it's the last day of term, Dexter breaks up for half term today ready to celebrate all things Halloween for the next few days, so today is my last full day in the office for a week. On top of that Nik is off to Spain next week for a business trip, so I'm ploughing through my work today to make sure I have everything finished. What about you, what are you up to this lovely Thursday? I have another wonderful wedding from this summer to share with you today, which is an absolute delight. I just love seeing full weddings again, after such a wedding drought over the past 18 months. Molly and Damian were married on 24th July 2021 at Statesville, North Carolina. They got married at Molly's family home, which made the day super laid back and personal. They chose whimsical cottagecore vibes, with a homespun theme and a relaxed outdoor ceremony. Such a delightful wedding, big thanks to William Avery Photography  for the lovely photos.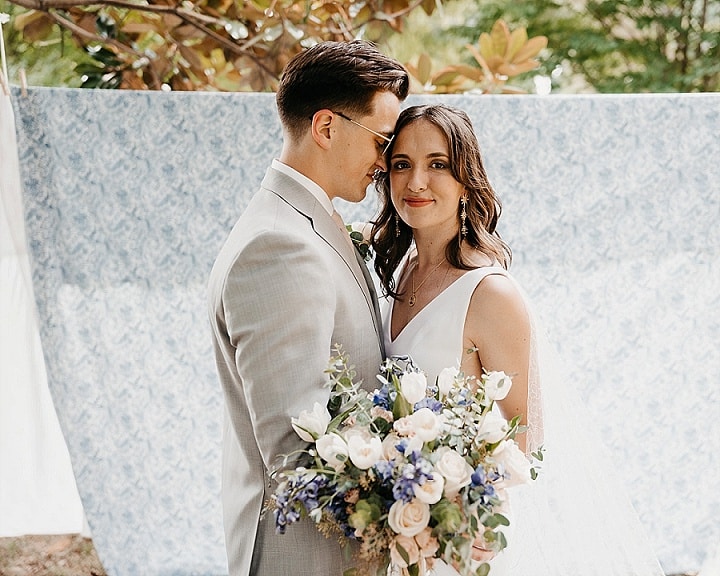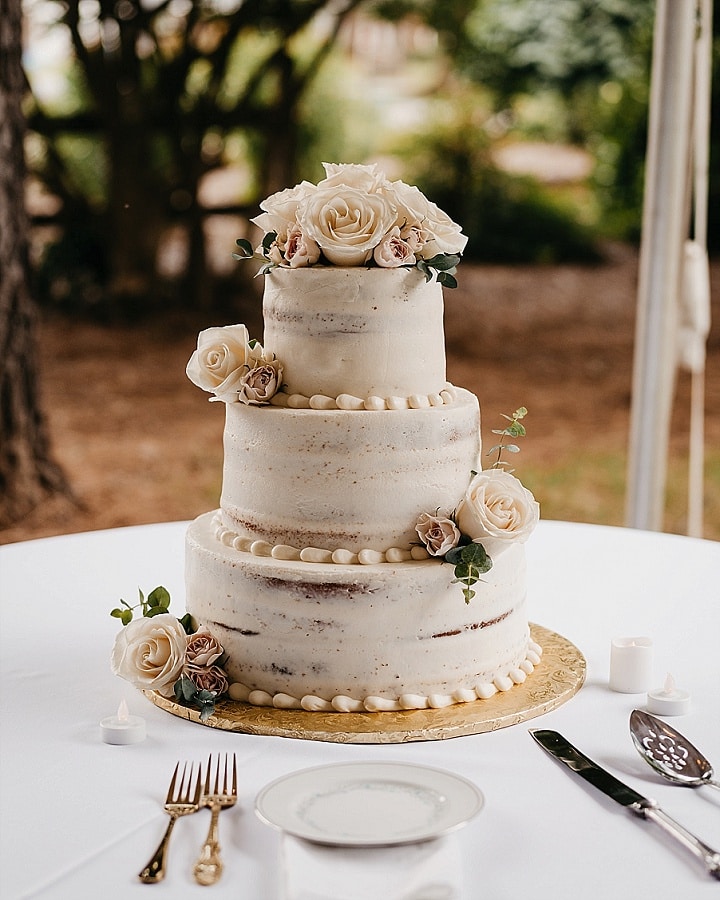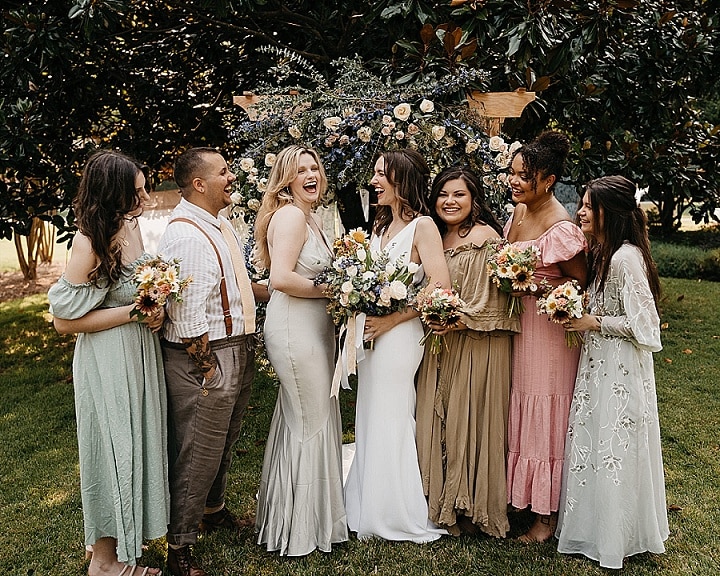 William the photographer tells us more about the day
High school sweethearts Molly and Damian tied the knot outside Molly's family home in Statesville, North Carolina. They brought all the whimsical cottagecore vibes with vintage patterned linens hanging on a clothesline behind their beautiful floral-covered altar, mismatched antique china dining sets and cutlery, and romantic string lights hanging throughout the tents at the reception.
The morning had been nice and sunny, but right as the ceremony was about to begin, there was a downpour! Everyone had to rush under the reception tents for about 20 minutes to wait out the storm. Once it cleared, the chairs were wiped off and Molly and Damian were surrounded by close family and friends as they exchanged vows. These two just exuded warmth and love for each other that affected everyone there! The love continued through heartfelt toasts from Molly + Damian's best friends at the reception, and everyone had a blast dancing the night away celebrating these two!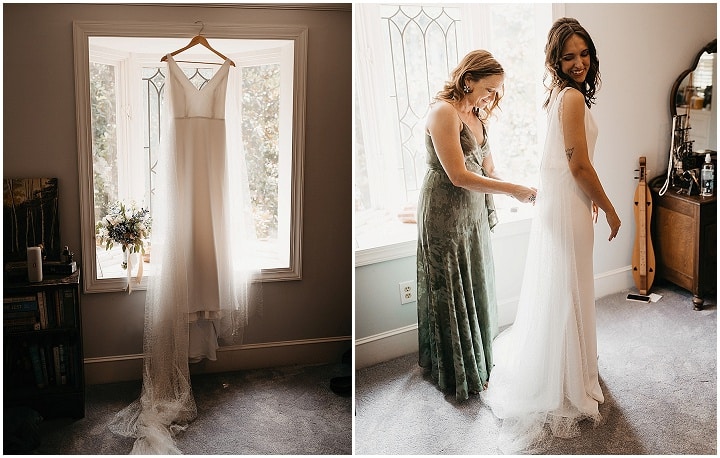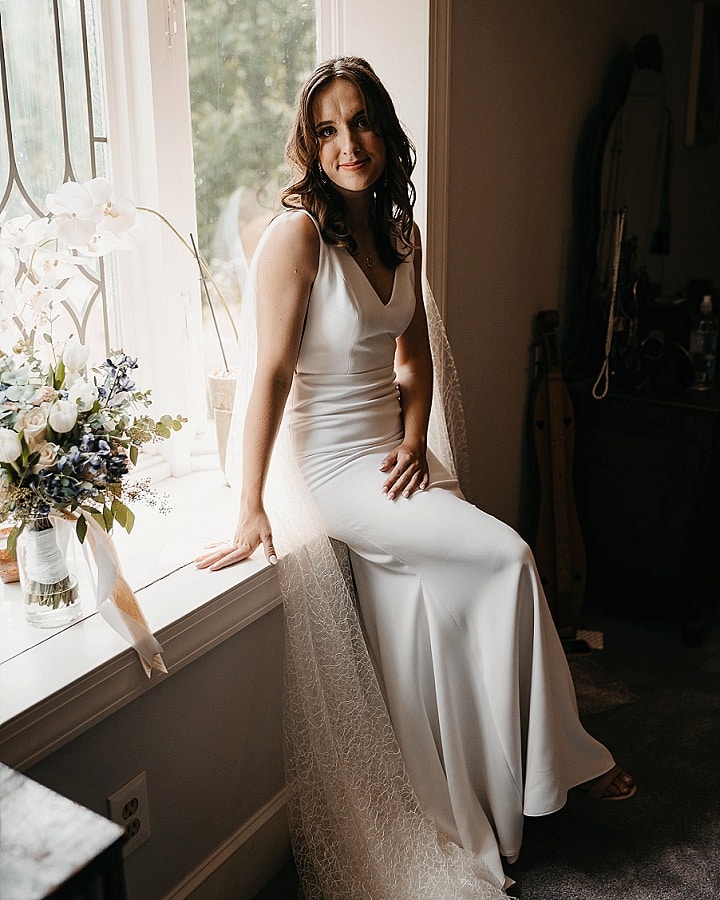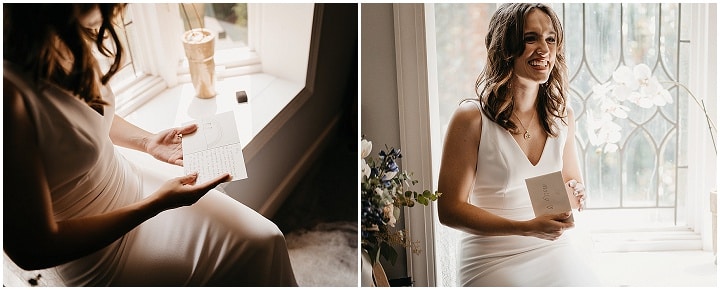 How they met and the proposal
We met freshman year of high school in our leadership class. We then had a class or two throughout the next year and a half, and ultimately became romantically interested in each other when we went to a mutual friend's birthday party. His birthday was a movie followed by dinner at the Outback across the street. We began talking while walking to dinner, and we just kept talking for the rest of the night, and a week later we were dating! Come college, we did long distance for four years, and he proposed over the summer between Junior and Senior year of college. He planned a whole day. We had a picnic under a big oak tree for lunch, drove up the mountain to pick up dinner at our favorite restaurant in Asheville, then went to hike our favorite trail. On the way back from the summit, we pulled off to look at the fog and trees and he pulled out letters I had written him about our future in the beginning of doing long distance, for him to read when he missed me. Then he got down on one knee and proposed!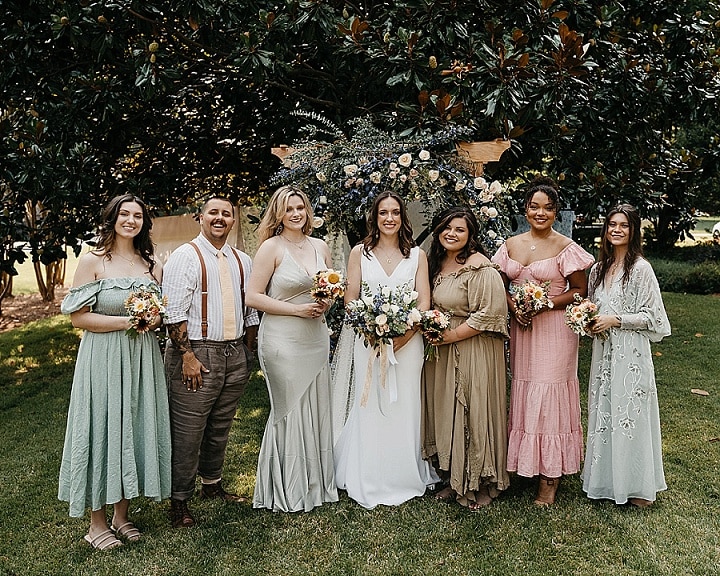 The Outfits
We didn't really put a whole lot of thought into it, we just kind of went with what felt natural and good to us to ensure that we wouldn't be self-conscious about how we looked on our big day! My dress was a trumpet fit with a semi-long circular train in the back, the material was solid/plain white, and it had clip on lace "wings" that pined to the shoulders of the dress. The wings created an insanely long lace train behind me and were cut at the end in the same circular shape as my dress' train, making a pooling effect.My husband, Damian's, suit was a light grey which he wore with a pink tie, brown shoes, and white collared shirt. Both of our parties wore dresses and suits respectively in colors within the palette that they liked most!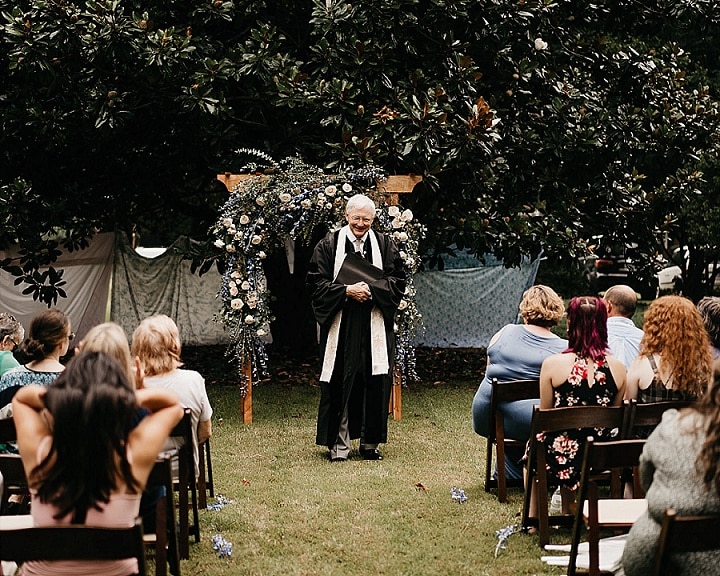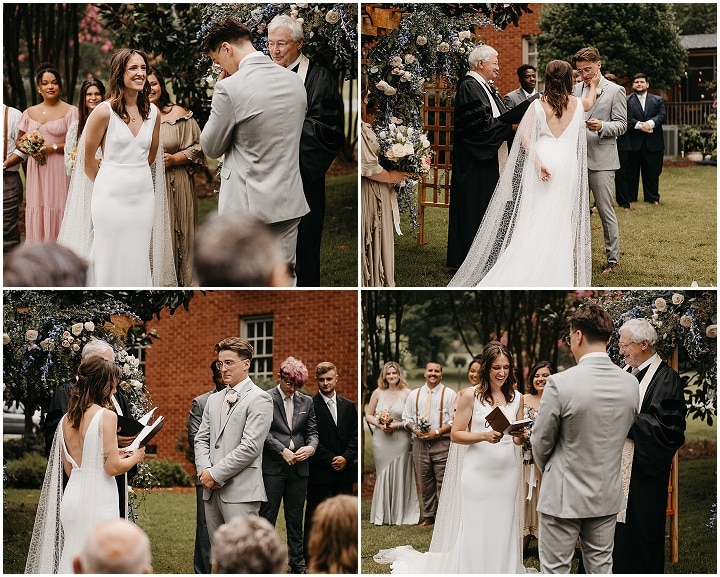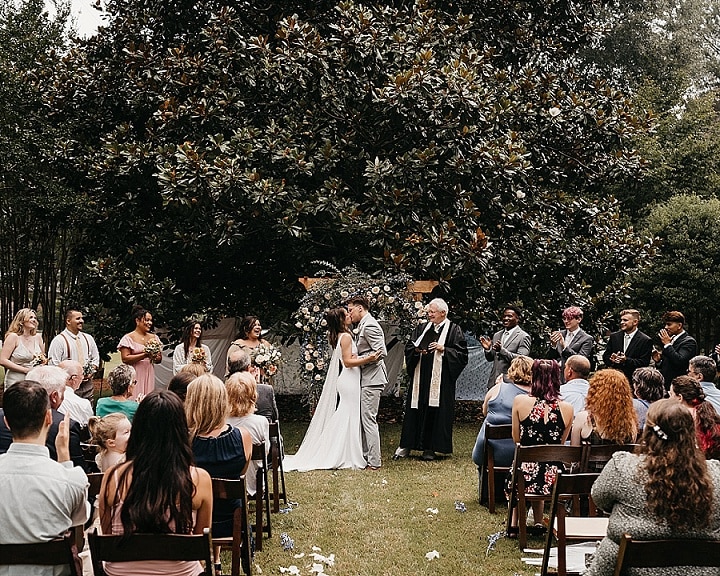 Theme and colour scheme 
For the general aesthetic of our wedding, we wanted to have a style that felt intimate, personalized, and warm. Ultimately, I think it'd be best to describe the wedding as cottagecore! Regarding colors we used a lot of whites, sage greens, eucalyptus blue-greens, and blush tones. The cottagecore vibes were driven home by the linens hanging on a clothesline behind our beautiful floral-covered altar, the mis-matched antique china dining sets and cutlery, and the warm, romantic string lights hanging throughout the tents.
Decoration
For the ceremony we kept it simple –– wooden folding chairs for guests and a wooden altar covered in flowers placed in front of the large magnolia tree in our backyard. For the reception we also kept it simple! –– wooden folding chairs surrounding circular tables with white linens, mismatched antique china within the color palette, and floral centerpieces with warm string lights overhead. There was a wooden dance floor under the separate tent where the DJ and food was situated. All in all, really simple.
Flowers
The florals covered the altar, were centerpieces at all of the tables, were in my bridal bouquet, and were in my bridal party's bouquets. There were also some flowers on our (naked) cake. They were definitely the pop of fancy at the wedding, the rest was warm and cozy while the flowers added elegance.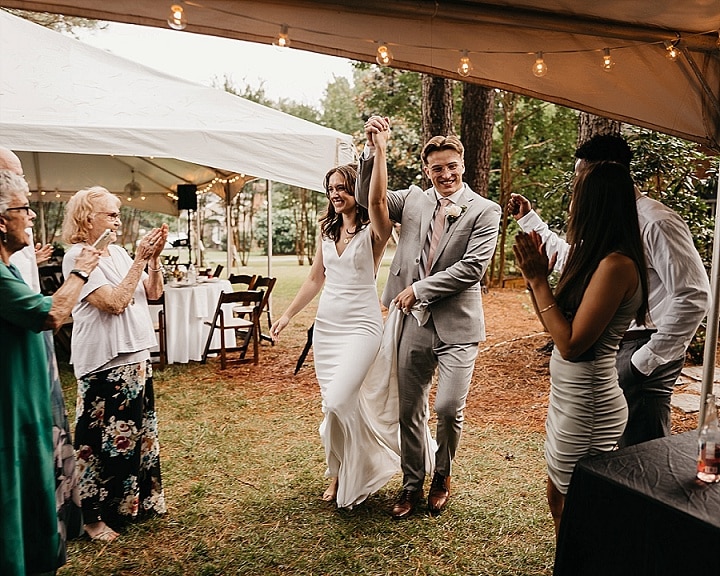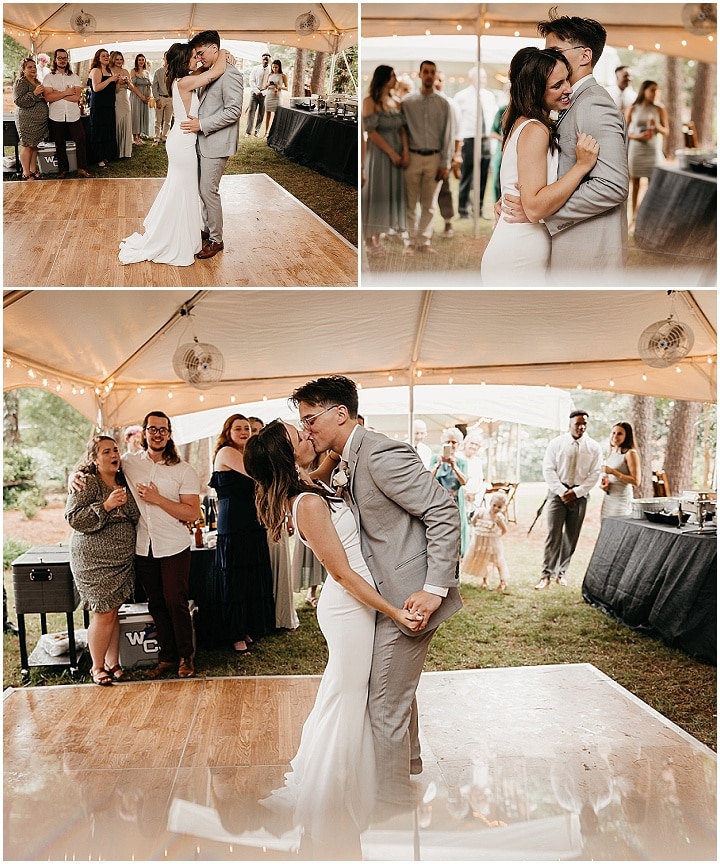 Special moments 
We didn't really personalize anything. My favorite parts of the wedding day were my little cousin casting a spell on the rain to make it go away, us sharing our vows with each other, my grandmother praying over our dinner, our best friends giving toasts, and dancing the night away with our loved ones. The one thing I really cherished, and I think really made the wedding special, was how intimate it was. We *only* invited people we felt would be there fully and completely for us, and who loved us unconditionally. One of my friends said the warmth and love of the wedding was so overwhelming that they had to take a walk around the neighborhood because it had been a long time since they felt love like that.
Advice for other couples 
Make your wedding day about YOU. BE SELFISH WITH GRACE. Your wedding day should ONLY have people and aspects that you, yourself, appreciate. That includes your grandma, your mom, your dad, the mother-in-law! It is your and your partner's day. If you fully prioritize what you two want throughout the planning process, then come your actual wedding day you'll likely have little nerves and little stress.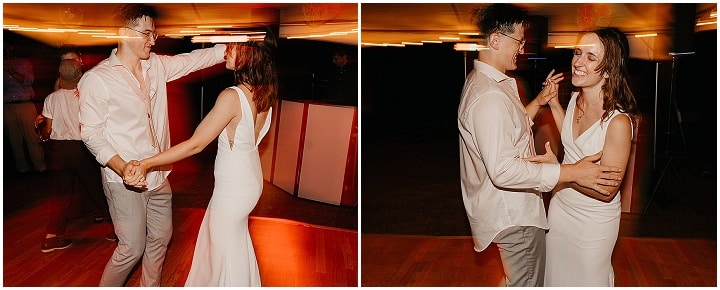 Supplier Shout Outs
For more information on William Avery Photography go to