Today I bring you the 2nd diary entry from my Boho couple, Jessica and Scott.
I introduced you to Jessica and Scott a few weeks ago, they are getting married on 10th June in Ibiza. Since then things have been moving well with the wedding plans. I have spent a bit of time helping them find options for hotel accommodation, as well as sorting out a few finer details with the venue, and currently i am arranging their wedding transport.
In todays entry Jessica wanted to tak about her recent trip to Ibiza, and what they got up to while they were out there. Jessica and Scott hadn't visited their wedding venue before they booked it, as well as some of the suppliers, so it was an important trip for them to go ut and see the venue and meet the people they would be working with.
Diary entry 2: Our first trip to Ibiza!
After lots of planning from my desk in Leeds we finally booked our flights to go to Ibiza to see the venue and meet the suppliers in the flesh! Before we went we discussed what we needed to do out there; meet the photographer, the DJ, the celebrant, cake maker and florist and of course see Amante Beach Bar, the venue where it was all going to happen! We were so excited, not just because we would be seeing this beautiful venue, but we were also going to be sampling the food and wine we'd chosen for the meal.
It just so happened that a lot of our friends were in Ibiza at the same time as us and partying with them interfered a little bit with all the hard-core planning I'd done! We were meant to be meeting Brian, the DJ on the Sunday but this coincided with my friend's boat party so we had to cancel and then never got a chance to rearrange unfortunately. This also meant that we ended up going to Amante the following day with one hell of a hangover, but the natural beauty of the place and our excitement quickly dispelled our grogginess!
We were so impressed by the place we'd chosen for our wedding! The restaurant is set on a cliff overlooking its own private bay and I don't think words can describe how amazing the view is! We sat on sun-loungers overlooking the sea, sipping the cocktail of the day while we waited for our feast to begin.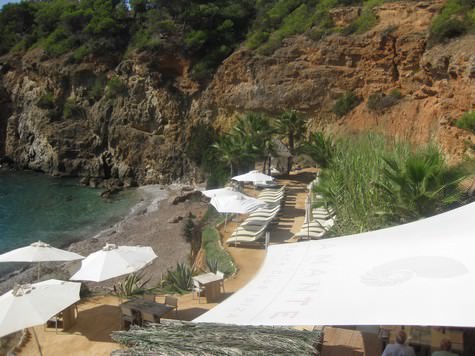 Not only was the view spectacular but the food was as well. We were brought plate after plate of it and all of it paired with wine too- we ended up falling asleep outside, swearing that we'd never be hungry again!
So back in wedding mode for the rest of the week we ended up getting quite a lot organised. This included choosing the flowers, the cake and the celebrant who would be conducting the actual ceremony. We also met up with Gypsy, the photographer to discuss timings and what sort of photos we wanted. We were finally getting somewhere!!
The only thing I regret not doing was to research accommodation for everyone. The idea was to look at various hotels but Scott fell over and hurt his foot (he wasn't even drunk!) so walking anywhere was out of the question and we hadn't hired a car (another thing I regret not doing). We did make it up to the Hacienda Na Xamena, a beautiful hotel and spa hideaway in the mountains. We decided that we're going to stay there for three days after the wedding, as a sort of mini-moon; it's the perfect place for us to spend some quality time together as newlyweds!
We'll be in Ibiza for a week before the wedding too and we've just booked the hotel where we'll be staying with our friends in the run up to the wedding. It's called the Hotel Garbi, on Playa den Bossa – a lively and well located part of the island. We've suggested to the 'older' members of our family to stay in Santa Eulalia, which is where we stayed during this trip. It's a lovely place but more family orientated and quite a distance from other parts of the island we ended up spending most of our money on taxis!
So all in all it was a productive trip; we combined our planning with a bit of partying and really saw what the island has to offer in terms of the different areas of Ibiza, stunning restaurants and clubs. The next time we go there will be to get married and I am excited beyond belief!
Thank you to Jessica for her diary entry, next time we will be talking about the dreaded Guest List!
For mroe information abot my wedding planning services in Ibiza go to Boho weddings Ibiza or email me [email protected]