Just as there's an art to wedding photography, there's an art to creating the perfect wedding photo album or wall decor display. After the big day you'll have hundreds of photos that need to be sorted and organized, and sometimes it can feel overwhelming.
Should you print every photo you have? Or should you display just a few professional studio portraits and leave those other 400 shots on your computer storage? Together with custom printing specialists My-Picture.co.uk, we've prepared some tips that will help you navigate your wedding photo archives and select the pictures that just demand to be printed!
PLUS They are offering Boho Weddings readers an exclusive 50% OFF wall art!!! Read on to find out more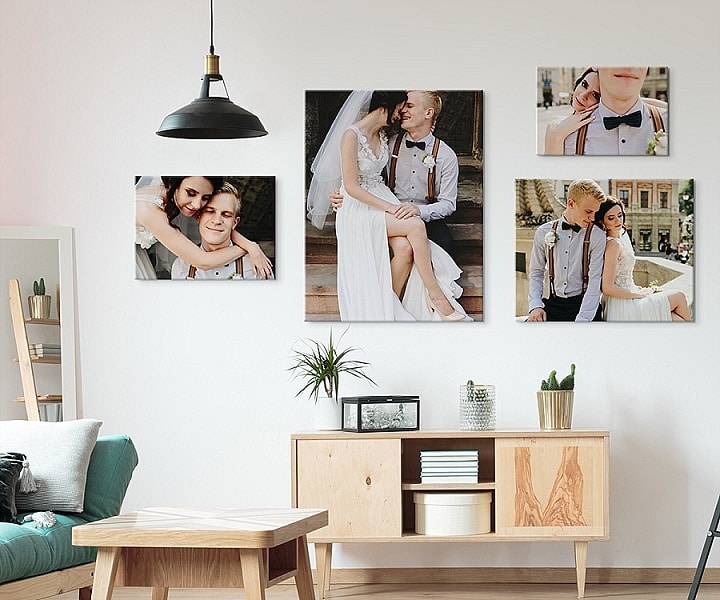 1. Pick Evocative Photos
A wedding is all about the emotions. So you want to reflect that in the pages of your wedding album or photo book.
As well as the official "big hits" of the wedding, you should also include some photos that capture those sweet little moments that can easily be missed: a reflection of a dancing couple, a face of a laughing child, elderly guests holding hands… These are the kinds of photos that can bring a tear to the eye even years after the wedding day!
2. Let Every Photo Speak for Itself
Wedding photo collages have been trending for years, and your wedding album will probably feature a couple of them too. But including too many collages can mean the individual photos start to meld together into one single mass. Better to keep collages to the minimum and give every photo a chance to breathe in its own separate part of the page.
3. Think Chronologically but Leave Room for Spontaneity
In general, wedding photographs should be arranged in chronological order, but it's fine to include some exceptions to this rule. If you really want to put that photo of the bride throwing the bouquet first in your wedding album, go for it – the most important thing is that the opening image is one that's beautiful and meaningful to you.
4. Add More Photos That Tell Your Love Story
Why not approach your wedding album as a celebration of your whole relationship, rather than just one special day? You can draw inspiration from social media – for example, check out TIK TOK brides of 2021-2022 (one, two, three) where they include their engagement photos (or any other romantic pictures) as a part of their wedding decoration scheme. There's no reason why you shouldn't include your favourite shots from before the wedding in your photo album.
5. Create a Story from Your Photos
The photo layout is as important as the sequence. Like any book or magazine, the wedding album consists of spreads. Think about each spread (i.e. two pages alongside each other) as a whole and select photos that are related to each other in content or style. Another important thing to consider is picture orientation – to avoid a chaotic feel, try not to mix portrait and landscape formats in a single spread.
6. Focus on the Most Important Moments
Key moments such as the exchange of the rings, the first kiss, and the first dance are the "must-haves" in any wedding album or photo book. Use these photos as anchor points of the whole collection and construct the rest of your wedding story around them. Once you've selected the most important photos, go back to the remaining shots and see what else you want to include in the album.
7. Hang Wedding Pictures on the Walls
Designing a proper wedding album is a must for every couple, but even the most beautifully made albums tend to spend most of their lives hidden away in a drawer. So if you want to celebrate your special day every day, think about turning your best wedding pictures into wall art. And if you're not sure which photos to hang on the walls, it's fine to play it safe here – as a rule, the photos used as anchor points in your wedding photo album make great wall art too.
8. Choose a Print Format that Suits the Character of Your Photos
These days there's definitely more than one way to print a picture – for example, My-Picture.co.uk has no fewer than 10 options for custom wall art. You can choose classic-looking framed photos, arty canvas prints, ultramodern metal prints or even a collection of lightweight photo tiles – whatever suits your tastes and needs best.
But not every print substrate will suit every photo. To make the most impact with your wedding prints, consider the composition and the mood of your photos – some work better with a traditional aesthetic, while others will benefit from a bolder, more contemporary look.
9. Don't Limit Yourself to the Walls
A wedding is one of life's most special moments, so it's tempting to display as many wedding photos as possible in your home. But covering every wall in the house with prints might not be the best idea, especially if you're renting.
Why not take another approach and have your photos printed on custom home textiles? A personalised blanket or photo cushion with a vibrant full-area print from your wedding will bring back those special memories every time you cuddle up on the sofa!
10. Consider Photo Gifts for Your Wedding Guests
Your guests will want to enjoy your wedding photos too – so why not use them to create unique personalised thank-you gifts? Choose the photos first, then think about what kind of photo gift will suit each of your guests.
We suggest sending personalised thank-you postcards to everyone, and including something extra for your closest friends and family members – for example, a custom photo mug printed with a touching moment from your wedding.
Print Now & Save 50% on Wall Art
Even in the digital age, nothing can quite replace the beauty and significance of printed wedding photos. But high-quality printing has always been somewhat expensive – so if you've already gone big on the wedding itself, spending another few hundred pounds on photo prints might be beyond your budget. If that applies to you, we have great news!
The custom printing company My-Picture.co.uk has given Boho Weddings readers an exclusive 50% OFF the 2nd of 2 wall decoration prints!
The terms are very simple:
Order 2 canvas, acrylic or metal prints at My-Picture.co.uk
Use code BOHOSAVE50

at checkout (code valid until 01.04.2022)

Get the 2nd (cheaper) one half-price!
Use code BOHOSAVE50 now to claim your discount at www.my-picture.co.uk!
this is a sponosred post
[jprel]