Happy Tuesday everyone and welcome back to Summer! For a while there it looked like summer had left us, but low and behold it's back! And how delightful it is too! I hope it is lovely and sunny wherever you are and that you get to enjoy this lovely weather. Today I am taking you to North Carolina for the stunning wedding of Justine and Fernando who were married on 8th April 2021 at The Hackney Warehouse. Justine and Fernando spent a lot of time planning their wedding and finding unique pieces to make their wedding have such an awesome look! I love the vintage green goblets, unique sweetheart table with the gorgeous green vintage couch, all the stunning greenery and beautiful finishing touches, they really have gone to town with the decoration. The whole day is beautiful and captured perfectly by Jamie Marie Photography.
How they met 
Me and Fernando actually met at work and were friends long before we ever started dating. Once we began dating it was about a year into the relationship that he prosed one rainy day in bed because "I can't wait any longer on the weather and the perfect time," which was so us. We didn't need all the extravagant details, we just needed each other.
Outfits
I chose to have my dress custom made by Meagan Kelly because I had seen her designs and knew that she could make a picture in your head come to life. I knew that I wanted to lace and for the dress to be comfortable. So, when I reached out to Meagan she immediately scheduled a time to meet and talk about different fabrics and fits. She knew what I wanted before I even knew and when she hand sketched the idea up it was like a dream coming to life. Fernando wanted something vintage and decided on going with an older style of higher waisted pants with suspenders. It really fit the theme and standing side by side complimented by dress.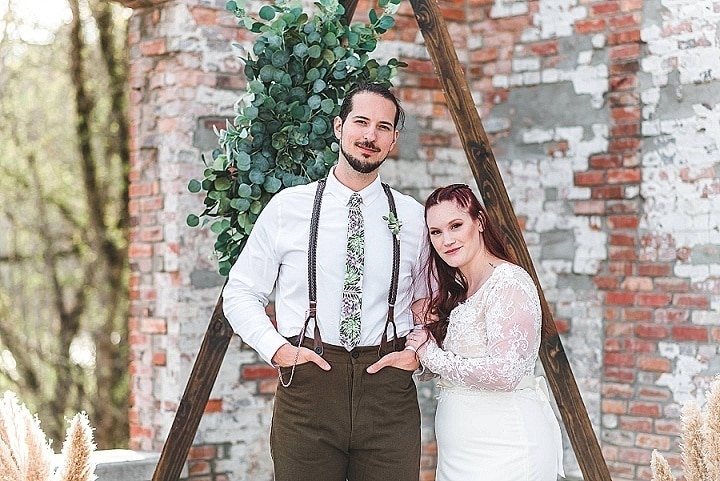 Theme and Colour Scheme 
Me and my husband wanted an Industrial theme mixed with vintage, hence the beautiful brick architecture that we fell in love with at The Hackney Warehouse.
Decoration 
For decorations, we wanted simplicity. So we went with greenery and small vases. I found out that 'bunny tails' we're a perfect match to the small apothecary bottles we bought. A lot of our decorations were DIY such as the lantern terrariums as well as the green lanterns that I painted myself. Me and my husband also built the donut board from scratch ourselves. It was definitely something we found important to add pieces of ourselves into our wedding instead of just buying everything.
Flowers
Again our florals were simple and we loved that. My bridesmaids carried hydrangeas with eucalyptus and boy were they stunning! It definitely let you show case the uniqueness of my girls. My bridal bouquet would be the most complex with adding succulents and juliet roses, but it also wasn't overwhelming. Also, while I knew we would rather have real than fake flowers in the reception area we didn't want to over crowd the area and chose to go with eucalyptus garland and a free hydrangea centerpieces of the a couple tables.
Personal touches 
We incorporated a lot of hispanic flair into our wedding from the music to the food because this was something important to my husband and the culture he grew up in. It was nice to see all the touches come together on the day of our wedding.
Special Moments
For me it was the first look/gift exchange. I had been keeping it a secret for weeks that I had went and had boudoir photos done and I was dying to see his reaction! It was everything I'd hoped for. For him it was the same because he had been picturing what I would like for some time and was ready to see it in real life.
Advice for other couples 
My advice, take your time. Rome wasn't built in a day, so why should one of the most memorable moments of your life we rushed into a year. Take your time and make sure that you get all the important details you want incorporated into your wedding and don't let the venue hinder your ideas. That was the best thing about The Hackney Warehouse, they let us cook our own food and without being able to combine the southern and hispanic cuisines from out background our day just wouldn't have been as special. Fernando says be resourceful in incorporating your own ideas by making things yourself because it adds a special touch to your wedding. Above all else, enjoy the day because it goes by so fast and you don't want to remember it by being stressed out.
Supplier Shout Outs
[jprel]